Oilers draft Hall No. 1; Seguin goes No. 2
Updated:
June 26, 2010, 2:14 AM ET
ESPN.com news services
The Edmonton Oilers got their man Friday, making Windsor Spitfires left wing Taylor Hall the No. 1 overall pick in the NHL entry draft.
Hall, the projected top selection for nearly a year, joins an Edmonton team that finished with a league-low 62 points this past season but is steeped in a rich history.
"They're such a great franchise with so much history behind them," Hall said from the Staples Center in Los Angeles. "With the five [Stanley] Cups they won, it will mean a lot to me to join their organization and hopefully bring another one up there."
[+] Enlarge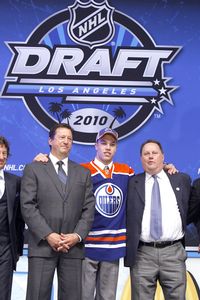 AP Photo/Reed SaxonTaylor Hall, center, was the fourth straight Ontario Hockey League prospect taken with the No. 1 overall pick.
The Boston Bruins immediately selected consensus top-two pick Tyler Seguin with the second overall selection. The Bruins held the No. 2 pick after last offseason's trade of Phil Kessel to the Toronto Maple Leafs.
Seguin went from a projected top-10 pick a year ago to the second selection after a wildly successful 2009-10 season with the Plymouth Whalers of the OHL. Seguin outscored Hall this season and entered the draft ranked No. 1 by Central Scouting.
However, Edmonton believes Hall has the physical gifts and work ethic to be a mainstay in the middle for a club that has lacked an elite front-line talent since trading Ryan Smyth at the 2007 trade deadline.
"He's such an imposing young man," Oilers general manager Steve Tambellini said. "I don't think I've ever met a more focused, competitive athlete. He was the best player on a good team for a long time."
Most NHL scouts and executives couldn't choose a favorite between Hall, a physical left wing, and the smooth-skating Seguin.
"I think everyone has their own opinion," Seguin said. "We've seen it all year with whatever scouting service there may be. Edmonton decided to select Hall first overall, and good for him. He deserves it. And I'm happy to be a Bruin."
Both intend to be on NHL rosters this fall, and they realize their careers are likely to run on parallel tracks for many years.
"I don't think it matters who goes first overall," Seguin said. "I'm just excited to be here and to be going to Boston. I'm sure the rivalry will continue if we're both in the NHL next year, but we both respect each other. We're good buddies, and that isn't going to change."
Hall won back-to-back Memorial Cups with Windsor, taking home MVP honors both times. He is the fourth straight Ontario Hockey League player chosen with the No. 1 pick, following Patrick Kane, Steven Stamkos and John Tavares.
"I feel honored with all the players that have gone No. 1," Hall said. "When I came into this year, that was one of my goals, was to go No. 1. In saying that, there's still a lot of work to do out here."
Canadian defenseman Erik Gudbranson went to the Panthers at No. 3, and the Blue Jackets took center Ryan Johansen with the fourth pick.
More From ESPN.com

He's just 18 years old, but No. 2 overall pick Tyler Seguin plans to be an impact player for the Bruins in 2010, writes ESPNBoston.com's Joe McDonald. Story
---

ESPN.com's Scott Burnside chronicles the journey Predators draft pick Austin Watson made before arriving as the 18th pick in Friday's draft. Story
• McDonald: Hall's the real deal
• Joyce: Pick-by-pick analysis


• Blog: Deals fall flat on Day 1
"I did my research on their team," said Gudbranson, a physical defenseman with a big shot. "[With] Dmitry Kulikov there, I feel like I could be a good complement to him on the back end. The real attraction was having [new Panthers general manager] Dale Tallon there, seeing what he did with the Chicago Blackhawks and winning the Stanley Cup and building that team from scratch. I feel this is a team that's going in the right direction, so there was no doubt in my mind that I wanted to be here."
Forward Nino Niederreiter, Johansen's teammate in Portland, became the highest-drafted Swiss player in NHL history when he went to the New York Islanders with the fifth pick. The Islanders already have defenseman Mark Streit, the only NHL All-Star from Switzerland, as a club cornerstone.
"I'm trying to be a scorer one day," said Niederreiter, who believes he can make the Islanders' roster this fall. "At the moment, I think I'm a two-way player with some skills and also defensively. At the end, I just want to be a goal-scorer."
Detroit icon Steve Yzerman made his first pick as general manager of the Tampa Bay Lightning, selecting Brett Connolly with the sixth pick, despite injury concerns. Connolly, 18, became the first 16-year-old to score 30 goals in the WHL since Patrick Marleau in 1995-96.
The Carolina Hurricanes pulled a mild surprise with the seventh pick, grabbed Kitchener center Jeff Skinner, a former figure skater who has more goal-scoring potential than concrete achievements.
Atlanta followed with Russian forward Alex Burmistrov at No. 8, and the Minnesota Wild nabbed Finland's Mikael Granlund at No. 9. The New York Rangers used the 10th pick on tough Moose Jaw defenseman Dylan McIlrath, who was rated much lower than still-available defensemen Cam Fowler and Brandon Gormley by most scouting services.
In a pair of firsts, the Dallas Stars selected the first American and the first goalie of the night, drafting Jack Campbell with the No. 11 pick. Campbell is a product of the U.S. national development team and played for the U.S. in the World Junior Championships gold-medal game.
Fowler then made it back-to-back U.S.-born players. The Ducks selected Fowler, projected as a top-five selection, at No. 12. Fowler was handed his Ducks jersey by future Hall of Fame defenseman Scott Niedermayer, who retired Wednesday after 18 seasons.
"It's hard when you're projected as a top pick and you slide, but it's something to use as motivation," Fowler said. "Who knows why it happened? I'm just glad I landed where I did."
The Phoenix Coyotes took Gormley off the board at 13, and center Jaden Schwartz went to the St. Louis Blues with the 14th pick.
2010 NHL Lottery Picks
The Oilers stayed the course and went with Taylor Hall with the No. 1 overall pick in Friday's NHL entry draft.
Pk
Tm
Player
Position/League
1
EDM
Taylor Hall
LW, Windsor (OHL)
2
BOS
Tyler Seguin
C, Plymouth (OHL)
3
FLA
Erik Gudbranson
D, Kingston (OHL)
4
CLS
Ryan Johansen
C, Portland (WHL)
5
NYI
Nino Niederreiter
LW, Portland (WHL)
6
TB
Brett Connolly
RW, Prince George (WHL)
7
CAR
Jeff Skinner
C, Kitchener (OHL)
8
ATL
Alexander Burmistrov
C, Barrie (OHL)
9
MIN
Mikael Granlund
LW, HIFK Helsinki (Finland)
10
NYR
Dylan McIlrath
D, Moose Jaw (WHL)
11
DAL
Jack Campbell
G, U.S. National Development Team
12
ANA
Cam Fowler
D, Windsor (OHL)
13
PHO
Brandon Gormley
D, Moncton (QMJHL)
14
STL
Jaden Schwartz
C, Tri-City (USHL)

Draft tracker
The Kings swapped the 19th and 59th overall picks for the Panthers' No. 15 selection, sending the hometown crowd into an uproar. Los Angeles then took Derek Forbort, another product of the U.S. national development team. The 6-foot-5 Minnesota native is headed to North Dakota in the fall.
"It's pretty cool to go to the hometown team," Forbort said. "Hopefully I'll get to see the facility and find out what the situation is like while I'm in town."
The Blues made it two straight deals, trading the 17th overall pick in last year's draft, defenseman David Runblad, to the Ottawa Senators for the No. 16 pick. St. Louis then selected Vladimir Tarasenko of the Russia-based Continental Hockey League. Tarasenko possesses top-10 skills, but the possibility of him remaining in Russia for at least one year caused him to fall.
Joey Hishon of the Owen Sound (OHL) went 17th to the Avalanche, and the Nashville Predators took Austin Watson from Peterborough (OHL) at No. 18. Hishon has quite an act to follow. Colorado's top two picks in the 2009 draft, Matt Duchene (No. 3) and Ryan O'Reilly (No. 33), both played in the NHL immediately and were a large part of Colorado's resurgence. Duchene finished third in the voting for rookie of the year.
With their second pick of the first round, the Panthers took Minnesota's "Mr. Hockey," Nick Bjugstad. Bjugstad, just 17, graduated a year early and will play for the Minnesota Gophers next season.
The center-heavy Penguins went winger with their first-round pick, grabbing Gardena, Calif., native Beau Bennett with the 19th overall pick. He is the highest-drafted California-born-and-trained player in NHL history.
The Detroit Red Wings, selecting in the top 25 for the first time in 11 years, took Riley Sheahan at 21. The Coyotes were scheduled to follow the Wings but traded the 22nd and 113th picks to the Montreal Canadiens in exchange for picks Nos. 27 and 57. The Habs drafted Jarred Tinordi, son of former Minnesota North Stars defender Mark.
Staying on the blue line, the Sabres drafted for the back end for the second time in three years and took Mark Pysyk out of Edmonton of the WHL at No. 23. The last time Buffalo took a defenseman in the first round, it drafted 2010 rookie of the year Tyler Myers, selected with the 12th overall pick in 2008.
The Stanley Cup-champion Chicago Blackhawks drafted high-schooler Kevin Hayes with the 24th overall pick. The pick was acquired in a trade that sent Dustin Byfuglien to Atlanta on Wednesday. The Hawks traded the 30th overall pick to the Islanders for Nos. 35 and 58. The Isles used that pick to draft high-schooler Brock Nelson.
Nelson's selection made it a record 11 U.S.-born players taken in the first round.
The Panthers took Moose Jaw winger Quinton Howden at No. 25 with their third first-round pick of the evening. The Panthers moved back into the first round in a deal that sent defenseman Keith Ballard and forward Victor Oreskovich to Vancouver for winger Steve Bernier, forward Michael Grabner and the Canucks' first-round pick.
Taken 26th overall by Washington, KHL product Evgeny Kuznetsov should fit right in on a Capitals roster that boasts fellow Russians Alex Ovechkin, Alexander Semin and Semyon Varlamov. Kuznetsov has two years remaining on his KHL contract, according to TSN.
Phoenix made goaltender Mark Visentin its second first-round pick with the 27th overall selection acquired from an earlier trade with Montreal, and the San Jose Sharks took Charlie Coyle at 28.
In an emotional moment, the Ducks drafted California native Emerson Etem at No. 29. Etem, a lightning-fast skater, was projected to be selected much earlier in the evening; the Staples Center crowd and Etem's family and friends erupted when his name was called.
Just the first round of the draft was completed Friday at Staples Center. The final six rounds are Saturday.
The Associated Press contributed to this report.
2010 NHL DRAFT

Our complete coverage from the NHL draft on June 25-26 in L.A.:
ANALYSIS
DRAFT-WEEKEND TRADES
LOCAL COVERAGE
HISTORY
MORE FROM ESPN BOSTON

Want to submit a question for Mike Reiss' weekly Patriots mailbag? Click here and come back every Tuesday around noon for the 'bag.
Latest headlines on ESPNBoston.com:
MORE FROM ESPN NEW YORK

Check out ESPN New York, your destination for sports coverage in the Big Apple.
MORE FROM ESPN DALLAS

Check out ESPN Dallas, the place for your local Dallas sports coverage.
MORE FROM ESPN LOS ANGELES

Check out the new ESPN Los Angeles, the place for your local Los Angeles sports coverage.
MOST SENT STORIES ON ESPN.COM