Saturday, December 27 2014
All For One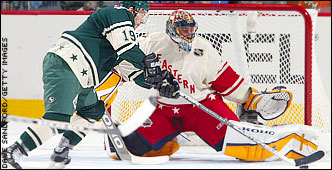 Roberto Luongo was one of Joe Sakic's three victims.
The goaltending was outstanding, there was ample offense, and no one got hurt. The NHL All-Star Game offered everything it should have Sunday as the
East beat the West 6-4
. Mark Messier had a goal and a
record 14th assist
, while the West's
Joe Sakic was MVP
(3 goals).
Kelley: Future looks bright | ESPN's take | Notebook



More From ESPN.com
On the Hrink: Perseverance pays off
It took 10 years, but Wild goalie Dwayne Roloson has developed from a minor leaguer into an All-Star.
Kelley: Extra incentive
How can an All-Star Game be compelling? How about a few million bucks and a few players who believe it's their last chance?
Kelley: Lock me out, please!
There are 30 teams in the NHL -- and that's the only thing the league and players' association seem to agree on.
Berra: Roy the YoungStar
The Sabres only representative at All-Star Weekend has plenty of time to live up to his name.
Players sound primed for lockout
With the CBA's expiration on the horizon, NHLers said they won't cave in even if the negotiations last a year or more.
More scoring among Bettman's goals
NHL commissioner Gary Bettman wants to pair a new labor agreement with rules changes -- and is ready to talk whenever the NHLPA is.
Davidson: NHL glass half-full
Sure, the NHL has a few problems, but All-Star weekend is a celebration of what is great about hockey.
All-Star notebook: Suggestions to raise scoring
NHL All-Star weekend notebook, Saturday edition
Melrose's Place: All-Stars will shine
In anticipation of All-Star Weekend, players in this week's starting lineup are all stars.
Myers: The State of Hockey
Welcome to Minnesota, where the highest level of hockey isn't necessarily the biggest attraction.
Jackets' Nash intends to play in All-Star Game
Blue Jackets left wing Rick Nash tested his bruised left foot on Thursday and intends to play in the NHL All-Star Game this weekend.
Cut above the eye, Hossa pulls out as All-Star
Leading Ottawa scorer Marian Hossa pulled himself out of the All-Star Game after suffering a facial cut in Thursday's loss to Toronto.
Next up, Hotlanta: 2005 All-Stars to head south
The NHL All-Star Game is coming to Atlanta for the first time next season -- provided there is a next season.
All-Stars: Rafalski added; captains picked
Brian Rafalski will replace teammate Scott Stevens on the East All-Star team. Also, Devils' Scott Niedermayer (East) and Canucks' Markus Naslund (West) will be the team captains.
SportsNation: Eastern Conference All-Stars
SportsNation fills out the rest of the Eastern Conference roster for the 2004 NHL All-Star Game.
SportsNation: Western Conference All-Stars
SportsNation fills out the rest of the Western Conference roster for the 2004 NHL All-Star Game.
2003 NHL All-Star Game
ESPN.com's coverage of the 2003 NHL All-Star Game in Sunrise, Fla.