Orr still leading the defense
ESPN.com's NHL experts offer their top six defensemen in NHL history.
Updated:
November 26, 2003, 3:07 PM ET
ESPN.com
In light of Scott Stevens becoming the NHL leader in games played by a defenseman, ESPN.com posed the following question to our team of NHL experts: If you were to put together an all-time team, who would your defensemen be?
Here are their choices with relative honorable mentions and apologies:
Bill Clement
I have limited these choices to those players I either played against or have had a chance to watch for years. My eyes, lungs, hands and legs connect me with first-hand knowledge, short of which I would be working off of numbers and awards. I'd like to offer my apologies to greats such as Doug Harvey and Eddie Shore.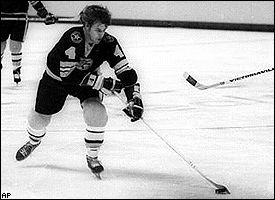 Bobby Orr's offensive creativity changed the way defensemen played the position.
Bobby Orr and Scott Stevens
These two would be the ultimate pair with Orr's offensive dominance driven by his unparalleled skating ability, combined with Stevens' Terminator-like obsession with making his half of the ice a dangerous place. Orr is the only defenseman to win a scoring title and his defensive play was greatly underrated. His speed allowed him to join or lead the rush and not get caught on a quick counter or turnover. He still holds the single-season plus-minus record at plus-124. I pinch myself when I realize the first Stanley Cup team I played on defeated a healthy Bobby Orr and the Bruins in the finals.
Stevens' power, intelligence, durability and offensive ability -- yes, offensive ability -- make him the perfect partner for Orr. Stevens is one of the most underrated passers and shooters ever, and led the Devils in scoring one season. He is also the best hitter of all time and while his hits may be ruthless, they are always clean. In his 21-year career, he's taken a total of three elbowing penalties. This pair would be unstoppable in the offensive zone and unbeatable in the defensive zone.
Denis Potvin and Nicklas Lidstrom
I shared a locker room with Denis Potvin when he was 14. What made him special was he was up against other junior players who were 17-20. But even at 14, Denis had the strength of two grown men. By the time he hit the NHL he was the complete defenseman, mean streak and all. He could hurt you on the scoreboard with his shot and puck handling, and he could also hurt you if you were foolish enough to drop the gloves with him. Potvin and Lidstrom would be the best passing pair ever, and together would be the ultimate point pair on the power play.
Lidstrom is the smartest defenseman I've ever seen. He does everything so quietly and with such efficiency that he'll probably fly under the radar on a lot of people's lists of greatest defensemen. Without Lidstrom, the Red Wings would not have their three most recent Cups, and without Potvin, the Islanders would not have won four.
Ray Bourque and Larry Robinson
Ray Bourque is the best three-zone defenseman...ever. When I played against him early in his career, I often wondered what was worse: having him rattle my bones with a body crunch in his defensive zone or helplessly sliding by him on an attempted block after he had faked a shot on the power play. What I truly marvel at was his ability and desire to play the same game at age 38 as he had at 18.
Of my top six, Larry Robinson is the only one who spent any time in the minors, but by the time he was 23 he possessed the ability to change the entire complexion of an NHL game by himself. He could do it with a devastating hit, a one-man-suffocation-show on defense or a goal after a highlight reel end-to-end rush. He was so versatile that at times he was actually used as a center in Montreal.
While both Robinson and Bourque liked to rush the puck, they were both ultimate team players with an incredible "feel" for the game. Taking turns staying at home while the other rushed would never have been an issue.
Darren Pang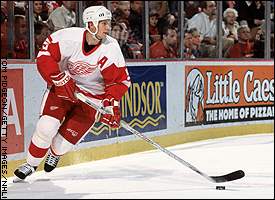 Nick Lidstrom will go down as one of the smartest defensemen in history.
Bobby Orr and Nicklas Lidstrom
Orr simply changed the game. He started the rush. He lead the rush. He supported the rush. The Bruins could lose possession and still, Bobby was the first man back. He played with passion and grit, and always wanted the puck. He was 22 years old when he had his first 100-point season (120 in 76 games in 1969-70). He is the greatest defenseman that has ever played the game and no one comes close. Just imagine how much more he had in that heart of his.
And has there been a smarter defenseman than Lidstrom? He plays 30 minutes a night and rarely gets a penalty. His positioning and understanding of the game will go down in history as the very best. He is a textbook one-on-one player who keeps the opponent away from the net and on the perimeter. His calmness with the puck in critical situations is better than anyone. He is as dependable as you can get.
Doug Harvey and Ray Bourque
Before there was Orr, there was the great Doug Harvey. He could do it all in a tough era of competition. He could skate like the wind, move the puck to begin the transition and follow it up in his own zone with remarkable fluidity and common sense. He played 20 seasons and won six Stanley Cups along the way.
Bourque was the epitomy of consistency. He was selected to the end-of-season All-Star team 19 times in 22 years. He made whatever partner he had with him a better player, always putting the first pass on the tape to ensure the forwards had a chance to skate through the neutral zone with speed. He played the game with the zest and enthusiasm of a kid and was finally rewarded with a Stanely Cup in his final game in 2001 with Colorado.
Brad Park and Scott Stevens
Park, who played behind Orr for a season, could do it all and played with an edge that is rarely talked about. He was a great passer who started the rush, supported it well and was rarely beat one-on-one. His knowledge of players and tendencies were next to none.
Stevens is the best open ice hitter of all time and he has done it on a consistent basis in big games. During the 1995 Stanley Cup final, Slava Kozlov of the Red Wings entered the zone from the left side of the ice. In comes Stevens; down goes Kozlov. Series over. He has done it to the likes of Eric Lindros, Ron Francis and Paul Kariya en route to leading the Devils to three Stanley Cups. No Norris Trophies (yet). No problem. From a goalie's perspective, he is the difference.
Honorable mentions: Eddie Shore, Red Kelly, Pierre Pilote, Rod Languay, Denis Potvin, Borje Salming, Chris Chelios, Brian Leetch, Al MacInnis, Chris Pronger.
Ray Ferraro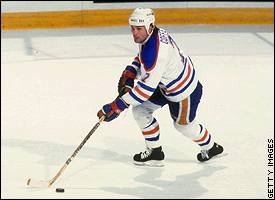 Paul Coffey ranks among the best offensive defensemen of all time.
Bobby Orr and Scott Stevens
This would be an amazing defensive pairing to sit back, watch and enjoy. Orr won almost every major award that could be won by a defenseman. He transformed the defensive position with his offensive play. He scored over 100 points at six different times in his career and won the Norris Trophy eight consecutive seasons. If it could be done on ice, Orr could do it. With such a great offensive player on the ice, his pairing should be a stay-at-home defensive player and there's none better than Stevens. He's one of the best ever at clearing up penalty kills and would mop up any mistakes that were made. As great as Stevens is, it's amazing he hasn't won a Norris Trophy.
Larry Robinson and Paul Coffey
This would be another great pairing to watch. If you want proof of Robinson's influence on a game, look at his amazing career plus/minus of plus-730. When he was on the ice great things happened. Pairing him with three-time Norris Trophy winner Paul Coffey was a no-brainer because of Coffey's offensive play.
Ray Bourque and Doug Harvey
This is a solid two-way pair that can do anything on ice. Bourque and Harvey were two players renowned for their ability to mete out great physical punishment while also playing excellent offensive hockey. Bourque finished his career with the most goals (410), assists (1,169) and points (1,579) by a defenseman. Harvey's numbers may not have been as stellar (540 points in 1,113 games), but he was Bobby Orr before Bobby Orr. With 12 Norris Trophy's between them, there's no doubt these two guys can get the job done.
Jim Kelley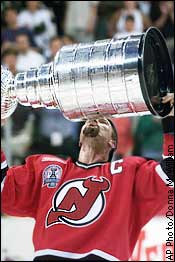 Scott Stevens doesn't have a Norris, but he has three Stanley Cups.
Bobby Orr and Eddie Shore
Not just because they were both Boston Bruins (although that's a nice link), but because there simply was no greater defenseman than Orr, a player who revolutionized the game from the back end and made defense a part of the offense. He's teamed with Shore because when one defenseman is up ice there better be one back to deal with the consequences, and there's nothing that Shore couldn't handle. Everyone knows Orr won three Hart Trophies as the game's most valuable player, but did you know that Shore won four? He was tough and good.
Denis Potvin and Larry Robinson
Potvin was a near-perfect combination of size, ability and physical toughness, but he also had a head for the game. That helped him break the 20-goal barrier, nine times (he also had three 30-goal seasons). In addition to that, he may well have been at his best in the playoffs where he led the New York Islanders to four straight Stanley Cups. Robinson is the definition of a defensive-minded defenseman. He scored nearly a thousand points (958) in his 20-year playing career (17 with Montreal), but we like him for his size, durability, smarts and ability to shut other people down.
Scott Stevens and Doug Harvey
No slight being our third pairing. We don't like the fact that Stevens sometimes hits a little high (legal but high), but we love the fact that he hits and hits and hits. He also plays a mean brand of defense and he's smart, a real student of the game and perhaps the most durable athlete the game will ever know. Factor in leadership the likes of which we just don't see enough of in the game today and the New Jersey Devil is a can't miss Hall of Famer. There was temptation to put Harvey with Orr because he's just as good. He's here because he so easily compliments Stevens with his brilliant ability to complete first-strike passes, move the puck up to forwards and go deep into the offensive zone. We'd go into any playoffs in any era with this pair.
Honorable mentions: Ray Bourque, Tim Horton, Paul Coffey, Chris Chelios, Brad Park and Dit Clapper.
SPONSORED HEADLINES
MORE NHL HEADLINES
MOST SENT STORIES ON ESPN.COM
EDITORS' PICKS
Pronman: Happy holidays! Here's your Team USA WJC preview.
Story

Strang: A dramatic shift in the landscape has left many enforcers being escorted out of the game.
Story »

Burnside: We tell you who will make a roster for the 2016 World Cup.
Predictions »