10 things we like about hockey
Sure, there is plenty of things to fix in hockey. But there is also plenty to love.
Updated:
February 6, 2004, 12:12 AM ET
ESPN.com
Instead of simply heaping criticism on top of criticism, ESPN.com asked colleagues throughout the company who work on hockey to share what they love most about the game. Here are the most popular answers:
10. The Players
Maybe it can be traced back to their childhood, to all those 5 a.m. practices in the dead of winter, to having to carry their own equipment bag, even when it was bigger than they were. Or maybe it's moving away from home as a teenager to play junior, being forced to make friends and fit in with teammates they didn't pick. Or maybe it's the humility of knowing that while so many dream of making it, so few do, and having seen the dreams of slightly less talented players destroyed by injury or a simple "sorry, son." Whatever the cause, hockey players are real people.
9. The Three S's: Size, Speed and Skill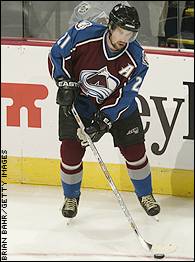 Peter Forsberg doesn't seem so big from far away. Up close is a different story.
The best place to watch a hockey game is in the top corners of the arena, just ask a scout. But the best place to
feel
a hockey game is in the lower bowl, that's where the players' size, speed and skill can best be seen. Everyone should watch a game from the lower bowl. It's where you can see just how big the players are, sense the power of every stride, feel the coolness of a breeze generated off a rush, and fully appreciate the skill it takes to handle a puck as though it's a yo-yo on a string. It's why lower-bowl tickets are so expensive. Unfortunately, it's difficult to capture the size, speed and skill of players on television without putting a camera in the lower bowl. Talk about lost in translation.
8. Changing on the fly
Hockey is the only major professional sport that changes its current lineup without a stop in action. It's the thread that connects the entire team -- each line and defensive pairing picks up where the previous set of players left off. The scoring line is responsible to the checking line; the five fresh players are responsible to the successful penalty killers they're replacing; and everyone exchanges notes on the bench. It's teamwork in constant motion. Plus, all those arms and legs tumbling over the boards looks cool.
7. Perseverance
Any athlete overcoming injury is impressive -- and we don't knock those who are too hurt to carry on -- but only in hockey do you hear the words "it's a long way from the heart" so often -- especially in the playoffs. Broken fingers, sprained ankles, separated shoulders -- they usually put players on the shelf during the regular season, but they're nothing a roll of tape can't cure in the postseason. Last year, Joe Nieuwendyk's expression told it all; he would have endured the pain of his torn oblique muscle if he weren't risking hurting the team's chances to win the Stanley Cup. The year before, Steve Yzerman hobbled out of Joe Louis Arena, the bones in his right knee rubbing against each other, carrying the Cup. In 2001, it was Rob Blake who told the world that Joe Sakic's arm was practically falling off -- after the Avalanche captain handed the Cup to Ray Bourque.
6. Rivalries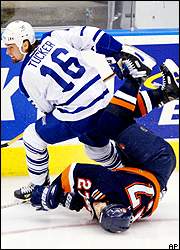 Darcy Tucker's hit on Michael Peca in the 2002 playoffs sparked the Leafs-Isles rivalry.
There is nothing like one team gearing up to face another because they simply don't like each other. Each rivalry is unique in its creation -- it cannot be manufactured. Some are born from ill will and injury -- like the Maple Leafs and Islanders, the Avalanche and Red Wings. Some are born from a desire for regional supremacy -- like the Maple Leafs and Senators, the Islanders and Rangers. Some are born of history -- the Blackhawks and Red Wings, the Bruins and Canadiens. Sure, the intensity of the matchups varies from season to season, but to some degree the games always matter, even when they don't in the standings.
5. The game officials
Said ESPN analyst Bill Clement: "While I don't always agree with their calls, they are terrific guys. I wish I had Kerry Fraser, Rob Shick, Steve Walkom, Paul Devorski and many others as neighbors. They could borrow my ladder anytime." We don't have a ladder to lend, but we concur. By the way, has anyone ever tried to keep track of 10 players skating up to 35 miles an hour while trying (skating forward and backward) to keep up and stay out of the way of the play, follow the puck and players' positioning, manage the behavioral equivalent of an over-caffeinated kindergarten class armed with sticks with overbearing coaches screaming at you? Then, just to make it fun, you get publicly criticized for making one really bad call, which you no doubt feel awful for but have no power to change. One of these days, a coach is going to compliment an official after a game.
4. Trade deadline day
It's difficult to maintain team loyalty when players change teams so often. It's a problem in all pro sports. But when it comes to changing teams, no league's trade deadline is as compelling as the NHL's. Last year, all but three of the 30 teams made deals on deadline day, swapping 46 players and at least 16 draft picks. It was the most number of deals and players moved since 1980. And it's not just about the rich getting richer -- although watching the Red Wings add to their stable of thoroughbreds is met with less venom than the Yankees' pilfering of some poor club -- it's sometimes about the weak getting stronger. Rob Niedermayer and Steve Thomas joined the Mighty Ducks in the final hours before the deadline and led them to the Stanley Cup final.
3. Fighting
Not the fighting of today, the fighting of yesterday. Fights that are fair, fights that are just, fights that happen for a reason and serve a purpose. And fighters. They do a job that few on their team have the nerve to do. Watch a fighter's teammates as he retreats to the bench. It's a thank-full job.
2. Penalty shots
It's been called the single most exciting play in sports. A free shot on goal. No price to pay. All the time and space in the world. Score, and it deflates the other team. Miss, and momentum can shift. And the goalie. Odds are in his favor, but the light never shines on him as bright during a game. Regardless the score, it's a compelling event -- which is why so many people are clamoring for shootouts. Ask Peter Forsberg. He scored during a shootout in the 1994 Olympics. Now he's on a Swedish stamp. Which brings us to ...
1. Goals
The best part about scoring in hockey is that no two goals look alike. Daniel Alfredsson undressing some poor defenseman, then using him as a screen to beat the goalie high glove, looks nothing like Brett Hull firing a one-timer past some sorry goalie's ear -- even though they're scored from the same spot on the ice. From the slot, from the point, from a bad angle, from the back door, with a slap shot, a wrist shot, a back-hander and a one-timer to the glove side, on the short side, through the five hole, top shelf -- each one an original.
We just wish it happened more often.
SPONSORED HEADLINES
MORE NHL HEADLINES
MOST SENT STORIES ON ESPN.COM
EDITORS' PICKS
Strang: Brendan Witt always took time to create a special experience for sick children. Now, he is making sure that doesn't end in his retirement.
Story »

Player Power Rankings: Devan Dubnyk looks solid with Minnesota Wild, but Ilya Bryzgalov not the answer for Anaheim Ducks.
Strang »

LeBrun: Wade Redden knows what it's like to be a highly paid NHLer exiled to the minors.
Story »