NHL's future buoyed by die-hard fanbase
Updated:
February 8, 2005, 1:16 PM ET
By
Darren Rovell
| ESPN.com
The National Hockey League's biggest weakness during labor peace could be its greatest strength once a new collective bargaining agreement is reached.
Often characterized -- and criticized -- as a niche sport with largely regional appeal, the NHL is less likely to suffer at the box office after the lockout because of its higher ratio of hard-core fans to casual fans than other major professional sports.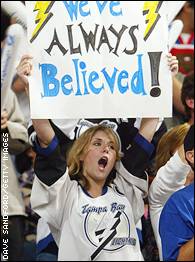 Lightning fans waited for the Stanley Cup. How long will they wait to defend it?
After the last lockout shortened the 1994-95 NHL season to 48 games, the league averaged 14,798 fans per game when it resumed play, an increase of 50 fans per game over the 1993-94 season. Attendance continued to rise the next two years.
"Because of the makeup of the NHL fan base, the league is less volatile than others when work stoppages occur," said Paul Swangard, managing director of the University of Oregon's Warsaw Sports Marketing Center, which recently studied NHL attendance data before and after its last work stoppage. "Baseball lives and breathes off the casual fan that hockey just doesn't have."
Both Major League Baseball and the National Baskeball Association experienced drops in average attendance following the settlement of its work stoppages.
After a baseball players' strike cut off the 1994 season on August 12 and claimed the entire postseason, MLB attendance dropped by more than 5,000 fans per game, or by almost 20 percent, in 1995. It took four years -- and a huge boost from the homerun race of 1998 -- for the sport reach 29,054 fans per game, still 2,202 fans less than pre-strike 1994.
The NBA needed five years to recover from its most recent lockout. After drawing an average of 17,117 fans to its games in 1997-98, attendance dipped 2.2 percent to 16,738 during the 50-game lockout-shortened 1998-99 season. Average league attendance didn't top 17,000 fans again until 2003-04.
An NFL players' strike in 1987 caused a 10.5 percent drop in average attendance -- from 60,663 to 54,315 -- due to the use of replacement players in the first three games of the season. Attendance numbers immediately returned to previous levels in 1988, thanks to the league's strong season-ticket base.
However, attendance can't be analyzed in a vacuum. After the 1994-95 NHL season, the financially troubled Quebec Nordiques moved to Denver, where they won the Stanley Cup. Their immediate success heavily contributed to the rise in NHL attendance.
Just as teams in new locations help galvanize attendance, so do new venues. Eight new NHL arenas opened between 1994 and 1996, compared to three Major League Baseball parks over the same time period. Five arenas opened in the NBA surrounding their work stoppage (1998-2000).
If the 2004-05 season is canceled, industry observers predict future success will depend on the solution. If an agreement is not reached with the players' association by next season, the NHL could declare an impasse, and, if successful, unilaterally impose a salary cap. Replacement players would fill roster spots of players refusing to return.
Fans won't return en masse to watch replacement players in their team's sweaters, said Jim Fisher, associate dean and professor of strategic management at the University of Toronto. But if the league and the union do work out a collective bargaining agreement in time for next season, Fisher believes the hot hockey markets will have instant sellouts.
"In some markets, they'll be breaking down the doors," Fisher said. "In those markets, they are going to be able to come back and make a profit. But in Nashville and Carolina, they're really going to have a terrible time."
Last week, Carolina Hurricanes owner Peter Karmanos told the Toronto Sun that he was willing to lose two seasons for the league to reach the deal it wants. But he wavered on whether he thought the fans would come back.
"I'm enough of a hockey fan to realize that once we got this straightened out, the fans will come back," Karmanos told the newspaper. "But there's a risk that they wouldn't."
Also, many big market teams haven't been enjoying the type of success they were a decade ago, which could affect overall attendance. The Chicago Blackhawks, who own the second longest postseason streak in NHL history (28 straight appearances from 1970-1997), haven't made the playoffs in six out of the last seven years. The New York Rangers, winners of the 1994 Stanley Cup after a 52-year drought, had made the playoffs 16 times in the 20 years before the last lockout, but have failed to reach the postseason for past seven years. The Los Angeles Kings have qualified for the playoffs only four of the last 11 years.
Patrick Rishe, an assistant economics professor who teaches sports business at Webster University in St. Louis, said the NHL's risk of rejection by fans might depend on how long the lockout lasts.
"Striking out the whole season could build enough anger amongst the die-hard fans that they might consider walking away," Rishe said. "But it could also be a situation where scarcity makes the heart grow fonder."
Rishe said he believes fans are not as disenchanted with hockey players as they were with baseball players, which would ultimately help the owners. Despite the fact that some polls have shown that fans side with the owners, Rishe thinks that opinion might have changed.
"A lot of people are siding with the players because they have seemed much more receptive to change and compromise (than the NHL owners and the baseball players)," Rishe said. "If they took a more hard line stance, I think you'd see a lot more negativity towards the players on the fan's part."
Darren Rovell, who covers sports business for ESPN.com, can be reached at darren.rovell@espn3.com
ESPN.com Sports Business reporter
ESPN.com's sports business reporter since 2012; previously at ESPN from 2000-06
Appears on SportsCenter, ESPN Radio, ESPN.com and with ABC News
Formerly worked as analyst at CNBC
SPONSORED HEADLINES
MORE NHL HEADLINES
MOST SENT STORIES ON ESPN.COM
EDITORS' PICKS
#LevyAndMelrose: Barry Melrose provides an important reminder of why you don't want to give Stu Grimson bad news.
Watch

Patrice Bergeron is the odds-on favorite to win the Selke. Right?
Story

Wondering if the Lightning and Blues are ready to take the next step in the postseason.
Hockey Today »