Sabres unveil controversial new uniforms at practice
Updated:
September 16, 2006, 6:40 PM ET
Associated Press
BUFFALO, N.Y. -- The Buffalo Sabres officially introduced their controversial new uniforms at an open practice Saturday.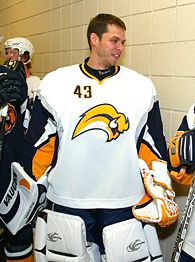 Rick Stewart/Getty ImagesGoalie Martin Biron gets ready to join his Sabres teammates in showing off the team's new jerseys Saturday.
Images of the new logo, a gold bison charging in an arc, were leaked over the summer, and more than 20,000 fans signed online petitions protesting the design. But the Sabres forged ahead, believing fans would warm to it.
Sabres officials said in July that a third jersey would be used, featuring the original team logo, which was used from 1970-96.
On Saturday, about 8,000 fans attended the practice and gave the team a rousing ovation when it took the ice in the new uniforms, which also have the players' numbers on the front of the shirt just below the right shoulder.
"I think fans like the jersey, but they really love the team," Sabres managing partner Larry Quinn said.

Copyright 2006 by The Associated Press
SPONSORED HEADLINES
MORE NHL HEADLINES
MOST SENT STORIES ON ESPN.COM
EDITORS' PICKS
#LevyAndMelrose: Barry Melrose provides an important reminder of why you don't want to give Stu Grimson bad news.
Watch

Patrice Bergeron is the odds-on favorite to win the Selke. Right?
Story

Wondering if the Lightning and Blues are ready to take the next step in the postseason.
Hockey Today »