Simon suspended for hitting player with stick
Updated:
March 10, 2007, 1:20 AM ET
ESPN.com news services
UNIONDALE, N.Y. -- Chris Simon stepped onto the ice at Nassau Coliseum, dressed in his New York Islanders jersey for perhaps the final time this season. The occasion was team picture day, but the rugged forward barely mustered a smile.
Hradek: What's He Thinking?
In a sick irony, Chris Simon's stick attack on Ryan Hollweg came on the three-year anniversary of Todd Bertuzzi's blindside hit on Steve Moore. The timing is just mind-boggling, E.J. Hradek writes. Blog


• The SportsBash: Hradek on Simon's vicious hit


Simon was suspended indefinitely by the NHL on Friday, one day after his vicious two-handed stick swing to the face of New York Rangers forward Ryan Hollweg. Simon, who was given a match penalty Thursday night for deliberate attempt to injure, was summoned to a hearing set for Saturday at the league office in New York.
Hollweg took a few stitches in the chin but was not seriously hurt. Simon will likely be feeling the sting of his actions for quite some time. The length of the banishment won't be determined until the hearing with league disciplinarian Colin Campbell.
The suspension could be as long as those given to Todd Bertuzzi and Marty McSorley following their violent infractions that also gave a black eye to hockey. The Islanders have 15 regular-season games left and might be without Simon for those and the playoffs should the team qualify.
"It hurts, no question," forward Mike Sillinger said. "His presence on the ice, his toughness in the locker room. Obviously there is nothing we can do about that. What's done is done and we move forward."
Simon didn't feel well Friday after the photo session and went to see a doctor, an Islanders spokesman said. Simon appeared to be shaken up when Hollweg checked him hard into the boards, sparking the retaliation. Newsday reported Friday that Simon was suffering from symptons similar to a concussion and was not allowed to fly. Simon's injury might be why the hearing is in New York instead of Toronto, where disciplinary sessions are commonly held.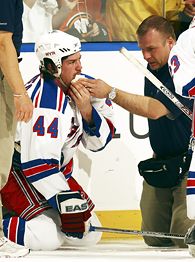 Al Bello/Getty ImagesTrainers tend to Ryan Hollweg after the Islanders' Chris Simon hit him in the face with his stick on Thursday night.
He might also face legal troubles in New York.
A spokesman for Nassau County district attorney Kathleen Rice said Friday that "no decision has been reached" about whether to bring charges against Simon.
"We are going to review the tape," spokesman Eric Phillips said.
This marked the sixth suspension Simon has been given by the league, which could work against him when the punishment is meted out.
"I haven't really had time to sit down and talk to him about the situation," said Islanders defenseman Brendan Witt, Simon's roommate for six years when they played for the Washington Capitals. "Nobody is perfect in this world in any situation, and everyone has their moments."
Simon was ejected from the Islanders' 2-1 loss with 6:31 remaining in what was a tie game. The ensuing major power play resulted in Petr Prucha's decisive goal.
Hollweg drove Simon into the boards with an unpenalized hit. Simon got up angrily and met him as they came together again, connecting with a swinging motion near Hollweg's chin and neck. Hollweg fell to his back and rolled over onto his stomach by the boards.
What they're saying...
"I just finished my check on the half wall. ... I think he was a little fazed by it. I turned around, and the next thing I knew he's winding up and hitting me in the face."
-- Rangers forward Ryan Hollweg.

"I've always been known as a team guy, and I feel real bad about letting the team down. ... I think I'll wait until I talk to the league office, and then I'll answer all questions afterward."
-- Islanders winger Chris Simon.

"On something like that, you're disappointed. It doesn't matter who it is."
-- Islanders coach Ted Nolan.

"I think that's just as bad as what Marty McSorley did to [Donald] Brashear. ... You can't just two-hand a guy in the face with your stick."
-- Rangers winger Sean Avery.

"Let's just see if Colin Campbell finally does something about this stuff and doesn't give him three games like he gave that other meathead from New Jersey."
-- Avery, referring to the NHL's discipline of the Devils' Cam Janssen for a hit on the Maple Leafs' Tomas Kaberle.
He was motionless for a few moments and was bleeding from the chin when he got up. Yet, he was well enough to practice with the Rangers on Friday and is expected to play Saturday at Pittsburgh.
"It always looks worse," Witt said. "I saw the guy after the game, he looked fine. That's enough to tell me that it wasn't that bad. You know what I mean?
"The ref obviously thought it was clean," Witt said of Hollweg's hit. "Maybe if there had been a call, it would have never escalated to that."
Simon didn't practice with the team after the photo. He and Islanders general manager Garth Snow declined to comment until after the hearing. Few of the Islanders wanted to talk much about the hit, instead serving as character witnesses for Simon.
"It's unfortunate because he's a great guy and a guy who would stick up for his teammate in any circumstances," said Ryan Smyth, acquired by the Islanders last week. "I'm sure things will be dealt with properly."
If history is any indicator, Simon could be shelved for a long time.
McSorley was suspended for the final 23 games of the 2000 season for knocking out Donald Brashear with a swinging stick. The ban was extended until February 2001 by NHL commissioner Gary Bettman, and McSorley never played in the NHL again.
Bertuzzi missed the final 13 regular-season games and the playoffs because of his blindside punch to the head of Colorado's Steve Moore on March 11, 2004. But the banishment was extended to 17 months and prevented him from playing anywhere during the yearlong NHL lockout.
He was reinstated by Bettman before the 2005-06 season.
McSorley and Bertuzzi were both charged by Vancouver authorities for their attacks. Bertuzzi pleaded guilty to causing bodily harm, and McSorley was convicted of assault with a weapon.
"You can look at any sports and you always have a situation of a certain player ... look at [Latrell] Sprewell, and the list goes on," Witt said. "The league is going to handle it a certain way and we're just going to have to deal with the outcome."
Simon was suspended four other times for violent on-ice acts and received a three-game ban in 1997 after directing a racial slur toward player Mike Grier, who is black.
During the playoffs in 2000, Simon sat out Game 2 of a series against Pittsburgh after he cross-checked Penguins defenseman Peter Popovic across the throat in the opener while with Washington.
In April 2001, Simon received a two-game ban for elbowing Anders Eriksson of Florida. He was then given a pair of two-game suspensions in 2004 -- for cross-checking Tampa Bay's Ruslan Fedotenko and then jumping on him and punching him and for kneeing Dallas defenseman Sergei Zubov.
Simon, a veteran of 14 NHL seasons, signed a one-year, $1 million contract with the Islanders last summer. That reunited him with Ted Nolan, who was Simon's coach during his final year of junior hockey and took over behind the New York bench this season.
"You never question what kind of team guy he is," Nolan said Friday. "I've coached a lot of people in my life but not too many good team guys better than Chris Simon.
"It's one of those things where unfortunate things happen, but we're professional people. Things happen and you move on," Nolan said.
The Islanders are in seventh place in the Eastern Conference, just three points ahead of the Rangers -- who they will face twice more. An already bitter rivalry just got a lot more heated.
"It's always like that against the Rangers," Witt said. "Both teams really hate each other, which is sort of good because it's a good rivalry and it's a good hockey atmosphere. The place was rocking."
Information from The Associated Press was used in this report.
SPONSORED HEADLINES
MORE NHL HEADLINES
MOST SENT STORIES ON ESPN.COM