Every NHL team to don Reebok EDGE uniforms this season
Updated:
September 12, 2007, 6:19 PM ET
Associated Press
DENVER -- The Colorado Avalanche modeled their new-look uniforms Wednesday, featuring a streamlined jersey that sports the traditional Avalanche colors and logo but has brighter colors and a trimmer fit.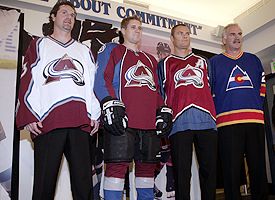 AP Photo/David ZalubowskiDefenseman John-Michael Liles, second from left, shows off the team's new uniform.
Every NHL team will don the Reebok EDGE uniform beginning this season.
The uniforms are made with four new fabrics designed to help keep players lighter, drier and better protected.
It's the first major change in hockey uniforms in more than 20 years.
"We found the National Hockey League lagged behind some of the advancements that were made [in other sports]," said Jim Haskins, vice president of consumer products marketing for the NHL.
Avalanche coach Joel Quenneville, former player Curtis Leschyshyn and current players Milan Hejduk and John-Michael Liles modeled the progression of uniforms for Colorado teams in the NHL. Quenneville's jersey, the classic look of the Colorado Rockies from the late 1970s, was similar in design to last year's Avalanche version worn by Hejduk.
Taking note of failures in other sports when redesigns came about, Reebok worked with the NHL, the players and coaches on the new look.
"We've seen bad experiences where players were not brought into the research and development process," said Greg Grauel, vice president of merchandising at Reebok. "It was integral to the success of this to literally work with every player, every team. Obviously, 100 percent of the success is having all the player feedback."
Liles said he's pleased with the new look.
"I don't know that I'll miss the heavy, bulky sweater," the Avs' defenseman said. "Any time that jerseys have been around that long, I think there's a spot for them, but at the same time, they did a great job in the design of these. Just the feel and I think the look as well."
The look was a concern among rabid hockey fans. Hockey fans, traditional and passionate by nature, Grauel said, were skeptical of a tight-fitting "Spider Man" look.
But Quenneville, who retired from play in the days when players were still going without helmets, said he enjoys the new look as much as the improved performance.
"I think they look great," Quenneville said. "We all look at changing rules in the game, any way we can help the game, that's all part of it. I think whether we're talking equipment or sweaters, any way you can enhance performance or enhance them staying healthy, improve their play, you've got to move on."
The old jerseys were too hindering and provided minimal protection from sweat and water, Haskins said. The new jersey is 14 percent lighter in pre-game weight. A lightweight fabric called PlayDry was incorporated to wick away moisture from the skin. And a water-repellent technology was used to provide a drier uniform that retains 76 percent less moisture over the course of the game.
"Our athletes were sewing their socks" Haskins said. "They were tucking their hems into their pants. They were tucking their cuffs into their glove. And they were cutting their pants to create a greater stride or movement within the pant area. And all of those observations are the athlete telling you that the uniform system is not working for them."

Copyright 2007 by The Associated Press
SPONSORED HEADLINES
MORE NHL HEADLINES
MOST SENT STORIES ON ESPN.COM
EDITORS' PICKS
CHI 4, TOR 0: The Blackhawks ripped into the suddenly slumping Leafs on Sunday night.
Recap »

Who's trending up and down in the NHL this week? We're here to tell you who's hot and not.
Strang »

Clint Malarchuk: Let me tell you about the first time I was supposed to die.
Book excerpt »