Fans enjoy tailgating before first U.S. outdoor NHL game
Updated:
January 1, 2008, 7:45 PM ET
Associated Press
ORCHARD PARK, N.Y. -- Pigskins and now pucks. Rain, shine or snow. If there's a game at Ralph Wilson Stadium, you can count on Ken Johnson holding a cookout on the hood of his 1980 red Pinto wagon out in the parking lot.
[+] Enlarge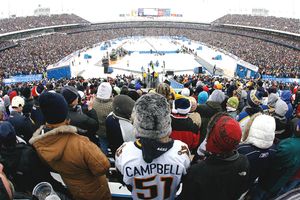 Bill Wippert/NHLI via Getty ImagesOver 71,000 fans battled the cold weather to watch the Sabres play the Penguins in the NHL Winter Classic outdoor game at Ralph Wilson Stadium.
"I've got burgers, that's Philly cheesesteak, and I've got chicken wings boiling in the army helmet," Johnson said Tuesday morning, proudly showing off his tailgating area in Lot 1 near Pole 5 prior to the Pittsburgh Penguins' 2-1 win over the Buffalo Sabres in the NHL Winter Classic outdoor game.
If anyone's in the mood for pizza, he's got that cooking in the top shelf of an office filing cabinet. And there's a bar set up for those interested in having a shot of Polish cherry liqueur poured out of the thumbhole of a bowling ball.
"I call it my 16-pound shot glass," Johnson said. "It actually tastes like crap. I don't know why people drink it. But I go through 12-14 bottles of this a game."
Johnson's been doing this since 1989, a stretch in which he hasn't missed a Buffalo Bills home game. And there was no way the Sabres and Bills season ticket-holder was going to pass up an opportunity to provide the free spread -- it costs the computer software engineer about $4,000 a year -- for the NHL's first outdoor game in the United States.
Zoom Gallery
Wings in an army helmet, shirtless fans in the snow, hockey back in the great outdoors … check out the Zoom Gallery of photos chronicling the Winter Classic.
Photos
And this wasn't Johnson's first Sabres tailgate. The Rochester native held a smaller version in a parking lot outside of Buffalo's HSBC Arena in 1999 when the Sabres hosted Dallas in the Stanley Cup finals.
"This is Buffalo," crowed Dan Barrett, of nearby Fort Erie, Ontario, while making his way through the parking lot as a light snow fell.
"Pass 'em around boys," someone was overheard saying, while distributing a handful of Jell-O shots.
There were tents and tuques (winter hats, as they're known in Canada), grills, gloves and Christmas cookies. There were Sabres flags flying from cars and vans. One group of fans gathered in a converted school bus and watched TV while being warmed by a propane heater.
Rather than Jim Kelly and Thurman Thomas jerseys, fans wore those of Sidney Crosby and Evgeni Malkin, Ryan Miller and Thomas Vanek.
Fans dressed in layers, began filtering into the 74,000-seat stadium once gates opened at 11 a.m., had it packed well before the opening faceoff, and sang along as the pregame band played the Neil Diamond classic, "Sweet Caroline."
And a very big cheer went up as both teams, led out by a bagpiper, came out of the end-zone tunnel and made their way to the rink for the pregame skate.
The crowd, announced at 71,217, stayed until the end, and included several young men who went shirtless for most of the game. Fans in the lower bowl stood throughout, and the cheers were most loud when the game went to a shootout.
"This is awesome!" said Michelle Adams as she settled into her seat in section 330, some 15 rows from the top of the top of the stadium. "This is so cool!"
Actually, it was relatively mild for Buffalo with temperatures at about 30 and, more important, little wind coming off nearby Lake Erie.
"They couldn't have picked a better town to have it in," added Elizabeth Brooks, who came prepared, with 18 pairs of hand-warmers stuffed into the pockets of her winter coat.
Not that she needed them.
"We know cold," Brooks said. "This isn't cold."
Penguins fans were enjoying themselves, too.
"I wouldn't miss it for anything," said Alex Greif, who made the three-hour drive from Pittsburgh earlier in the day.
Greif and his brother Karl purchased their tickets on e-Bay about two months ago. They spent $170 each on tickets that had a face value of $29, and sat eight rows from the top.
The view turned out to be very good, because they had a clear look at the entire ice sheet below. Fans sitting in the lower bowl had their sight lines partially obstructed by the boards.
"Everybody told us we wouldn't be able to see because we were so high, but I think it's wonderful," Alex Grief said.
Not that anything -- the view or their ticket price -- mattered.
"I couldn't care less," Alex Greif said about how much they paid for tickets. "It was worth it."

Copyright 2008 by The Associated Press
SPONSORED HEADLINES
MORE NHL HEADLINES
MOST SENT STORIES ON ESPN.COM
THE WINTER CLASSIC

The NHL hosted the first regular-season outdoor game in the United States on Jan. 1, 2008 as the Penguins and Sabres squared off at Ralph Wilson Stadium in Buffalo, N.Y.
GAME DAY
•
Recap: Crosby's SO winner caps magic day
•
Burnside: This should not be regular NHL event
•
Burnside: Grading the Winter Classic
•
ZOOM: Photos from Ralph Wilson Stadium
•
In-game blog
•
Outdoor game brings out tailgaters
•
Winter Classic highlights

NEWS
•
Winter Classic draws big TV numbers
•
Slight rule changes for outdoor game
ANALYSIS
•
Burnside: Players embrace outdoors atmosphere
•
Faceoff: Gimmick or celebration of heritage?
•
Burnside: The man behind the outdoor magic
•
Burnside: This time, more at risk for NHL
WATCH
•
Hradek: A preview of The Winter Classic

•
Melrose: Why Winter Classic is a good thing