Commentary
Meet Cody Hodgson, this draft's big mover
Updated:
May 5, 2008, 7:12 PM ET
By
Gare Joyce
| Special to ESPN.com
No prospect will go into the NHL draft coming off a performance quite like Cody Hodgson's.
Hodgson had never played in a contest bigger than the gold-medal game of the World Under-18 Championship against defending champion Russia. He had never played in a more hostile arena than in Kazan, a couple of hours from Moscow, where the crowd's whistles every time a Canadian touched the puck were enough to shatter Plexiglas. He had never been asked to do as much for a team as he was for the hastily assembled Canadian side sent to the tournament -- first power play, first penalty kill, first line, first option on important faceoffs, captain.
And Hodgson had never been, and probably will never be, part of a team that dominated a game quite like the Canadian under-18 team did against the talented Russians, who featured, among others, forward Nikita Filatov, who many scouts consider the second-best player eligible in this June's draft.
[+] Enlarge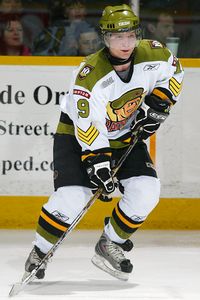 Claus Andersen/Getty ImagesCody Hodgson had 85 points in 63 games this season for the Brampton Battalion.
Final score: Canada 8, Russia 0.
"We never saw that coming," the forward said over the phone from the winners' dressing room last week. "But I had a good feeling about the team when we got to the rink. I knew we were ready to play."
That was Canada coach Pat Quinn's postgame post-mortem. "In my years of coaching, I've never seen a team come out and play a first period like that," Quinn told the players, who would have been in sixth grade when he coached Canada to Olympic gold at the 2002 Salt Lake City Games.
That start is all the more remarkable given that the players had met only a couple of weeks before and got in only a couple of practices and exhibition games in Belarus before making it to the tournament. For the spring under-18s, this Canadian team, like others in years past, is assembled from players whose major-junior clubs either missed the playoffs or are knocked out in the first round. Hodgson's team, the Brampton Battalion, was knocked out unexpectedly in the first round of the Ontario Hockey League playoffs by the Barrie Colts. "I hadn't even thought about the [under-18] tournament even the week before we flew over," he said.
The summer under-18 tournament, the Ivan Hlinka Memorial, was played last August in the Czech Republic, and Canada had its pick of the best prospects available, including Steven Stamkos, who'll be the first pick in this year's draft. The pre-tournament favorites last summer, the Canadians finished a dismal fourth. The chances for the Canadian team in the spring tournament looked pretty bleak -- Hodgson was one of only four players in the lineup who had been selected for the summer event and Brampton teammate Matt Duchene was one of four underage players who went to Russia.
History was working against the Canadian team, as well. For many years, the country wasn't represented at all at the spring under-18s because of the conflict with the major-junior schedule and Hockey Canada reached only two finals (winning gold in 2003 and silver in 2005) since it started sending teams in 2002.
Neither the Canadian nor the Russian teenagers seemed to have got the message.
Hodgson didn't score the goal that set the tone. That was Nicholas Deschamps from Chicoutimi of the Quebec Major Junior Hockey League, whose shorthanded breakaway less than five minutes in ended up as the winning goal.
Hodgson didn't make the prettiest play. That was either an otherworldly deke by underager Brayden Schenn of Saskatoon of the Western Hockey League or a double toe-drag classic by Jordan Eberle of Regina, also out of the WHL, on his second goal in the final.
No, Hodgson didn't score a goal in the final, though he did set up Eberle on a power-play goal in the first period, when the game was still in some doubt. Hodgson had a good game, but not his best game of the tournament. In the 2-1 victory over Finland in the quarters, Hodgson had the winning goal, assisted on the first and helped kill a 5-on-3 penalty early in the second period. In the 3-2 win over Sweden, he picked up a couple of assists and was on the ice in every situation, including the last minutes, as Canada held on to a narrow lead.
Hodgson was the best player when they needed him most.
"The role Cody had in Russia is like the role he played for us," Brampton coach Stan Butler said. "He's our go-to guy, first line, and plays against the other teams' best players. He was able to really show a lot for the Canadian team because he was in against players his own age. In the Ontario league, he's been playing against players two or even three years older.
"If Cody's back in junior next year [and not in the NHL], he can build on what he did in Russia."
Hodgson's numbers with the Battalion are solid, if not quite in the same category as those of Stamkos or Oshawa's scoring phenom John Tavares -- 23 goals in his first season, 40 in 68 games this campaign and five goals in five playoff games before heading to Russia. With two goals and 10 assists in seven games at the under-18s, Hodgson was the tournament's leading scorer.
A few scouts and commentators have knocked Hodgson for his skating and probably expected that he might struggle on the bigger ice surface. That's hardly how it worked out.
"Cody's adaptable," Butler said. "He can figure things out on the fly. He has had experience internationally playing for the under-18s. He's a smart positional player, even on the big ice. The space between the dots is the same and that's Cody's office."
Though Hodgson played youth hockey in the Toronto area (and was a teammate of Stamkos with the Markham Waxers), he originally hails from Haliburton, a small, rustic town that you find wedged in granite a couple of hours northeast of Toronto.
Several years ago, his father, Chris, moved the family to Toronto after he was voted into office in the Ontario provincial government. (These days Chris is the president of the Ontario Mining Association.) The Hodgsons still summer in Haliburton and Cody gets to work out with his grade-school buddy Duchene.
"We were best friends growing up," said Duchene, a likely top-five pick in the 2009 draft. "He's such a hard worker, he pushed me to be better. And that's how it is with the Battalion. There are older guys and a lot of them are great players, but Cody is the one that really sets the work ethic."
For his part, Hodgson said he put the draft out his mind when he was named to the Canadian team.
"The thing that I learned here is that any individual success is pretty meaningless if it's not part of a team success," he said after the win over Russia. "What we accomplished here is what we did as a team. Everybody played his part and everybody was important."
NHL Central Scouting had Hodgson ranked No. 9 among North American skaters on its final list. It's easy to project him as a top-15 pick. Those who like him would project him as a Chris Drury type, a solid second-liner who can play against other teams' top line and offer clutch scoring and character. Others who grade him down for skating and athleticism and project him as a second- or third-liner, a safer pick than some who will be called before him at the draft in Ottawa, but maybe one with less perceived upside.
When a prospect is praised as a smart player, it's often an implied criticism of skill and athleticism -- that he's making more of less. No player helped his stock this spring as much as Hodgson did with his performance in Russia.
He looked like something more than a smart player.
Gare Joyce is a regular contributor to ESPN The Magazine and ESPN.com.
Gare Joyce is a contributing writer for ESPN The Magazine.
EDITORS' PICKS
Pucks Central: The Sens face a new test, the Kings are rolling through New York, and there was an odd show in Buffalo on Thursday.
Story »

With seven guys within five points of the league scoring lead, who better to break down the Art Ross Trophy race than The Great One.
LeBrun »

Jaromir Jagr says he could play at least seven more years, and there is no questioning the impact the 43-year-old has already had on the Panthers.
LeBrun »
MOST SENT STORIES ON ESPN.COM