Hossa tells Penguins he intends to test free-agent market
Updated:
June 22, 2008, 9:03 AM ET
ESPN.com news services
OTTAWA -- Marian Hossa told the Pittsburgh Penguins he intends to test the NHL free agent market, and the star forward expects to attract lucrative offers once bidding begins July 1.
[+] Enlarge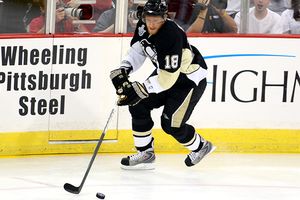 Jason Bridge/US PRESSWIREMarian Hossa, one of 12 Penguins who would become unrestricted free agents on July 1, had 26 points in 20 playoff games en route to the Stanley Cup finals.
Penguins general manager Ray Shero told reporters at the draft that Hossa had told him he was going to see what his options were.
"I got an answer from Hossa. He's going to July 1," Shero said Saturday after the final day of the NHL draft. "He tells us we look to be his first choice, but I believe he's going to go to July 1 just to make sure, and we'll see where that brings both of us.
"I think, from Marian's standpoint, he just wants to be 100 percent sure."
The Penguins were believed to have offered Hossa a seven-year deal worth about $49 million, according to ESPN.com's Scott Burnside, but Shero said Hossa and his agent, Ritchie Winter, had declined the deal.
"I think we made him a very fair contract offer," Shero said. "The important thing is, I know Marian had a great experience in Pittsburgh. I know we're at the top of his list. I believe he just wants to be sure. But as I told him, once you go down this route for both sides there's risk involved. I think it's important for him to know that he's our first priority as a UFA but if it doesn't work out for both of us, it's not meant to be and we'll be ready to move on."
Hossa will be a hot commodity on the free-agent market, and could receive offers as much as $8 million. The Penguins acquired Hossa at the February trade deadline, knowing they could lose him in a matter of months, and sent forwards Colby Armstrong and Eric Christensen, prospect Angelo Esposito and a first-round draft pick (Daultan Leveille) to the Atlanta Thrashers.
"I've got players as well that I need to tend to and they need due respect as well," Shero said.
Hossa had 10 points (three goals, seven assists) in 12 regular-season games with Pittsburgh, but missed six because of a knee injury. He then delivered in the playoffs, scoring a team-best 12 goals and adding 14 assists, while clicking on a line with Sidney Crosby, and helping the Penguins reach the Stanley Cup finals.
A veteran of 10 NHL seasons, Hossa is a six-time 30-goal-scorer.
The Penguins are handcuffed by the salary cap and can't afford to upset a payroll scale topped by Crosby, who is signed through 2012-13 and will make an average of $8.7 million a season. Even with the cap projected to rise from $50.3 million to $56 million next season, the Penguins must keep space open in their bid to re-sign star forward Evgeni Malkin and starting goalie Marc-Andre Fleury, who are entering the final years of their contracts.
Besides Hossa, the Penguins have several core players, including forwards Ryan Malone and Gary Roberts and defenseman Brooks Orpik, eligible to become free agents.
"I explained to him that I've got other free agents on our team," Shero said. "What's important to me, and the word I used to him and his agent is clarity. I need some clarity in the situation here. I've got things tied up here waiting, and I need to move forward for the best interests of our hockey team."
Information from ESPN.com NHL writer Scott Burnside and The Associated Press were used in this report.
EDITORS' PICKS
Trade deadline: Additions James Wisniewski and Keith Yandle tipped the scales, and the big deadline sellers did too.
Burnside »

Trade deadline: Take another look at all the deals and analysis with our panel of experts right here.
Coverage »

NHL general managers got in 24 trades before time ran out on the trade deadline.
Watch