Capitals sign team's Web site producer as backup goalie
Updated:
December 13, 2008, 1:37 AM ET
Associated Press
WASHINGTON -- A 6-foot-7 Web site producer for the Washington Capitals dressed as the team's backup goalie for Friday night's game against the Ottawa Senators because of an injury to Jose Theodore.
[+] Enlarge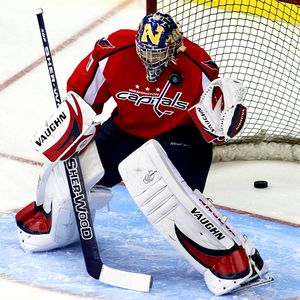 AP Photo/Luis M. AlvarezBrett Leonhardt has worked for the Caps' Web site for about a year and has taken part in drills during practices when the team needed an extra goalie.
Brett Leonhardt, a Division III goalie in college, signed an amateur tryout contract before the game. If he had actually played, he would have tied Ben Bishop of the St. Louis Blues as the tallest goalie ever to see action in an NHL game.
Theodore suffered a hip flexor injury during the Capitals' morning skate, and Simeon Varlamov was recalled from Hershey, the team's AHL affiliate, to back up starter Brent Johnson.
But Hershey happened to be on the road in San Antonio, and Varlamov didn't arrive in time for the 7 p.m. faceoff.
So the Capitals received special dispensation from the league to dress three goaltenders. Leonhardt had a spot on the bench until Varlamov arrived midway through the first period.
By the end of the second period, Leonhardt was back in a dress shirt and tie and in his usual spot in the press box, preparing for his regular job of holding the camera during postgame interviews following the Capitals' 5-1 victory.
But first, of course, everyone wanted to interview him.
"Every dream come true," Leonhardt said. "Growing up in Canada, playing since I was 4. It was just very surreal. It was a blur, went by real quick."
Although he didn't play, Leonhardt -- whose nickname is, you guessed it, "Stretch" -- enjoyed the thrill of his life as he dressed in jersey No. 80 and went through the usual player's pregame routine, including having his skates sharpened. Teammates greeted him warmly during pregame warmups as he fended off shots from superstar Alex Ovechkin and others while tending goal at the Verizon Center.
"It was a great view. Usually I'm up here with you guys in the press box," Leonhardt said. "Mike Green started laughing his head off."
During the first half of the first period, Leonhardt sat at the end of the bench in a white baseball cap. He looked down sheepishly when shown he was shown on the huge replay screen along with the caption: "1st NHL game." The crowd roared.
The crowd cheered again later in the period when Varlamov -- also new to the big league -- was shown on the screen along with the same caption.
The 26-year-old Leonhardt played two years for Oswego State in New York and two years for Neumann College in Pennsylvania before graduating in 2007. He has worked for the Capitals' Web site for about a year and has taken part in drills during practices when the team needed an extra goalie. He wore one of his college masks from Neumann during warmups.
His chances of playing Friday weren't exactly remote. Johnson had a sore hip from a fall during Wednesday night's victory over the Boston Bruins.
Even if he had played, Leonhardt wouldn't have received an NHL check. The special amateur contract pays nothing.
"I should pay them for being able to do this," he said.
The Capitals also reassigned forward Oskar Osala and defenseman Sean Collins to Hershey.

Copyright 2008 by The Associated Press
EDITORS' PICKS
Power Rankings: The Rangers thought they were allowed to look human this week, so it was time for a Wild shake at the No. 1 spot.
LeBrun »

With seven guys within five points of the league scoring lead, who better to break down the Art Ross Trophy race than The Great One.
LeBrun »
MOST SENT STORIES ON ESPN.COM