Toskala out; Gerber picked up
Updated:
March 4, 2009, 6:48 PM ET
Associated Press
TORONTO -- The Toronto Maple Leafs picked up Martin Gerber off re-entry waivers from the Ottawa Senators on Wednesday, adding some depth in goal after the club announced Vesa Toskala was done for the season.
Tosakala, who hasn't lost in regulation since Jan. 19, will have hip and groin surgery and was placed on injured reserve Wednesday.
2009 NHL Trade Deadline

Want to know which players moved on March 4? Check out all the trades here:
KEY INFO
Relive all of the action and analysis from March 4 with experts Scott Burnside, E.J. Hradek, Pierre LeBrun and Barry Melrose. Deadline blog
He made 49 saves during a 3-2 overtime loss to New Jersey on Tuesday night, but nothing specific happened in that game to force him to shut it down for the year.
"We've been knowing what's going on for a while," Toskala said. "We made the decision together. We need to start healing as soon as possible because recovery might take quite a long time."
Toskala is 22-17-11 in 53 appearances this season with a 3.26 goals-against average and .891 save percentage. He expects the recovery period to last up to four months.
Gerber is 4-9-1 in 14 appearances this season with a 2.86 goals-against average and .899 save percentage. He's spent the past couple of months with Binghamton in the American Hockey League.
Gerber, who is making $3.7 million this season, will become an unrestricted free agent July 1. The Leafs will pay half his salary for the remainder of the season.
The Maple Leafs also picked up defenseman Erik Reitz off waivers from the New York Rangers.
Reitz has two points in 42 games with the Rangers and Minnesota Wild this season.

Copyright 2009 by The Associated Press
2009 NHL TRADE DEADLINE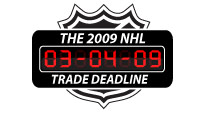 Here is all the news, analysis and intrigue from the March 4 NHL trade deadline:
KEY INFO
THE BIG DEALS
ANALYSIS