Cole, Williams, O'Sullivan get moved
Updated:
March 4, 2009, 7:08 PM ET
ESPN.com news services
RALEIGH, N.C. -- The Carolina Hurricanes reacquired left wing Erik Cole from Edmonton in a three-team trade that sent forward Justin Williams to the Los Angeles Kings and center Patrick O'Sullivan to the Oilers.
The Hurricanes traded Williams to Los Angeles for O'Sullivan and a second-round pick in this year's draft.
Carolina then sent O'Sullivan and its own second-round pick in Edmonton for Cole and the Oilers' fifth-round draft pick.

#26 RW
Edmonton Oilers
2009 STATS
GM

63

W

16

L

11

T

27

SV%

-3

GAA

63
Edmonton made another, separate acquisition Wednesday, acquiring forward Ales Kotalik from the the Buffalo Sabres for a second-round pick.
In July, Carolina sent Cole to the Oilers for defenseman Joni Pitkanen, parting with one of the team's most popular players who helped them win the Stanley Cup in 2006 after he returned from a broken neck. Cole also helped Carolina reach the Cup finals in 2002.
Carolina drafted Cole in the third round of the 1998 draft. He is fourth in goals scored by Hurricanes players since the team relocated to North Carolina a decade ago.
Cole, 30, has 16 goals and 11 assists in 63 games this year.
2009 NHL Trade Deadline

Want to know which players moved on March 4? Check out all the trades here:
KEY INFO
Relive all of the action and analysis from March 4 with experts Scott Burnside, E.J. Hradek, Pierre LeBrun and Barry Melrose. Deadline blog
"Erik was an important player for our team for a long time, and will be an integral part of our push for the playoffs," Hurricanes general manager Jim Rutherford said in a statement. "We thank Justin for all he has done for us. It is difficult to part ways with Justin because of what he has meant to our organization. The last few years have been tough on him and our team with his injuries, and we wish him all the best in Los Angeles."
Williams, 27, had 81 goals and 120 assists since Carolina acquired him from Philadelphia in 2004. He also played a vital role for the Hurricanes in their 2006 Cup run, scoring the clinching, empty-net goal in the final minute of Game 7 against the Oilers.
Williams had seven goals and 11 assists in 25 career playoff games with Carolina.
He is on injured reserve because of a broken hand, and has played only 32 games this season because of an Achilles injury.
O'Sullivan posted 14 goals and 23 assists in 62 games this season. In 188 NHL games, he has 41 goals and 68 assists.
Information from The Associated Press was used in this report.
2009 NHL TRADE DEADLINE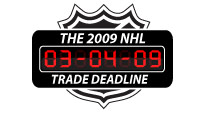 Here is all the news, analysis and intrigue from the March 4 NHL trade deadline:
KEY INFO
THE BIG DEALS
ANALYSIS
MOST SENT STORIES ON ESPN.COM