Flyers acquire bruiser Carcillo
Updated:
March 5, 2009, 1:06 AM ET
Associated Press
VOORHEES, N.J. -- Up against the salary cap and unable to make a big deal, the Philadelphia Flyers made a pair of minor ones on Wednesday, acquiring forward Daniel Carcillo from the Phoenix Coyotes and defenseman Kyle McLaren from the San Jose Sharks.
ANOTHER TOUGH GUY

Daniel Carcillo, who grew up a Flyers fan, says he has been working on being more level-headed -- but he still leads the NHL this year with 174 penalty minutes. Below are the players with the most penalty minutes the past two seasons.
| Player, team | Penalty minutes |
| --- | --- |
| Daniel Carcillo, Flyers | 498 |
| Jared Boll, Blue Jackets | 366 |
| Riley Cote, Flyers | 350 |
| Zack Stortini, Oilers | 343 |
| Chris Neil, Senators | 326 |
The Flyers traded forward Scottie Upshall and a 2011 second-round draft pick to the Coyotes on Wednesday and gave the Sharks a 2009 sixth-round pick.
"We weren't really pushing to make any big deals because at the end of the day we like our team," Flyers general manager Paul Holmgren said.
Holmgren said he had no serious trade discussions about Anaheim defenseman Chris Pronger, refused to part with the prospects needed to pry defenseman Jay Bouwmeester away from Florida and never seriously considered trading goalie Martin Biron.
Biron, who led the Flyers to the Eastern Conference finals last season, has been locked in a battle with Antero Niittymaki for the starting job this year.
"That was never really an issue," Holmgren said. "I like our goaltending."
Biron and Niittymaki are both free agents at the end of the season.
Upshall, acquired two years ago from Nashville near the trade deadline in the Peter Forsberg trade, had seven goals and 21 points in 55 games this season for the Flyers.
He had become a fan favorite with the Flyers, was close with his teammates, and hoped he wouldn't be traded. Upshall said he was getting a haircut in Philadelphia's historic district when he got a call from a reporter telling him he was dealt.
"

That will make them funner to play against.

"

-- A sarcastic Bruins GM Peter Chiarelli, on the Flyers acquiring fighter Daniel Carcillo
"I sat around this morning and thought I wouldn't want to be anywhere but Philadelphia after today and finish the season here," Upshall said. "It was tough to take."
Holmgren said the Flyers are now about $900,000 under the salary cap, allowing them to recall needed players from the AHL without sending others down.
The Flyers had to waive center Glen Metropolit and defenseman Ossi Vaananen last week to clear cap space when Danny Briere was activated off injured reserve.
The Flyers (34-18-10) are in fourth place in the Eastern Conference and will have Carcillo for Thursday's game against Calgary.
2009 NHL Trade Deadline

Want to know which players moved on March 4? Check out all the trades here:
KEY INFO
Relive all of the action and analysis from March 4 with experts Scott Burnside, E.J. Hradek, Pierre LeBrun and Barry Melrose. Deadline blog
Carcillo is a fighter who leads the NHL with 174 penalty minutes.
"That will make them funner to play against," Bruins general manager Peter Chiarelli said sarcastically.
He also has three goals and 10 points in 54 games and could spell the end of any significant playing time for Flyers enforcer Riley Cote. Carcillo, who said he grew up a diehard Flyers fan, has worked on calming down and keeping his temper in check while still playing with a physical edge.
"I think I've come a long way since my first year," he said. "I was kind of reckless and wanted to get my name out there and see what I could do. I feel like I've been a lot more disciplined this year."
Holmgren said Carcillo sometimes gets "a little overexhuberant" but would fit in fine with the Flyers.
McLaren, who spent the season with Worcester of the AHL, has 46 career goals and 207 points in 719 NHL games. He will be assigned to the AHL's Philadelphia Phantoms.

Copyright 2009 by The Associated Press
2009 NHL TRADE DEADLINE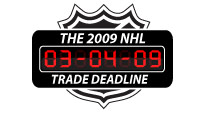 Here is all the news, analysis and intrigue from the March 4 NHL trade deadline:
KEY INFO
THE BIG DEALS
ANALYSIS
MOST SENT STORIES ON ESPN.COM