Commentary
Rocket race, Kovy's future and loonies
We are midway through the 2009-10 season, so what should puckheads keep an eye on in the second half? Here are 10 burning questions from our experts:
1. Which of these teams will most likely fade out of the playoff picture: Colorado, Phoenix or Nashville?
Burnside:
I'm not sure any of them will, but I think the Preds are most susceptible to falling just below the Mendoza Line when the dust clears in mid-April. They currently are dealing with the loss of team goal-scoring leader
Martin Erat
and historically have struggled to score.
LeBrun: Keep an eye on the Avs. Hopefully I'm wrong, because I love the way coach Joe Sacco has this team playing, but I worry about the durability of 18-year-old centers Matt Duchene and Ryan O'Reilly. Sacco's system asks a lot of the centers. Craig Anderson's numbers have dipped a bit after a torrid opening two months, and I think it's because he's been a little overtaxed. The rest during the Olympic break should be beneficial to him.
2. Who will win the "Rocket" Richard Trophy for most goals?
Burnside:
Ilya Kovalchuk
. We're not sure with which team (see below), but we're looking for a big second half from the big Russian not named Ovechkin.
LeBrun: Alex Ovechkin. He'd be running away with it at the midpoint had he not gotten hurt and suspended. He'll leave everyone in the dust by April and collect another Rocket, which means another trip to Las Vegas for the NHL awards show. Fun times!
3. Who is your dark horse to win the Hart Trophy?
Burnside:
Henrik Sedin
. The
Vancouver Canucks
forward hit the halfway point tied with San Jose's
Joe Thornton
for the NHL lead in points and proved he can play without his twin brother, Daniel. He is the straw that stirs the Canucks' drink.
LeBrun: Marian Gaborik. Look at the true definition of MVP and ask yourself whether the New York Rangers would have won a single game this season without the NHL's leading goal scorer.
4. What jersey will Ilya Kovalchuk be wearing at the end of the regular season?
Burnside:
We're guessing now it won't be an
Atlanta Thrashers
jersey, so we'll go with a dark horse, the
Philadelphia Flyers
. Second choice?
Chicago Blackhawks
.
LeBrun: Just for kicks, how about the Montreal Canadiens? They're a surprising eighth in the East at the midway point, and GM Bob Gainey was ready to sell the farm for Vincent Lecavalier last season. Why not Kovalchuk?
5. Which coach will feel the most heat in the second half?
Burnside:
Well, the heat is already at the max for Ken Hitchcock in Columbus, but you have to think there's more than a little heat on Terry Murray in Los Angeles to keep his young Kings firmly in the middle of the playoff pack. It's playoffs or bust for Murray and GM Dean Lombardi this season. John Anderson had better stop the bleeding in Atlanta, too.
LeBrun: I know Ducks GM Bob Murray has vowed to trade half his team before he ever contemplates firing coach Randy Carlyle, and he is indeed one of the better bench bosses in the league. But eventually the message gets lost, and at the midway point, few teams have disappointed more than Anaheim, given this past spring's performance.
6. Which of the six or seven mediocre Eastern Conference teams has the potential to do some damage from the bottom of the playoff bracket?
Burnside:
Well, I have a soft spot for the
Tampa Bay Lightning
, and they've got the experience and toughness, along with a better-than-average blue line, to make life uncomfortable for some teams come April. If goalie
Mike Smith
stays hot, why not? If not the Bolts, then look for the Rangers to provide a mighty test for a higher seed, as they did last season in taking Washington to seven games.
LeBrun: No question it's Philadelphia that can emerge from the bottom and scare someone. The Flyers are beginning to understand new coach Peter Laviolette's system, and you can bet GM Paul Holmgren will try to improve his team before the March 3 trade deadline. This is too good a team to be this low in the standings to begin with.
7. Which team will be more dangerous come playoff time if they make it: Detroit or Philadelphia?
Burnside:
Well, if Kovalchuk is a Flyer, I'd go with the Flyers. If not, look for the Red Wings to be healthy and mean come mid-April.
LeBrun: Who the heck would want to face the playoff-savvy, and healthier, Red Wings in the first round? No one, that's who.
8. Which team will suffer the greatest Olympic hangover?
Burnside:
The
San Jose Sharks
have eight players going to the Olympics, the most of any NHL team. Four of them --
Dany Heatley
, Joe Thornton,
Patrick Marleau
and
Dan Boyle
-- are Canadian. If the host Canadians fail to win gold, it will reinforce the widely held perception that the Sharks are a team that cannot get it done in the clutch, and it might send them sideways come playoff time -- again.
LeBrun: No NHL team will suffer an Olympic hangover. It's a myth. As Red Wings GM Ken Holland told us this week, every NHL team will send players to the Olympics; it's the same for everyone.
9. Who are the starters and backups in goal for Canada and the United States at the 2010 Olympics?
Burnside:
Canada has to start
Martin Brodeur
, but
Marc-Andre Fleury
has earned the right to be the backup and get the nod at the first sign of Brodeur wobbling.
Ryan Miller
gets the starting nod for Team USA, and we wouldn't be surprised to see him play every minute.
LeBrun: Brodeur and Roberto Luongo, Miller and Tim Thomas. There is no discussion.
10. A Canadian loonie (Canadian dollar) was buried at center ice during the 2002 Olympics in Salt Lake City. What gets buried this time around in Vancouver?
Burnside:
No truth to the rumor
Wayne Gretzky
will spend the entire Olympic tournament embedded below center ice at GM Place. Instead, we think it will be Team Canada coach Mike Babcock's university jersey from McGill in Montreal.
LeBrun: You have to think someone from Team Canada will find a way to place one of those Olympic-edition loonies somewhere in the ice. Although, I must admit, it's getting a little old.
Scott Burnside and Pierre LeBrun cover the NHL for ESPN.com.
Hockey writer for ESPN.com
10 years at Toronto Sun, Windsor Star and National Post
Wrote best-selling true crime book "Deadly Innocence"
Covers the NHL for ESPN.com and TSN in Canada
Six years on the "Hockey Night In Canada" Hotstove panel
13 years at The Canadian Press National News Agency
SPONSORED HEADLINES
MORE NHL HEADLINES
MOST SENT STORIES ON ESPN.COM
2009-10 MIDSEASON REPORT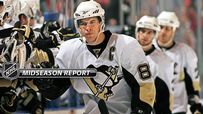 A look at where players and teams stand midway through the 2009-10 season:
ANALYSIS
WATCH
VOTE