Source: Flames sign Jokinen
Updated:
July 2, 2010, 2:16 AM ET
ESPN.com news services
The Calgary Flames have signed center Olli Jokinen to a two-year, $6 million deal, a source told ESPN.com Thursday.
Free Agency Coverage

Need to keep track of NHL free agency? We've got all the tools:
• Top free agents »
• Free-agent tracker »
• Rumor Central

Jokinen, who had 15 goals and 35 assists in 82 games last season, was an unrestricted free agent, leaving the New York Rangers.
-- ESPN.com's Pierre LeBrun
Steen signs four-year extension
Forward Alex Steen, coming off the best season of his career, has signed a four-year extension with the St. Louis Blues.
The 26-year-old Steen was tied for the team lead with 24 goals and totaled 47 points in 68 games for the Blues last season.
"Alex had an excellent year last season and was a key part on our power play unit," general manager Doug Armstrong said. "We're happy to have him in the fold for the next four seasons."
The Blues also signed forward Vladimir Sobotka, acquired from the Boston Bruins late last month, to a one-year extension. The 22-year-old Sobotka had four goals and six assists in 61 games with Boston last season.
-- The Associated Press
Coyotes re-sign Morris, add Whitney
The Phoenix Coyotes re-signed defenseman Derek Morris to a four-year contract and signed veteran winger Ray Whitney.
The Coyotes acquired Morris from the Bruins in one of a flurry of deals by Phoenix at the March 4 trade deadline. The 31-year-old defenseman had played for Phoenix for five seasons before being traded to the Rangers in 2009.
Whitney signed a $6 million, two-year contract, a source told ESPN.com. Whitney was an unrestricted free agent, leaving the Carolina Hurricanes.
The team also announced it had bought out the contract of center Petteri Nokelainen, who was acquired from the Anaheim Ducks, also on March 4.
-- ESPN.com's Pierre LeBrun and The Associated Press
Habs sign Auld to one-year deal
The Montreal Canadiens have signed goalie Alex Auld to a one-year deal worth $1 million, a source said.
Auld was an unrestricted free agent. He will back up Carey Price in Montreal, as the Canadiens traded playoff hero Jaroslav Halak to St. Louis.
Auld has a 2.78 goals-against average and .904 save percentage in 207 career NHL games.
The Canadiens also re-signed Curtis Sanford to a two-way contract. Sanford, 30, likely will play in AHL Hamilton, and would earn $550,000 in the NHL.
-- ESPN.com's Pierre LeBrun
Oilers sign Foster to two-year deal
The Edmonton Oilers appear to have a replacement for Sheldon Souray, signing free-agent defenseman Kurtis Foster to a two-year, $3.6-million deal.
The 28-year-old Foster had eight goals and 34 assists in 71 games for the Tampa Bay Lightning last season. He likely will find a spot among the top four defensemen for the rebuilding Oilers.
Edmonton is still exploring options to trade Souray and his hefty contract.
-- The Associated Press
Source: Thrashers sign goalie Mason
The Atlanta Thrashers have signed goalie Chris Mason to a two-year, $3.7 million deal, a source told ESPN.com Thursday.
Mason, an unrestricted free agent, will earn $1.6 million next season and $2.1 million in 2011-12.
Mason went 30-22-8 with a 2.53 goals-against average for the St. Louis Blues last season. In eight NHL seasons with the Blues and Nashville Predators, Mason is 115-86-26 with one tie and a 2.54 GAA.
-- ESPN.com's Pierre LeBrun
2010-11 NHL SEASON PREVIEW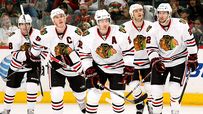 As we count down to opening night on Oct. 7, ESPN.com previews the 2010-11 season:
TEAM PREVIEWS: WESTERN CONFERENCE





•
Watch: Hradek & Barnaby's Central preview





•
Watch: Hradek & Melrose's Northwest preview





•
Watch: Hradek & Barnaby's Pacific preview
TEAM PREVIEWS: EASTERN CONFERENCE





•
Watch: Hradek & Barnaby's Atlantic preview





•
Watch: Hradek & Barnaby's Northeast preview





•
Watch: Hradek & Melrose's Southeast preview
Northeast Division:
Coming Friday
Atlantic Division:
Coming Monday
FEATURES
FANTASY/INSIDER
COUCH SESSIONS
The NHL's biggest stars talked to ESPN.com about the new season. Watch the series