Joe Thornton named Sharks' captain
Joe Thornton was named captain of the San Jose Sharks on Thursday, the day before their regular-season opener versus the Columbus Blue Jackets.
The Sharks had a vacancy at captain after Rob Blake retired this summer. Thornton was a young captain while with the Boston Bruins, but will wear the "C" this time as a 31-year-old veteran star.
Cross Checks Blog

Scott Burnside and Pierre LeBrun write about all things happening in the NHL. Cross Checks
"I have to look after one kid at home," Thornton, who recently became a father, told NHL.com, "and now I have to look after 22 on the road."
Thornton was just 23 when he was captain of the Bruins from 2002 until his trade to the Sharks in November 2005.
"You grow as you age, and you kind of mature as a player," Thornton told the San Jose Mercury News Thursday morning. "I think you become more comfortable in your skin. Back then, you maybe let your game speak louder than your words and I think now you consider both. You can stand up and tell guys how it is or just go out and play."
Dan Boyle will wear an "A" as one of the alternate captains. Patrick Marleau and Ryane Clowe will share an "A" -- Marleau wearing it for home games, and Clowe on the road.
"We had a really good assortment of choices," Sharks coach Todd McLellan told NHL.com. "It basically came down to two players. We just felt right now that Jumbo [Thornton] would be the right guy at this time. He's made some real big strides over the last couple of years. He changed the way he approached and the way he played the game. This is the next step in the evolution."
Pierre LeBrun covers the NHL for ESPN.com.
Covers the NHL for ESPN.com and TSN in Canada
Six years on the "Hockey Night In Canada" Hotstove panel
13 years at The Canadian Press National News Agency
SPONSORED HEADLINES
MORE NHL HEADLINES
MOST SENT STORIES ON ESPN.COM
2010-11 NHL SEASON PREVIEW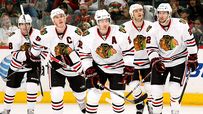 As we count down to opening night on Oct. 7, ESPN.com previews the 2010-11 season:
TEAM PREVIEWS: WESTERN CONFERENCE





•
Watch: Hradek & Barnaby's Central preview





•
Watch: Hradek & Melrose's Northwest preview





•
Watch: Hradek & Barnaby's Pacific preview
TEAM PREVIEWS: EASTERN CONFERENCE





•
Watch: Hradek & Barnaby's Atlantic preview





•
Watch: Hradek & Barnaby's Northeast preview





•
Watch: Hradek & Melrose's Southeast preview
Northeast Division:
Coming Friday
Atlantic Division:
Coming Monday
FEATURES
FANTASY/INSIDER
COUCH SESSIONS
The NHL's biggest stars talked to ESPN.com about the new season. Watch the series
MORE FROM ESPN BOSTON

Want to submit a question for Mike Reiss' weekly Patriots mailbag? Click here and come back every Tuesday around noon for the 'bag.
Latest headlines on ESPNBoston.com: