Sabres acquire sniper Brad Boyes
The Buffalo Sabres have made a bold move in advance of the NHL trade deadline, acquiring sniper Brad Boyes from the St. Louis Blues for a second-round pick in 2011.
NHL Trade Tracker

Want to keep up with every deal? Our NHL Trade Tracker has who went where, updated as the deals happen through the 3 p.m. ET Feb. 28 trade deadline. Trade Tracker
Boyes has one more year left on his contract at $4 million.
Boyes is a former 40-goal scorer for the Blues whose production has slipped in recent years but who could provide the offensive impetus that the Sabres need to jump into the playoff bracket in the NHL's Eastern Conference.
Boyes, originally a Toronto Maple Leafs prospect, has seen his goal production decline from a high of 43 goals in 2007-08. He had 12 goals in 61 games for the Blues this season.
The Sabres have been traditionally conservative at the trade deadline but with the recent confirmation of Terry Pegula as owner GM Darcy Regier has been given more latitude to put a winner on the ice.
Scott Burnside covers the NHL for ESPN.com.
Hockey writer for ESPN.com
10 years at Toronto Sun, Windsor Star and National Post
Wrote best-selling true crime book "Deadly Innocence"
2011 NHL TRADE DEADLINE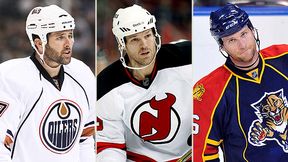 Our gurus recap the 2011 trade deadline:
The Moves
Video