Flyers trade Mike Richards to Kings
The Philadelphia Flyers traded captain Mike Richards to the Los Angeles Kings on Thursday.
[+] Enlarge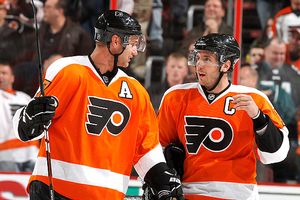 Paul Bereswill/Getty ImagesThe Flyers traded both Jeff Carter, left, and Mike Richards on Thursday.
The Flyers will receive prized prospect Brayden Schenn, winger Wayne Simmonds and an undisclosed draft pick.
"We felt at this stage of the franchise it was time to make a significant move for an impact player," Kings GM Dean Lombardi said in a statement. "Mike Richards is not only one of the top players in the league, he's also universally recognized as one of the finer leaders in the game and one of its elite competitors. Additionally, given that he's only 26 years old and he's on a long-term contract, he fits our plan now and for the long-term future."
Richards has nine more years on his contract, with a $5.75 million cap hit.
The center, a first-round draft pick of the Flyers in 2003, had 66 points (23 goals, 43 assists) in 81 regular-season games last season. In 453 career games, he has 133 goals and 216 assists.
He will fit into a core with the Kings that is led by Anze Kopitar, who had a club-best 73 points -- including 25 goals, just three behind club leader Dustin Brown, who is the team captain.
This group can expect to play together for quite some time.
Kopitar signed a seven-year contract extension in October 2008, and Brown agreed to a six-year extension a year earlier. Defenseman Matt Greene is in the midst of a five-year deal; forward Justin Williams inked a four-year extension in February; fellow forward Jarret Stoll is playing under a four-year extension; and defenseman Rob Scuderi left the Pittsburgh Penguins to join the Kings in 2009 when he signed a four-year deal.
Simmonds had 14 goals and 16 assists in 80 games with the Kings last season, his third in the NHL. He was chosen by Los Angeles in the second round, the 61st pick overall, in the 2007 draft. He had 39 goals, 93 points and 264 penalty minutes in 240 regular-season games and played in all 12 Kings playoff games the past two years.
Schenn, the younger brother of Toronto Maple Leafs defenseman Luke Schenn, provides an even bigger upside. After being taken with the No. 5 overall pick in the 2009 draft, he has gotten a small taste of the NHL. Schenn played in one game during the 2009-10 season and eight more last season, notching a total of two assists.
"We view (Schenn) as one of the top young players not playing in the league," Flyers GM Paul Holmgren said in a conference call Thursday. "He's had a little bit of a taste with Los Angeles over the last two years, and he went to the (AHL) last year and played some games at the end of the season. We'll see how it goes. He's going to come to our development camp in early July and obviously will be at training camp. I can easily say we think he's capable of doing it, but as with any young player, you never know until you get to that point. So he's going to be given every opportunity to make our team, for sure."
Flyers On The Move

The Flyers made a big splash, trading Jeff Carter to Columbus and Mike Richards to L.A. before locking up goalie Ilya Bryzgalov. Scott Burnside
• LeBrun: Kings' 1-2 punch; Smyth out?
• Carter shipped to Blue Jackets
• Richards to Kings for prospect Schenn
• Bryzgalov inks 9-year deal with Flyers
• Joyce: Ceiling is high for Schenn


• Greenberg: Flyers buck NHL trend

Earlier Thursday, the Flyers sent center Jeff Carter to the Columbus Blue Jackets in exchange for forward Jakub Voracek, the eighth overall pick in Friday's NHL draft and a third-round draft pick. They also signed goalie Ilya Bryzgalov to a nine-year deal worth $51 million, a source told ESPN.com.
Flyers coach Peter Laviolette refuted talk he had a falling out with Richards. He called it tough to lose the stalwarts.
"Jeff and Mike were terrific players for our organization. They're elite players in our league," he said. "We went and replaced them and went in a different direction with a goaltender and wingers up front, different pieces.
"Paul said it best: It should be a good team, but it's a different team," he said.
Pierre LeBrun covers the NHL for ESPN.com. Information from The Associated Press was used in this report.
Covers the NHL for ESPN.com and TSN in Canada
Six years on the "Hockey Night In Canada" Hotstove panel
13 years at The Canadian Press National News Agency
EDITORS' PICKS
Strang: Though Patrick Kane and Jonathan Toews are as different as players can get, they have found harmony in that balance.
Story »

Rumblings: Where will Marc-Andre Fleury and Johnny Boychuk be playing next season? Pierre LeBrun has all the details.
Blog »

Custance: NHL's response to Slava Voynov situation leaves few critics.
Blog »
MORE FROM ESPN LOS ANGELES

Check out the new ESPN Los Angeles, the place for your local Los Angeles sports coverage.