We asked (again), players answered
Updated:
February 6, 2009, 2:25 PM ET
ESPN.com
It's back! The ESPN.com NHL players' survey returns with a new set of questions. We contacted all 30 teams and heard from 193 players, or roughly 21 percent of active players. Here's what they told us:
QUESTION 1: WHO IS THE BEST LEADER IN THE NHL?


Iginla

• TOP VOTE-GETTER: Jarome Iginla (22%).
• More on Iginla | Statistics | Flames page
• Iginla actually played baseball and hockey before ultimately choosing the skates, playing in net for a few years before switching over to forward. Iginla, who was named Calgary's captain before the start of the 2003-04 season, once said to local media: "I just try to be myself and help out some of the younger players the way the older guys helped me when I was younger. I try to lead by example -- go on the ice, compete hard and enjoy the game."
• OTHER MENTIONS: Nicklas Lidstrom (17%); Joe Sakic (11%); Patrick Marleau, Scott Niedermayer (5%); Rod Brind'Amour, Shane Doan, Brendan Morrow, Alex Ovechkin (4%); Chris Drury, Mats Sundin (3%); Zdeno Chara, Joe Thornton (2%); Chris Clark, Vincent Lecavalier, Ethan Moreau, Mike Richards, Jeremy Roenick, Brent Seabrook, Brendan Shanahan, Jonathan Toews (1%); eight players with one vote.
QUESTION 2: WHICH GOALIE WOULD MAKE THE BEST FORWARD/D-MAN?


Turco

• TOP VOTE-GETTER: Marty Turco (54%).
• More on Turco | Statistics | Stars page
• Legendary Michigan hockey coach Red Berenson saw something in Marty Turco, and once said, "You watched [Turco] and you knew he was going to be a winner." Apparently, players think the goalie could win if he didn't play in net. Ironically, at age 10, he made the switch to goaltender because he was too small to play forward.
• OTHER MENTIONS: Martin Brodeur (10%); Rick DiPietro (8%); Mike Smith (7%); Evgeni Nabokov, Roberto Luongo (4%); Henrik Lundqvist, Dwayne Roloson (2%).
QUESTION 3: IF YOU COULD CHANGE LIVES WITH ANOTHER PLAYER, WHO WOULD IT BE?


Ovechkin

• TOP VOTE-GETTER: Alex Ovechkin (16%).
• More on Ovechkin | Statistics | Capitals page
• He led the league in goals (65) and points (112) last season and was named MVP. He was given the key to the city in Washington and started his own clothing line. But Alex Ovechkin does what many players can't -- he captivates fellow players, media and fans alike with his energetic style and personality. Case in point: His past two breakaway challenge routines.
• OTHER MENTIONS: Vincent Lecavalier, Joe Sakic (5%); Nicklas Lidstrom, Joe Thornton (4%); Sidney Crosby, Mike Fisher, Mike Modano (3%); Chris Chelios, Mike Comrie, Jarome Iginla, Alexei Kovalev, Henrik Lundqvist, Scott Niedermayer (2%); 18 with one vote.
QUESTION 4: WHICH PLAYER COMPLAINS THE MOST ON THE ICE?


Crosby

• TOP VOTE-GETTER: Sidney Crosby (52%).
• More on Crosby | Statistics | Penguins page
• A simple Google search will tell you what some fans think of Sidney Crosby on the ice ("cry baby" is the most often-used G-rated word); but at various times in his short career, Crosby has been accused of complaining too much to officials about calls or non-calls and embellishing fouls to draw penalties. It was a subject that was heightened during last season's playoffs. Crosby has repeatedly denied being that kind of a player.
• OTHER MENTIONS: Chris Pronger (8%); Sean Avery (7%); Steve Ott (5%); Ryan Getzlaf (4%); Shane Doan (3%); Marc Savard, Darcy Tucker (2%); Todd Bertuzzi, Mike Richards, Kris Draper (1%); 8 players with one vote.
QUESTION 5: WHICH PLAYER WOULD MAKE THE BEST PRESIDENT/PRIME MINISTER?


Iginla

• TOP VOTE-GETTER: Jarome Iginla (8%).
• More on Iginla | Statistics | Flames page
• What qualities make a good president or prime minister? Experience? Strong decision-making? The ability to work through a crisis? Leadership? Sacrifice? Character? Those are qualities Jarome Iginla has on the ice as captain of the Calgary Flames. Can we picture him on the campaign trail? We'll have to mull that one over.
• OTHER MENTIONS: Chris Chelios (5%); Shane Doan, Jeremy Roenick, Michael Peca (3%); Sean Avery, Sidney Crosby, Shane Doan, Nicklas Lidstrom, Trevor Linden, Mike Modano, Scott Niedermayer, Joe Sakic (2%); Zdeno Chara, Mike Green, Brad May, Alex Ovechkin, Steve Staois (1%); 15 players with one vote.
QUESTION 6: WHICH TEAM HAS THE MOST DISRUPTIVE FANS?

Flyers

• TOP VOTE-GETTER: Philadelphia Flyers (24%).
• Flyers page | Schedule | Player stats
• Every fan believes their city has the best fans, but NHL players on average found Philly to be the most disruptive. From the "Broad Street Bullies" to the "Legion of Doom," Flyers fans are knowledgeable and passionate, but they are also very vocal. Remember, Flyers fans even booed Santa Claus.
• OTHER MENTIONS: Montreal (13%); San Jose (8%); Calgary (7%); Buffalo, Chicago (4%); Detroit, New York Rangers (3%); Edmonton, Los Angeles, Vancouver (2%); Minnesota, Toronto (1%); 5 other teams with one vote.
QUESTION 7: WHO IS THE BEST REFEREE IN THE NHL?


Fraser

• TOP VOTE-GETTER: Kerry Fraser (18%).
• A man known as much for his hair as he is for his longevity in the league, Fraser's been an NHL referee since the 1980-81 season and has officiated in 1,759 regular-season games and 261 postseason contests.
• OTHER MENTIONS: Don Koharski, Kelly Sutherland (9%); Bill McCreary (7%); Don VanMassenhoven (5%); Paul Devorski, Tim Peel (4%); Wes McCauley, Rob Shick (3%); Steve Kozari, Mike Hasenfratz (2%); Brad Watson (1%).
QUESTION 8: IF THE NHL EXPANDS/RELOCATES, WHAT IS THE BEST DESTINATION?


Las Vegas

• TOP VOTE-GETTER: Las Vegas (47%).
• The NHL and Vegas: League will move awards show to Vegas | Vegas expansion?
• There are many signs pointing to the NHL's venturing out west to Sin City. First, the league will move its annual awards show from Toronto to Vegas this June. The city is also reportedly being considered as a future outdoor game site. Remember, the Rangers and Kings faced off in an outdoor exhibition game at Caesars Palace in 1991. All we remember about that tilt were the bugs.
• OTHER MENTIONS: Winnipeg (16%); Hamilton/Ontario area, Quebec (8%); "Anywhere in Canada" (4%); Europe (3%); Hawaii, Houston, Kansas City, Portland, Seattle (2%).
QUESTION 9: DO YOU WANT TO SEE THE NHL IN THE OLYMPICS BEYOND 2010?


• TOP VOTE-GETTER: Yes (82%).
• NHL players want to continue to play in the Olympics beyond the 2010 Games in Vancouver (only 9 percent of respondents voted "No"). NHL Players' Association executive director Paul Kelly reiterated as much during a press conference All-Star weekend in Montreal. But owners are not so keen on that plan. It is setting the stage for some interesting dialogue between the union and commissioner Gary Bettman.

QUESTION 10: WHO IS THE NHL'S MOST UNDERRATED PLAYER?


Marleau

• TOP VOTE-GETTER: Patrick Marleau (8%).
• More on Marleau | Statistics | Sharks page
• Patrick Marleau has had his struggles in San Jose -- the forward had a war of words with former Sharks coach Ron Wilson during the 2007 playoffs and was part of much trade speculation the past two seasons -- but under new coach Todd McLellan, Marleau has 53 points in 49 games this season (already eclipsing his overall total from 2007-08 -- 48 points in 78 games).
• OTHER MENTIONS: Mike Green, David Krejci (4%); Dustin Brown, Duncan Keith, Mikko Koivu, Zach Parise, Mike Richards, Shea Weber, Henrik Zetterberg (3%); Jeff Carter, Ales Hemsky, Niklas Kronwall, Brad Richards, Tim Thomas (2%).
ESPN.COM'S NHL PLAYERS' SURVEY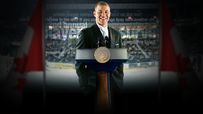 YOUR TAKE?
The players weighed in. Now it's time for you to tell us what you think. Who's the best leader? Who complains the most on the ice? We want to hear from you, SportsNation! Vote
PODCAST
E.J. Hradek and Matthew Barnaby give us some of their answers to our burning survey questions. Hockey Today
THE FIRST VOTE
Check out what players had to say in our first players' survey. '07 Survey