Commentary
It's that time of year, hockey fans!
Shot of the Week
It's back. You know how it works: We present an NHL photo, and Bucci provides a caption. E-mail him your suggestions (include your name and hometown/state), and we will use the best ones and provide a new photo the following week.
LAST WEEK: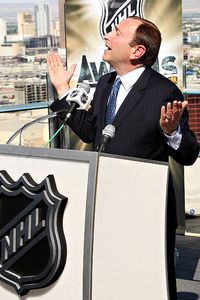 Coyotes fans, let us pray. (Getty Images)
Your captions:
"OK, who threw the shoe?
-- Mike Shovlin (Beaver, Pa.)
"Read my lips: no new luxury taxes."
-- Ryan Minkus (Grand Rapids, Mich.)
"No kidding ... I was really surprised when I reeled in a bass that large too!"
-- Mike Gleeson (Stanford, Calif.)
And how about a big round of applause ... for me!
-- Howard Freedland
"Zdeno Chara!? What are YOU doing here?"
-- Laura Franks (New Brunswick, N.J.)
"Y, M, C, A!"
-- Eric Hall (Davison, Mich.)
THIS WEEK: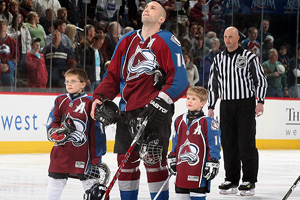 The Avs did whatever it took to increase their draft lottery chances. (Getty Images)
The playoffs are here.
For players, coaches and fans, this is the time of year when hockey becomes an all-consuming ordeal. From the time you wake up in the morning on game day until the time they drop the puck at night, your stomach is in knots thinking about and waiting for the game to begin. It's the same kind of knots you feel after a Raisin Bran-baked beans-blueberries all-you-can-eat feast at the local senior center. The playoff excitement, coupled with the slow warming of the weather, makes this time of year especially euphoric. The air smells better, the music sounds better and the cheese melts easier.
These are the good ol' days. Enjoy them.
Eastern Conference
Not a lot surprises in the Eastern Conference this season. Looking back at my preseason predictions column, I ended up getting seven of the eight selections correct. My only miss was having Carolina not make the postseason. Here is what I then wrote about the Hurricanes:
The Hurricanes are certainly good enough to make the postseason. They have a solid defensive corps, goalie Cam Ward and forwards who can score. What Carolina needs is more solid two-way play and better defense. The Hurricanes gave up 249 goals in 2007-08. If they can shave that by 25 goals (224), even if it costs them the same number of goals scored, they will have a better chance at making the playoffs.
Well, the Canes were able to tighten things up defensively, gave up 226 goals, and here they are, scorching as they enter the postseason. The Eastern Conference has four excellent and exciting matchups. The NHL could do not do any better in the East than these first-round pairings. Let's take a swing at them.
No. 1 Boston vs. No. 8 Montreal
The rivalry aspect makes this series tighter than if it were played on a computer model. But the Bruins should have enough to win this series. They have good goaltending, appear to be pretty healthy and have the taste of last season's playoff loss to Montreal in their mouths. The Bruins haven't won a playoff series since the spring of 1999. 1999! They get one here. Bruins in six.
No. 2 Washington vs. No. 7 New York Rangers
This was the worst matchup the Rangers could have received in the first round. The Capitals are a freight train and will make the Rangers pay. The Rangers can't win a shootout series. Henrik Lundqvist will need to put an Olsen twin on each shoulder to have a chance to stop the Capitals' onslaught. The Rangers need to channel the 1960 Pittsburgh Pirates. The Yankees outscored the Pirates 55-27, but lost the 1960 World Series in seven games. That's how the Rangers win this series -- lose three games 14-2 and win four games 3-2. I'll take my chances that won't happen, but I do think the Rangers can make this close because they have some real gamers and winners. Capitals in six.
No. 3 New Jersey vs. No. 6 Carolina
To some, this is probably considered the weak playoff matchup of the East, but I think it's going to be a great series. Zach Parise's "wow factor" is as extreme as Alex Ovechkin for me. Parise reminds me so much of Sidney Crosby in terms of his athleticism in tight quarters around the net. The Hurricanes have the most underrated defense in the NHL right now and goalie Cam Ward has been very good. Everything says to pick the Hurricanes in this series. They have momentum and scoring, but I just think the Devils are going to find a way somehow. Devils in seven.
No. 4 Pittsburgh vs. No. 5 Philadelphia
Wow, what a first-round matchup. Remember, the Penguins were 12-2 in 14 Eastern Conference playoff games last spring. Dominant. They beat the Flyers 4-1 in the Eastern Conference finals. This season's Penguins team does not include Ryan Malone and Marian Hossa. Seconds before I began typing this sentence, I was all set to pick the Flyers. They are loaded with offense and have plenty of grit. Now I'm thinking about taking the Penguins again. I'm so confused. Make it stop, Mommy! I look at that March 22 game in Pittsburgh, where the Flyers won 3-1, as a model for Philly's success. My gut says Flyers, my head says Penguins, and I usually always go with my gut. This time, I'll go with my head. Penguins in seven.
Western Conference
The West presented more surprises and less preseason predictability than the East. I finished a disappointing 5-of-8 in my regular-season predictions. Dallas, Minnesota and Edmonton let me down. These Western Conference series are a little harder to get a grip on with the playoff newcomers.
No. 1 San Jose vs. No. 8 Anaheim
Northern California vs. Southern California. Just about every series in the first round has pretty good travel. NHL teams couldn't do much better saving jet fuel. This is an interesting series as both teams had good regular-season power-play numbers and both can score. With its experience and goal scoring, Anaheim is dangerous, but I think San Jose's home ice and goaltending give it the edge. San Jose in six.
No. 2 Detroit vs. No. 7 Columbus
This matchup is the series Columbus should have for its first trip to the playoffs. Ohio State-Michigan, Red Wings-Blue Jackets. As the years go on, this matchup should bloom into one of the NHL's finest regional rivalries. Columbus reminds me a bit of the Anaheim Mighty Ducks of 2003, and that's why I'm tempted to take the upset here (that's what I did back then when I picked the Ducks over the Wings). But Detroit is so loaded, and I think maybe the Red Wings were a bit disinterested in the regular season. We will soon find out. This series will get Detroit's attention, and when it is over, the Wings will be sore. Detroit in six.
No. 3 Vancouver vs. No. 6 St. Louis
The St. Louis Blues are certainly the Cinderella story of the playoffs. This is a great accomplishment and an important step in accelerating the growth of their young players. These two teams are very much alike in many ways, and I suspect St. Louis will be the looser team. Vancouver needs to make a 2-0 home statement in the first two games. If the Canucks can do that, I think they can rattle the young Blues and control the series. Canucks in five.
No. 4 Chicago vs. No. 5 Calgary
I've been saying all season Chicago is an elite-level team. It seems as if the media are focusing so much on the revival in Chicago and the amazing attendance figures, they are overlooking how well-balanced and good the Hawks are. They have goaltending, defense and coaching. That's where playoff success starts. Calgary seems to have all of the components, but it sometimes has some massive breakdowns. This is a Hall of Fame moustache battle between Joel Quenneville and Mike Keenan. Just beautiful. Chicago and the Q-Stache in seven.
The Mother of All Mailbags
John,
Just wanted to say I really appreciate the excerpts from Jack Falla you have written. As a student who had him in class for two years at BU, I miss e-mailing back and forth with a man we all looked up to. Having someone at ESPN who truly appreciates him and gives him solid ink is great to see. I'm sure he's smiling down knowing BU is two wins away from winning it all at the Frozen Four. Wish he was here to see it.
Chris Lyons
Amen, brutha.
Hi John,
Can you help a girl out? As a Boston University alum and men's hockey season-ticket holder, it makes me sort of sad at the lack of love that college hockey gets these days. Could you help me spread the love to all hockey fans out there? The season that the BU Terriers had was incredible. They won every tournament they've played in this year, were undefeated on neutral ice, have a core of super-talented forwards (Higgins, Lawrence, Colin "The Beast" Wilson), six INSANE defensemen (all of which could potentially play in the NHL), a freshman goalie who talent we're just beginning to see. College hockey really is an amazing sport. Boys become men who become NHLers, and it is truly a delight to watch. I just wish that everyone could see it they way I do.
Also, as a former student of Jack Falla's, I know in my heart that he is up in that backyard rink in the sky, looking down on the BU Terriers, smiling.
Erica Manczuk
Boston, Mass (BU '01)
This year's BU team will go down as one of the finest in the history of the school. Maybe the finest. You will see a good number of players from this year's Terriers team get a shot in the NHL. Random music tip of the week: Margot & The Nuclear So and So's.
---
John,
How about a shout-out for Nick Bonino, who assisted on goal No. 2 and scored the tying goal in BU's 4-3 OT win in the NCAA championship? I played pick-up with him a few times at the Veterans Memorial Rink in West Hartford, Conn. (back when he was small). It's great to see a local guy triumph on national television.
Ted
Bonino should be the next in line to make the NHL from the state of Connecticut. He was drafted by the Sharks, but traded to the Ducks at the deadline as part of the Travis Moen trade. Speaking of BU, NHL team sources tell me Hobey Baker winner Matt Gilroy is apparently down to Toronto, Philadelphia, Chicago and Vancouver in terms of a free-agent contract.
---
John,
Do you think it's possible to include a BC-BU game into the Winter Classic next year? There's been talk of an outdoor game between the two at Fenway before, and since there's going to be a rink there anyway, why not make it happen next year? Playing a double-header might not work, but they could play the day after. Fans that want to see hockey at Fenway but couldn't get tickets to the Classic would have a second chance to see an equally exciting game. What do you think?
Brian Mahoney
Charlestown, Mass.
I agree, Brian. To play a BU-BC the day after a Bruins-Canadiens game makes a lot of sense. I would think all parties, BU, BC, Red Sox, NESN and maybe even ESPN or ESPN2 (if they chose to or had a chance to broadcast it) would love it.
---
Bucci,
The trade: Dennis Wideman (to Boston) for Brad Boyes (St. Louis). Do these teams make the move again? Who got the better deal? Did not seem like a huge deal at the time, but certainly looks like a big trade now.
Gerry Senese
Buffalo, N.Y.
If there ever was an even trade, this one from the 2006 trade deadline was it. Boyes has had 40-goal and 30-goal seasons with the Blues. Boyes is just a really smart player and is one of the most underrated players in the NHL.
Wideman has been a very important part of the Bruins' resurgence the last two seasons. He plays a lot of quality two-way minutes and is a very dynamic offensive player with a right-handed shot. Both the Bruins and Blues traded from strength to address a weakness. Both teams would make the deal again.
---
Bucci,
I admire your work. Your uncanny ability to predict players' point totals, where a team will end up in the standings, etc., all done prior to the start of the year, is awesome. However, under the coach of the year award, how can you completely and utterly fail to give Andy Murray at least honorable mention? Have you noticed what is going on in St. Louis with the Blues? One of the best records since the start of the year, clawing back from last place in the conference to be virtually tied for a playoff spot, and you don't even give him props? You dropped the ball on this one, but I'll give you a free pass this time. Even the great Bucci is allowed a mulligan.
Steve
Fair point, that's true.
---
John,
I was sorry not to see Zach Bogosian get an honorable mention for the Calder. He is a plus-11 with the THRASHERS and is averaging over 20 minutes of ice time.
Carolyn
Just not a lot of production in a little over half the season, but there is little doubt Bogosian looks like a real good player. He crossed my mind as I went over the honorable mentions. Bogosian has great lateral movement and doesn't turn 19 until July. I see him as a perennial All-Star player.
---
John,
Greetings from Scotland! I have a quick question for you. What do the Dallas Stars need to do to have a shot at the Cup next year? Love the blogumn, keep up the good work.
Colin Reid
Aberdeen, Scotland
The Stars have plenty of depth at forward, especially when Brenden Morrow comes back next season. Dallas needs an upgrade on the blue line. I would consider a big deal involving one of those forwards to get a big-time defenseman. The Stars do have some money coming off the books, and if they are creative, they might be able to get into position to take a run at Jay Bouwmeester. I think that might be a good two-way fit.
"The ultimate measure of a man is not where he stands in moments of comfort and convenience, but where he stands in times of challenge and controversy."
-- Martin Luther King Jr.
---
Bucci,
Playoff hockey in Columbus! Can you dig it? Nationwide Arena is going to be like the horseshoe at night, to borrow your words from a few weeks ago "off the CHAIN." I got a frosty one saved just for you. Come home to your peeps!
Jason
If my ESPN schedule meshes with the Blue Jackets' home playoff schedule, I will be in Columbus to see a game. I was in attendance for the first two Columbus games in franchise history. Columbus Dispatch columnist Mike Arace, one of the best in the country, gave me the honor of naming the first three stars in that first Blue Jackets game. My picks were:
• No. 3: Bruce Gardiner, Columbus (he scored the first goal in Blue Jackets history).
• No. 2: Reto Von Arx. Yes, Reto Von Arx. He played 19 games in the NHL, scoring three career goals, and two of those goals came in the Blue Jackets' inaugural game. He has played the rest of his career in the Swiss League with HC Davos.
• No. 1: Tony Amonte. He had three points, two goals and an assist, and was a plus-2.
---
Bucci,
I agree that Evgeni Malkin should win the MVP award this year, but that is my very biased opinion. Oh, I have included a pic of me and my son.
Cody Hollen
Charleston, West Virginia
He ain't heavy, he's my Sparky.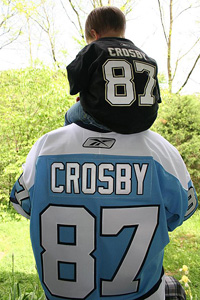 John Buccigross' e-mail address -- for questions, comments or crosschecks -- is john.buccigross@espn.com.
SportsCenter anchor
John Buccigross joined ESPN as an anchor in October 1996. He currently can be seen as an anchor on "SportsCenter." Buccigross frequently contributes to ESPN.com during the season.
2009 STANLEY CUP PLAYOFFS

The Stanley Cup playoffs kick off Wednesday. Scott Burnside, Pierre LeBrun and the rest of our NHL team preview the first round:
EASTERN CONFERENCE
WESTERN CONFERENCE
MORE COVERAGE
SPORTSNATION
MOST SENT STORIES ON ESPN.COM