Commentary
Game 1 all about making statement
PITTSBURGH -- If the opening game of a playoff series is always about making a statement, about writing the first chapter of what will become the series' story, then this was what the Pittsburgh Penguins said Wednesday night:
We are back. Deal with it.
The Philadelphia Flyers' statement after absorbing an emphatic 4-1 thumping:
Help ... we've lost our minds and don't know where we put them.
The Flyers, the most penalized team in the NHL during the regular season, took penalties early and took them late, and when the dust had cleared, they looked like a team that only got the "mental" part about how the playoffs are all about mental toughness.
"We got behind the eight ball right away, took an undisciplined penalty ... they score right away on it," Philadelphia coach John Stevens said. "It's a worst-case scenario coming in here to start in their building and you take a penalty that they capitalize. Now you start chasing the game. I just think the intensity of the playoffs in this game went up a little bit and I don't think we went with it, at least not early."
[+] Enlarge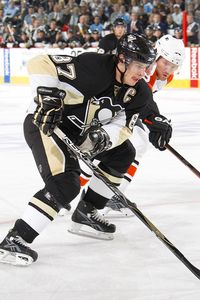 Gregory Shamus/NHLI/Getty ImagesPenguins captain Sidney Crosby had a goal and an assist in Game 1 on Wednesday night.
The penalty Stevens was referring to was a hooking penalty by Aaron Asham 4:26 into the game. Fifteen seconds later, Sidney Crosby's shot from the edge of the crease bounced off the post, then netminder Martin Biron's skate, and across the goal line.
The problem for the Flyers, whose chance for success in this series lies with their ability to get their talented forward unit into a groove, was that the Asham penalty was followed immediately by the first of three minors and a 10-minute misconduct taken by Scott Hartnell.
The Penguins scored only once on the power play all night, but every time a Flyer goes to the penalty box, it disrupts the team's flow. It forces key players, like captain Mike Richards, to log more ice time trying to stop the Penguins from scoring and leaves him less energy to pursue offense.
"We can't do that, it takes momentum away," Richards said. "They create a lot momentum from it. Just stupid penalties that shouldn't be taken."
Stevens didn't mince words when assessing Hartnell's performance and, by extension, the performance of his entire team.
"I love Scotty Hartnell's emotion, but he's got to find that line of discipline," Stevens said. "I really didn't think he did tonight. I mean, he's a guy we count on to kill penalties and he's a guy we count on a lot, and he ends up in the penalty box way too much and that's something we're going to have to correct."
It was pointed out to the Flyers coach that these kinds of conversations about not taking bad penalties have been a recurring theme for his team.
"I'll talk to the group as a whole and I'll talk to Scotty as an individual," he said. "The thing about this time of the year is how long you play is not on the individual, it's on success of the group together, and Scotty's a big part of our group and he knows that. Scotty has a way of rebounding and making up for it next game when these kinds of things happen, and he cares a lot. To me, it'll be a pretty easy conversation to have."
Actually, Hartnell didn't seem to think he'd done too much wrong. He said he jumped Matt Cooke for the first roughing penalty because he said Cooke had slashed Biron in the face. On the second one, when he rammed Pittsburgh netminder Marc-Andre Fleury late in the first period, Hartnell insisted he was pushed. He did acknowledge that sending Kris Letang to the ice with what was called a trip but was really a knee early in the third period was the result of a "brain cramp."
"Throughout my career, if I stay out there too long [on a shift], I kind of have a brain cramp and obviously took a stupid penalty," Hartnell said. "It's an emotional game and I think myself, personally, I get really involved in the moment and you play 82 games and you work so hard in the summertime and this is what it all comes down to. You get all these emotions in you and I definitely need to keep that in check."
This isn't to suggest the Game 1 loss is to be laid at Hartnell's feet. Part of the reason penalties get taken is they are born of frustration, and the Penguins made it easy for the Flyers to feel frustrated as Philadelphia was assessed a total of 35 penalty minutes compared to 15 for the Penguins.
From the get-go, the Penguins played like a team that has lots of gears to go to. Crosby had a goal and an assist and looked like a player who has easily forgotten that the last playoff game played on this ice was the deciding game in last June's Stanley Cup finals won by the Detroit Red Wings.
The Flyers were stymied by the forechecking of the Cooke, Tyler Kennedy and Jordan Staal trio. That forward line scored the ultimate game-winner early in the second period, as seven different Penguins collected points.
Except for brief moments, Fleury had an easy night in the Pittsburgh goal; he was rarely called on to face successive shots or sustained pressure in the Penguins' zone.
"It was important not because of last year, just because you want to start the series off right, especially being at home," Crosby said. "Last year is done. We'll take the experience from it, but I don't think that was in anybody's mind. We certainly just want to be tough at home and establish that early."
Pittsburgh coach Dan Bylsma said before Game 1 -- his first as an NHL head coach -- that he likes to think of a playoff series as not a best-of-seven affair, but a race to four. The Penguins announced Wednesday the race is on.
One might have expected the Flyers to insist in Game 1 that losing home ice in the grisly fashion they did on the last afternoon of the regular season didn't matter. But they didn't. Still, here's the thing about statements -- they often have a short shelf life in the playoffs. Or they can.
Of the eight opening-round series last season, the team that won Game 1 went on to win six of eight series. The one team in the Eastern Conference that dropped its first game but rebounded to advance to the second round was Philadelphia.
And so, Friday's Game 2 will bring with it a new set of conversations. It's up to the Flyers to make sure the next chapter in no way resembles the one they produced Wednesday.
"We can play better as a group, I think that's pretty evident," veteran Mike Knuble said. "I don't think anybody in our room is happy by any means, and we've got to regroup and come with a much better effort. I think that goes without saying, and we plan on it."
Scott Burnside covers the NHL for ESPN.com.
Hockey writer for ESPN.com
10 years at Toronto Sun, Windsor Star and National Post
Wrote best-selling true crime book "Deadly Innocence"
2009 STANLEY CUP PLAYOFFS

The Stanley Cup playoffs kick off Wednesday. Scott Burnside, Pierre LeBrun and the rest of our NHL team preview the first round:
EASTERN CONFERENCE
WESTERN CONFERENCE
MORE COVERAGE
SPORTSNATION
MOST SENT STORIES ON ESPN.COM