Commentary
Guerin relishes playing in 'the big game'
PITTSBURGH -- Minutes after Bill Guerin scored the first overtime playoff goal of his long career, he hurried to the Pittsburgh Penguins dressing room to call home to Long Island.
"My wife and my oldest daughter were watching it at home. They were going crazy. My 10-year-old daughter was at a sleepover and they were watching the game there. The phone was ringing off the hook," Guerin told ESPN.com on Saturday as the Penguins prepared to jet off to Philadelphia with a chance to go up 3-0 in their Eastern Conference quarterfinals series Sunday afternoon.
These are the moments when the decision to come to Pittsburgh is both reaffirming and painful.
[+] Enlarge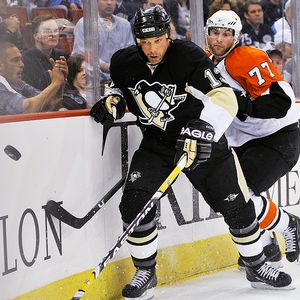 Jamie Sabau/Getty ImagesBill Guerin's OT winner in Game 2 was the first playoff overtime goal of his career.
Guerin is back in the playoffs after missing it last season when he was the captain of the New York Islanders. Along with his first overtime goal, Friday's two-goal performance marked the first time he'd scored in the postseason since 2006, when he was a member of the Dallas Stars.
When you're 38 years old, you wonder if the last one really is the last one; more to the point, you wonder if you've got it in you to pack up, go where they send you one more time and miss even more of the things your children are doing, all for another chance at a Stanley Cup. Because that's all it is -- a chance.
"I talked about it with my wife, and we talked about it long and hard," Guerin said of the trade-deadline move in which he was acquired by the Penguins, the eighth team he's played for since being drafted by the New Jersey Devils with the fifth overall pick in the 1989 draft.
His size (6-foot-2, 220 pounds) and scoring touch (811 career points in 1,185 regular-season games) have made him a valuable commodity for teams looking to beef up for a playoff run. His acquisition by the Penguins at the trade deadline marked the fourth time in his career he's been traded midseason. If you think it gets easier with age, you're wrong.
The older the children get, the more activities they have, the stronger their bonds of friendship and the more difficult it is to be separated from them. It's also more difficult to ask them to move again if, as Guerin's family is doing, they remain at home while he finishes out the season in Pittsburgh and makes a decision on where his career might take him next season.
"It gets harder," Guerin said. "It's not easy, it's not. The moves are hardest on the wife. There are tough times. But, you know, we're strong and we do our bit."
Which is why he debated waiving his no-trade clause to come here. In the end, though, his children were as much a part of the decision as his desire to try to earn a second Stanley Cup ring. (His first and only championship came in 1995 with the Devils.)
That Cup was earned before any of Guerin's children were born. They are at an age now where they can enjoy their father's accomplishments and understand a bit of what it means to be in the playoffs and chasing the dream of a Cup.
"I want them to be able to remember the playoff games and the atmosphere," he said.
His four children, three girls and a boy ranging in age from 6 to 11, have every jersey of every team Guerin has played for. When the family was in Pittsburgh for a visit leading up to Game 1 on Wednesday, they could be seen in the bowels of Mellon Arena, all decked out in Guerin jerseys with the familiar No. 13 on the back.
"They love it. Our closet looks like the NHL store," Guerin joked.
Guerin's two goals have become, almost instantly, an important fixture in the dressing room of a Penguins team trying to replicate last season's deep playoff run.
"I heard a lot of good things about Billy, especially off the ice, in the room," Penguins coach Dan Bylsma said Saturday. "I think the biggest surprise, and I guess surprise is not a great word, is that whether it's in our team meetings, whether it's in between periods, on the bench, whether it's a day like today when we're going out for practice, he says the right thing, does the right thing, acts the right way.
"And for a 38-year-old guy who could easily kind of say, 'Practice? I don't want to go out today. It's 20 minutes on the ice. Do we really need it?' he was the first guy to say, 'Great, let's go.' And it's hard for anybody else to take a different direction when that guy is saying and doing those things."
Guerin, a native of Worcester, Mass., played his first playoff game in 1992, 17 years ago. He is two months older than his current coach. And if you thought it would all become predictable, you'd be wrong again.
Having missed the playoffs last season and having been held scoreless the postseason before when San Jose acquired him from St. Louis at the trade deadline, Guerin is more than appreciative of what this opportunity means at this stage of his career.
"I appreciate it more, without a doubt," he said. "I'm really enjoying every day, no matter what happens."
Guerin has talked to players who have retired and heard what they miss -- the guys and playing in a big game.
"To be in the big game," he said. "You just have to really enjoy it."
Guerin seems to be doing just that.
Scott Burnside covers the NHL for ESPN.com.
Hockey writer for ESPN.com
10 years at Toronto Sun, Windsor Star and National Post
Wrote best-selling true crime book "Deadly Innocence"
SPONSORED HEADLINES
MORE NHL HEADLINES
MOST SENT STORIES ON ESPN.COM
EDITORS' PICKS
Who's trending up and down in the NHL this week? We're here to tell you who's hot and not.
Strang »

Clint Malarchuk: Let me tell you about the first time I was supposed to die.
Book excerpt »

Strang: This is the latest on the mumps.
Story »