Commentary
'I'm a dad' ... 'I don't like being away'
PITTSBURGH -- No matter how close the Pittsburgh Penguins get to the Stanley Cup, there will still be days when the dog eats the furniture and the kids misbehave, and it will hit home for Bill Guerin that chasing a dream has taken him a long, long way from home.
After the Penguins dispatched the Washington Capitals in seven games in the Eastern Conference semifinals, not everyone headed back to Pittsburgh. Guerin took an early flight to Long Island, N.Y., where his wife and four children are waiting out this playoff season. He got there in time for his 9-year-old daughter's immigration presentation at school.
"I made it for the 9 a.m. show," Guerin said. "It's hard. We talk a lot about it, how it's for something good, that these kinds of opportunities don't come around all that often.
"But it's still hard. Sometimes I'll call home, and it's just not a good day."
[+] Enlarge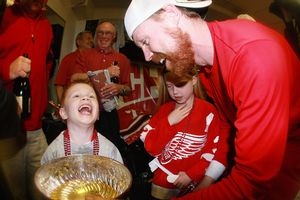 Dave Sandford/Getty ImagesWinning a Stanley Cup can help ease the pain of being separated from family during the long playoff run.
Bottom line?
"I don't like being away from my wife," he said.
Guerin is not alone.
Matt Cooke's wife and three children stayed in Belleville, Ontario, this hockey season after Cooke signed with the Penguins during the offseason. After the past series, he was on the road to Ontario to do a little catch-up.
"It's tough. It's really tough. They're the best thing that you've ever done," he said of his children. "And it's just as hard on them."
Although they usually are the ones who have to make the effort to travel to Pittsburgh or catch up with Cooke when the team travels close enough to home, he didn't hesitate to make the trip this past week.
It's generally during this part of the season, during the playoffs, when you often hear of the need for sacrifice, the selflessness that is a requirement for the greater good of the team. Yet for players and coaches whose families are far away, it's hard to imagine a more apt term as they face the burden of making this struggle alone or, at the very least, feeling alone much of the time.
"I miss it. I'm not going to sit here and lie. I'm a dad. I want to be part of my kids' lives," Penguins assistant coach Tom Fitzgerald told ESPN.com this week.
The longtime NHLer began this season as the Penguins' director of player development, so some travel was involved. Last season, he was on hand for the Penguins' playoff run, so at that point he spent time away from his wife and four children, who live in the Boston area. But when general manager Ray Shero replaced coach Michel Therrien with Dan Bylsma in mid-February, he asked Fitzgerald to join Bylsma's coaching staff.
That meant weeks on end away from home.
"I've done it as a player, being traded at the trade deadline," Fitzgerald said. "But this is different, totally different."
Fitzgerald's wife is now left with trying to ferry four boys from baseball fields to hockey rinks, not to mention packing lunches and arranging rides, all the day-to-day things that can become a mountain when left to one parent.
"Talk about the anchor of the family. She's a strong woman," Fitzgerald said of his wife.
Knowing his boys, ages 14, 12, 9 and 6, are doing things without their dad is hard on Fitzgerald. This past weekend, his 12-year-old was playing in a hockey tournament in Toronto. Fitzgerald's father took him. And on days when things don't go well, it's hard to be a presence when you're hundreds of miles away and worrying about the team's penalty kill.
"Some days, my wife's at her wit's end because, basically, she's a single mom," Fitzgerald said.
Still, they make it work the best they can. The Fitzgeralds all wear Penguins T-shirts on game nights, and their friends are now Penguins fans.
"My kids live and die every game night by the tube. When we lose, they get down," Fitzgerald said.
Members of Guerin's family have been regular visitors to Mellon Arena. You can recognize them almost instantly, as they all wear matching Guerin jerseys with the No. 13 on the back. Occasionally, they'll appear on the video scoreboard with placards reading, among other things, "My Dad Rocks."
As much as this journey toward a Stanley Cup is the team's journey, it also is the journey for the families of players and coaches. And for those who are isolated from their families, it requires a certain ingenuity to make it work.
"

I miss it. I'm not going to sit here and lie. I'm a dad. I want to be part of my kids' lives.

"

-- Penguins assistant coach Tom Fitzgerald
Guerin and his son took a train home together from Philadelphia after the Penguins eliminated the Flyers in Game 6 of the Eastern Conference quarterfinals. Fitzgerald's oldest son now calls regularly to talk about the games and how the team is doing. In some ways, their relationship has evolved as a result, like friends discussing their favorite teams, Fitzgerald said.
Bylsma's 10-year-old son generally has to go to bed after the second period, so he makes sure to call in the morning after a game to discuss the outcome. Bylsma started the season as head coach of the Penguins' AHL affiliate in Wilkes-Barre, Pa., but has been living in a downtown hotel with Fitzgerald and Guerin since taking the head-coaching job with the Pens.
"It was an exciting move for me personally and an exciting move for my family. That makes the time away an easier thing," Bylsma told ESPN.com on Tuesday. "My wife's amazing. As a result, my son's amazing about it, too."
When he first took the job, it probably was just as well that he was on his own, as he tried to get himself up to speed on being an NHL coach. Now, though, he finds there is little to separate himself from his job.
"I don't have a place to go to here where I'm Dad or I'm Dan," Bylsma said. "That's something I do miss."
Whether it's going to a baseball game or taking a walk in the neighborhood, playing knee hockey with your son or simply eating dinner at a dining room table, those are the touchstones of everyday life that are vacant in all of these people's lives right now. It's something to which Carolina coach Paul Maurice can relate.
Maurice left his wife and three children in the Toronto area when he was summoned to the Carolina Hurricanes' bench for the second time earlier this season, and he lives in a small apartment in Raleigh, N.C. "What you miss is the normalcy," Maurice said.
When he returns to his apartment instead of parenting or getting lost in family issues, Maurice said he turns on his computer and/or the television and stays in a hockey mindset. "You feel like you're always coaching. Your routine is just hockey all the time," he said.
Shero said the Penguins organization has done what it can to help make things easier for those whose families are away. At Easter, Shero had the coaching staff out for Easter brunch. "It's a huge commitment for their families," he said.
Strangely, in some ways, it's not the time apart that is the hardest, but the brief times the families are together. "Because then, you have to say goodbye," Bylsma said.
Fitzgerald recalled his last trip home after the Washington series and how his youngest clung to his mother as his father got in the car to go to the airport. He didn't break down, but those moments bring into focus the stakes that are at play here.
The pursuit of the Stanley Cup is sacrosanct. Players around the world, young and old, would give much to be in their place. And not one of these players or coaches would trade places, no matter the cost.
"Whether it's Matt Cooke or Billy Guerin moving away, we're all sacrificing something greater than the game, and that's our family, for something great, a chance to play for the Cup," Fitzgerald said. "We've all made sacrifices for that chance to do something great."
In the coming days, they'll find out whether those sacrifices will be rewarded with the timelessness of a Cup win and the chance to share that win with family that has been absent from their lives for far too long.
Scott Burnside covers the NHL for ESPN.com.
ESPN Senior Writer
Covers hockey for ESPN.com
10 years at Toronto Sun, Windsor Star and National Post
Wrote best-selling true crime book "Deadly Innocence"
EDITORS' PICKS
Boston dealt a blow to Florida, while other Eastern playoff contenders looked to keep pace.
Inside the NHL

While it's too late for this season, the Blue Jackets are getting healthy and showing how tough they will be moving forward.
LeBrun »

Marc-Andre Fleruy has to prove he can dominate in the playoffs before anyone will expect the Penguins to make noise this spring.
Inside the NHL
Reebok Youth Pittsburgh Penguins Horizon Var-city Hoodie Shop »
MOST SENT STORIES ON ESPN.COM