Commentary
Sid, Geno deliver 1-2 punch to Canes
RALEIGH, N.C. -- In the moments after Evgeni Malkin deftly dropped the puck back between his skates to Ruslan Fedotenko, who ripped a shot past Cam Ward to give Pittsburgh a 4-2 lead, the television cameras panned briefly to Carolina defenseman Dennis Seidenberg.
In that moment, Seidenberg gave a look -- half grimace, half resignation with a dash of, what, maybe admiration -- that sums up what the Carolina Hurricanes are now feeling.
Over the course of three straight wins, the Pens have outscored the previously high-flying Hurricanes 16-8, including Saturday's 6-2 victory, as Pittsburgh now owns a death-grip 3-0 series lead.
Pittsburgh can advance to its second straight Stanley Cup finals with a win here Tuesday.
That they will advance at some point is now a foregone conclusion, the only question to be answered is when. When they do advance, they will be carried by the most devastating one-two punch the NHL has seen in a generation, maybe since Jaromir Jagr and Mario Lemieux were winning back-to-back Stanley Cups in 1991 and 1992.
[+] Enlarge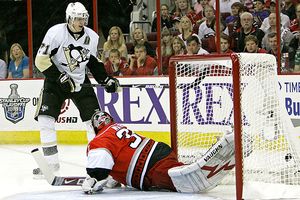 AP Photo/Gerry BroomeEvgeni Malkin had two goals and an assist in the Pens' 6-2 win over the Canes on Saturday.
We speak, of course, of Sidney Crosby and Malkin.
Once again, they proved to be a two-man wrecking crew, combining for five more points on three goals and two assists Saturday as they threaten to make a mockery of the NHL playoff scoring race.
Malkin, with his two goals and an assist Saturday, now has 28 points and leads Crosby by two points. The next active player is Detroit's Johan Franzen, who has 18. Last season, Crosby and the Red Wings' Henrik Zetterberg finished tied for the playoff scoring lead with 27 points. It will be a major surprise if Crosby or Malkin doesn't produce the best points total since Joe Sakic had 34 in 1996.
Crosby has 14 goals thus far this spring, including one Saturday that gave the Penguins a 2-1 lead with 42.2 seconds left in the first period.
(It should be noted that Malkin, not to be outdone, also scored with 11.9 seconds left in the first to give the Penguins a 3-1 lead and cripple the Hurricanes, who led 1-0 for exactly 2:44 early in the opening frame until Malkin tied the game on the power play.)
But, wait, where were we? Oh, yes. Crosby.
Crosby has 14 goals. The NHL record for postseason goals is 19 set by Philadelphia's Reggie Leach in 1976. That record is now firmly in sight for the 21-year-old.
No one is going to touch Wayne Gretzky's 47-point performance from 1985, but both Malkin, who has six straight multipoint games, and Crosby are in a position to post the fourth or fifth best playoff year, points-wise, of all time.
Is there a way to put what they are doing into perspective?
"No, I can't," said Pittsburgh forward Bill Guerin, who played in his 121st postseason game Saturday.
But, bless him, he tried.
"Everybody talks about their skill level, it's great. There have been great, skilled players that have come through this game, but they're setting themselves apart from everybody because of their drive," Guerin said. "They have drive, they have commitment, they really do, to go along with that skill level, that passion. It's just a great combination. We should be thanking their parents every day because you can't teach that."
Drive?
How about Crosby's goal Saturday. As he has done repeatedly this spring, he drove the net with abandon, arriving at just the moment a lovely Guerin backhand pass arrived. But Crosby does so much right, controlling the puck in the offensive zone, winning draws, finishing his checks. Before the playoffs began, national analyst Darren Eliot told us Crosby was the world's greatest grinder, and he meant it with great respect. Nothing about his play -- well, maybe other than the 14 goals -- has us thinking any differently.
Crosby said he doesn't think he's playing any differently this spring, except he capitalizes on his chances more. "I think I've done a better job of that," he said.
You think?
Not only does he have 14 goals, he's scored in eight of the past 11 games.
"Both of them have been phenomenal since Game 1 against Philly and I think they've just gotten better as the playoffs have gone on and that's what great players do and we have the luxury of having two," defenseman Mark Eaton said.
Malkin has exploded in this series. But it's not just the points.
On Saturday night, he got back on an odd-man rush and stopped Eric Staal. He looked up from the end boards in the Penguins' zone and spied Maxime Talbot at center and sent him in alone, forcing Ward to make a big save. He crushed Matt Cullen along the boards in the neutral zone and ended up with a gash on his cheek.
"Everybody on the ice is better when one or both of those guys is out there," Eaton said. "Again, that's another sign of great players; they make everyone around them great. Just the way the goals that they've scored, the times of the games, like the first period here … bang, all of a sudden it's 3-1, three huge goals by those two.
"They're game-breakers and it seems like they always do it at the right time. They're at another level right now."
The Penguins have outscored the Canes 7-3 in the third period through three games, including 3-1 in the third Saturday.
"We're not as quick as we need to be to defend them," Carolina coach Paul Maurice said.
He noted the Canes outshot the Pens 18-9 in the third and were still outscored 3-1.
"When you're opening up against that team, you're at a distinct disadvantage," Maurice said. "You don't want to be chasing that team."
For the Hurricanes, they will have the next two days to contemplate the inevitable.
"Well, our challenge will be to find a way to beat them once, and then we'll try to revisit that. But we're not looking at beating Pittsburgh four times. We need one game," Maurice said.
The Pens, meanwhile, will have days to consider more cheery topics, like the prospect of heading to the Stanley Cup finals with two players having a postseason for the ages.
"Obviously, we know we have an opportunity now," Crosby said. "It's still hard work. We're still not there."
Not yet.
Scott Burnside covers the NHL for ESPN.com.
Hockey writer for ESPN.com
10 years at Toronto Sun, Windsor Star and National Post
Wrote best-selling true crime book "Deadly Innocence"
EDITORS' PICKS
Boston dealt a blow to Florida, while other Eastern playoff contenders looked to keep pace.
Inside the NHL

While it's too late for this season, the Blue Jackets are getting healthy and showing how tough they will be moving forward.
LeBrun »

Marc-Andre Fleruy has to prove he can dominate in the playoffs before anyone will expect the Penguins to make noise this spring.
Inside the NHL
MOST SENT STORIES ON ESPN.COM