Commentary
Thank you, Mario Lemieux ...
DETROIT -- There now, big fella ... that wasn't so hard, was it?
A little more than a year after we called out Mario Lemieux out for not making himself available to the media with Pittsburgh in the Stanley Cup finals for the first time since he captained the Penguins' Cup-winning team in 1992, there was the Hall of Famer, looking like a million bucks, patiently answering questions from reporters prior to Game 1 of this season's rematch between Pittsburgh and Detroit.
We still don't quite get why it was such a big deal last season -- the company line was he didn't want to take away from his team's play -- but kudos to the big fellow for taking some time Saturday to talk about Sidney Crosby and the rest of the Penguins.
[+] Enlarge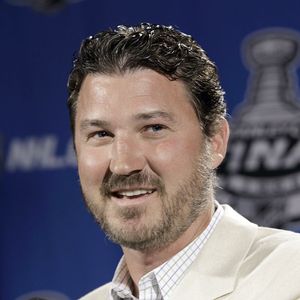 AP Photo/Paul SancyaMario Lemieux on Pens captain Sidney Crosby: 'I think he's a lot more mature than I was at 21.'
There wasn't anything particularly revelatory about what Lemieux had to say, but as with people, like Wayne Gretzky, whose greatness transcends the game, Lemieux's words will always carry some extra import simply because of his status as one of the greatest players of all time and now owner of one of the best young teams in the game.
And it was interesting to hear him talk about his houseguest Crosby, who moved in before his rookie season in 2005 and has never left, in what appears to be a special relationship between the two elite players separated by a generation.
"He's been playing unbelievable throughout the playoffs and I think he's on a mission to hopefully achieve his goal to win the Stanley Cup and win the championship in Pittsburgh," Lemieux said. "You know, he's been dreaming about his time since he was a little boy."
As for what they talk about in Lemieux's home, well, not much of a surprise the game dominates their conversations.
"For sure, we talk about hockey all the time, before dinner or after dinner at home. Different things that I see from the top [in Lemieux's suite]. We just talk a lot about the game, when he's not sleeping or practicing," Lemieux said.
"But he's great to be around. He's the same kid that he was when he came to us four years ago and he's a joy to be around. My kids love him and he's part of our family, really. He's been with us for so long and it's great to have him around."
Can he compare himself as a 21-year-old player to what Crosby is accomplishing at the same age?
"No, I think he's a lot more mature than I was at 21. He was a lot more mature at 18," Lemieux said. "I think you guys all know that from his interviews and from talking to him every day. He's a special kid. He's a better player than I was at the same age, for sure. Some of the things that he does on the ice, his strength, skating ability, is incredible. His passion for the game and his will to be the best each and every shift, his work ethic, he's got it all."
Part of Lemieux's enthusiasm isn't just what he sees, but the fact his children, too young to have seen him in his prime, are sharing this with him now.
"Well, they've seen DVDs and tapes [of their dad playing]. But to be here with us, you know, the whole family, we're very supportive of Sidney, of course, because he lives with us. But they love the game. I have a daughter that is going to [Minnesota prep school] Shattuck next year for that special reason, to play hockey, hopefully, in the future. And Austin plays. I've got my little daughter Alexa that plays. So I've got three out of four," he said.
"But it's been fun for them, too, to be around and to come on the road with us when they can and to be a part of it. It's something that as a young kid you always remember for the rest of your life. It's important for me to have them with us as much as we can."
One of the compelling parts of the Lemieux tale has been his battle through chronic back and hip injuries, and his fight with Hodgkin's disease.
"I feel good, actually. I started working out again about two months ago, which is always tough after a few years," Lemieux said. "But my back's always going to be an issue for me, and I had two hip surgeries. So my golf is not as good as it used to be. I can't turn as much as I used to.
"But it's fine. I get up every day, take a couple of Advils, and I'm ready to go."
Last season, the criticism of Lemieux was viewed against the backdrop of a lovely evening hosted by the NHL featuring members of the Detroit Red Wings' dynasty of the 1950s and 1960s.
The finals are a time when the league works to showcase the game on its grandest stage. It was a shame Lemieux wouldn't make himself available then, but his appearance Saturday has already enhanced these Stanley Cup finals.
Thanks, big guy.
Scott Burnside covers the NHL for ESPN.com.
Hockey writer for ESPN.com
10 years at Toronto Sun, Windsor Star and National Post
Wrote best-selling true crime book "Deadly Innocence"
2009 STANLEY CUP PLAYOFFS

The Stanley Cup finals are here. Scott Burnside, Pierre LeBrun and the rest of our NHL team preview the action:
CUP FINALS
MORE COVERAGE
SPORTSNATION
MOST SENT STORIES ON ESPN.COM