Commentary
Zen-like Gonchar delivers for Penguins
PITTSBURGH -- Freeze the moment before Sergei Gonchar unleashed a laser of a slap shot that would become the winning goal in Tuesday's Game 3 and think for a moment that, by all rights, he shouldn't even be here in this series.
Now, let it roll. The stick, cocked high over his head, coming down, and an instant later, the puck streaking past a stunned Chris Osgood and into the back of the net.
On a night when the Pittsburgh Penguins absolutely had to win, it was the quietly cool Gonchar who delivered at the most crucial moment, his power-play goal giving the Penguins a 4-2 victory that closed the gap in this Stanley Cup finals series to 2-1 in favor of the Red Wings.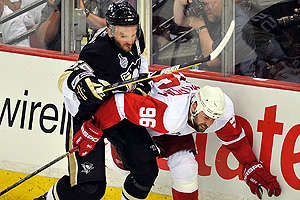 Jamie Sabau/Getty ImagesSergei Gonchar leads all NHL defensemen with 14 postseason points.
"Yeah, timing was good, you know," Gonchar said. "Finally we get a win, more important, and power play was good tonight, so we did a lot of good things we just have to continue."
In keeping with his demeanor, it's more than a little understatement to suggest the timing of Gonchar's goal was important. The Penguins were hanging on after a second period that saw them outshot 14-4. That they entered the third period with the score tied 2-2 was a testament to plain old luck. A bad line change allowed Mikael Samuelsson to waltz into the Pens' zone alone, ripping a shot off the post, and Marc-Andre Fleury turned aside a number of quality chances in the middle frame.
It seemed to be a simple matter of time before the Red Wings took the lead and put the Penguins in a 3-0 series hole, the kind of hole from which almost no team escapes. But the Penguins returned to the ice in the final period with renewed vigor and pressured the Red Wings through the first half of the period.
Then, with Jonathan Ericsson, one of the unsung heroes of the first two games for Detroit, off for interfering with Matt Cooke, Gonchar provided the heroics and injected new life into this series.
While the Penguins feed off the creativity and drive of twin stars Evgeni Malkin (three assists in Game 3) and Sidney Crosby, it is Gonchar who provides a great stabilizing influence. If Crosby and Malkin are manically talented, Gonchar is the Penguins' Zenmeister.
"You guys can see how talented he is. I think it's his composure level," defense partner Brooks Orpik said. "He just slows everything down. It gets kind of crazy out there at times, and he just really has that ability to bring the game down to his speed. I think that just settles everybody else around him down."
Gonchar, who had a goal and an assist Tuesday night, leads all NHL defensemen with 14 playoff points. He is averaging 23:10 a night in ice time. And did we mention he probably shouldn't be here at all?
First, Gonchar missed the first half the season with a shoulder injury. Back in Game 4 of the second round, Gonchar was laid out by a hard knee-on-knee hit courtesy of fellow countryman and Capitals superstar Alexander Ovechkin. As he lay crumpled on the ice in obvious agony, it was hard not to imagine we had seen the last of Gonchar for this postseason.
"After the game, that's what we thought," Orpik said. "We thought he was done for the year based on what the doctors were telling us."
The Penguins dropped Game 6 of that series in overtime, and heading back to Washington for Game 7, Orpik acknowledged there were questions about whether the team would be rattled in the deciding game. But that morning, Gonchar took to the ice and the Pens went on to hammer the Caps 6-2.
"I think people were questioning whether or not we'd be rattled going back there, and I think just having him back on the ice that morning, [assistant coach] Mike Yeo and I were talking about the energy level was amazing that morning," Orpik said. "Guys were so loose, and I think a lot of it just had to do with Gonch being out there. But that's what he does; as quiet as he is, he just kind of settles everybody down."
Did Gonchar wonder if he'd be able to come back after the Ovechkin hit?
"Obviously, it was a concern in the beginning and I didn't play as much," he said. "We dressed seven D. But now, lately, I was feeling better and my leg was holding up all right and that's one of the reasons we've been dressing six D now."
It is interesting to note that both teams in these finals are relying on star defensemen who aren't playing at 100 percent.
Detroit captain Nicklas Lidstrom missed two games in the Western Conference finals with a lower-body injury. While he continues to log big minutes -- he led all players with 26:40 in Game 3 -- he has yet to register a point in the first three games of the finals.
Gonchar, of course, provided what might ultimately be a series-changing goal in Game 3.
"He brings everything. We saw at the beginning of the year when he was out how much we miss him," defenseman Mark Eaton said. "There's no replacement for him. He plays in every situation. He plays a ton of minutes and he does it all. He's a guy you can't replace. For him to battle back from what he went through in the Washington series, it only speaks to his character and his will."
After the game, Maxime Talbot and Crosby happened to be talking in the Penguins' dressing room about Gonchar and how he looked ready for action.
"What a leader," Talbot said. "We looked at him. He sits right across from me and Sid in the dressing room. And you look at him, and he's just so calm, he's just so relaxed and so poised. You look in his eyes and you know he's ready. He's been through a lot this year. It was a tough season. But as soon as he came back -- I think it was a turning point of the season when he came back. The power play started going. And, you know, he kind of gives you that confidence that, 'OK, I'm relaxed.' You know, what a shot he [made]. He got us definitely a huge goal for us tonight."
On Thursday night, the Penguins will have a chance to do what they could not do a year ago in the finals -- even the series and steal momentum back from the Red Wings. If they do, it's a pretty good bet the Zen-like Gonchar will have had a hand in it.
Scott Burnside covers the NHL for ESPN.com.
Hockey writer for ESPN.com
10 years at Toronto Sun, Windsor Star and National Post
Wrote best-selling true crime book "Deadly Innocence"
EDITORS' PICKS
Boston dealt a blow to Florida, while other Eastern playoff contenders looked to keep pace.
Inside the NHL

While it's too late for this season, the Blue Jackets are getting healthy and showing how tough they will be moving forward.
LeBrun »

Marc-Andre Fleruy has to prove he can dominate in the playoffs before anyone will expect the Penguins to make noise this spring.
Inside the NHL
MOST SENT STORIES ON ESPN.COM