Commentary
Will? Character? Penguins show both
PITTSBURGH -- What is the measure of a team's will to win, to stay alive?
Is it measured in 13.2 seconds of chaos at the end of a 2-1 game with Pittsburgh defenseman Rob Scuderi blocking a sure goal with his shin guard and netminder Marc-Andre Fleury desperately sweeping his arm to block a loose puck inches from the goal line?
Is it measured in bulling your way to a 2-1 victory as the Pittsburgh Penguins did Tuesday night despite the fact their best players, Evgeni Malkin and Sidney Crosby, were held off the score sheet for the second straight game?
If those are the touchstones for how you measure will or character, the Penguins proved they are a team that possesses those qualities in great measure as they denied the Detroit Red Wings a chance to duplicate last year's feat of celebrating a Stanley Cup win on Mellon Arena ice.
[+] Enlarge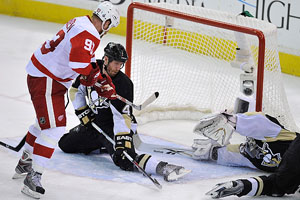 Jamie Sabau/Getty ImagesRob Scuderi's butterfly move late in the third period helped preserve Pittsburgh's 2-1 lead.
"We played a hundred and something games this season, and it comes down to one game. How special is that?" Pittsburgh forward Max Talbot said. "Every time you play street hockey, you know, what game do you play? You play Game 7, Stanley Cup final, and we just gave ourselves a chance to play that game tonight."
Before Game 6, Pittsburgh coach Dan Bylsma talked about how, as the playoffs go along, some teams simply buckle. They run out of gas or just find a team that is more determined. And after Game 5, when the Penguins came unglued and the Red Wings turned up their compete level in a dominating 5-0 victory, there was every reason to believe the Penguins were a team on the verge of buckling.
No shame in that.
Yet with the Stanley Cup not just in the building but out of its case and being shined to a luster by handler Phil Pritchard, the Penguins did not take a knee.
Instead, they built a 2-0 lead, then hung on tenaciously through final moments that included a Dan Cleary breakaway with 1:39 left and a frenzied final 13.2 seconds.
"Besides Flower [Fleury], I think the save of the game might have been Scuds there at the end with his little butterfly," defenseman Mark Eaton said. "This time of year, that's what it's about, guys sacrificing their bodies, laying it all out there, doing whatever it takes to get the job done. Tonight was a good example of that. But what we did was set ourselves to win one game to try and win the Cup, so we haven't done anything yet."
A few feet away, Scuderi, a cut over his right temple covered by a small bandage, a smear of blood on his cheek, described the final seconds as the Wings pushed to tie the score with netminder Chris Osgood on the bench.
"It's natural to want to put your hand on the puck in a dangerous situation because your stick is kind of incapacitated at the time," Scuderi said. "But lucky for me, I kind of resisted the urge and just kind of held my shin guard down as hard as I could.
"It's crazy. Their defensemen are so good, [Brian] Rafalski and [Nicklas] Lidstrom, at just getting the puck to the net. Six-on-five situations, all they're trying to do is overload the front of the net and get it there. You know you're going to have a hack-and-whack battle, and hopefully you get to the puck first."
It's been an interesting few days for Scuderi, whose attempts to describe to a reporter the jigsaw nature of the Penguins' team left him with a new nickname, The Piece.
It's something that doesn't look as if it's going to be leaving him anytime soon.
"I definitely held my breath there. I really held my breath. It was an unbelievable play by The Piece," said Jordan Staal, who scored the game's first goal with a great effort, whacking in his own rebound 51 seconds into the second period.
It marked the second straight home game in which Staal has come up with a huge goal. Early in the third period, linemate Tyler Kennedy came up with another big goal, knocking home a shot from the side of the net to give the Penguins a 2-0 lead.
The goals and the outcome reinforced Scuderi's theory that the players in the dressing room all represent pieces that together reveal a broader picture. On a night when one imagined Malkin and Crosby, the runaway leaders in playoff scoring, would have to lead the way for Pittsburgh to stay alive, the Penguins earned the right to play in a one-game, winner-take-all sweepstakes even without those players contributing points. In fact, it was the first time Pittsburgh won this postseason without one of the two stars scoring.
"I think that's the storyline of the playoffs, when your team can play well enough that different people can put on the cape on any given night," Bylsma said.
"It's the ultimate team game. We've relied on those guys [Malkin and Crosby] for a long time, and you can't always get it from them, you have to find it other places, and that's not to say they didn't have great games, it's part of how we won the game," added defenseman Hal Gill, who was on the ice for that final frenzy. "It's a little nerve-racking when the puck is bouncing around the crease and you don't really know what's going on. But it's fun. That's why it's fun to play the game for those situations."
Although the Penguins outshot the Red Wings 24-12 through the first two periods and did an admirable job of keeping Detroit from creating dangerous chances -- two great Henrik Zetterberg opportunities, notwithstanding -- the Wings came to life in the third period. They enjoyed their only two power plays of the game in the final frame and outshot the Pens 14-7.
"We really didn't have much 'til the third period," Detroit forward Darren Helm said. "But they played well, and we've got to play better."
The next two days, these two teams will prepare for one contest that will, for one side, change everyone's lives forever. That the Penguins willed their way to such a dramatic conclusion with this Game 6 victory will have been forgotten by the time the Pens return to Mellon Arena for practice Wednesday. It is the way of all teams of character.
"They're a great team. We've been watching them all year and throughout the playoffs, and sometimes the TV doesn't do them justice to realize how good they are," Scuderi said. "We're proud of the fact we've been able to take them to seven games. They're the [reigning] champions. They're still playing like it, and that's our goal, to take them down."
Scott Burnside covers the NHL for ESPN.com.
Hockey writer for ESPN.com
10 years at Toronto Sun, Windsor Star and National Post
Wrote best-selling true crime book "Deadly Innocence"
SPONSORED HEADLINES
MORE NHL HEADLINES
MOST SENT STORIES ON ESPN.COM
EDITORS' PICKS
Steven Stamkos and the Lightning have the look of a true Cup contender.
Summer Skate »

Strang: Jeff O'Neill would like the Hurricanes to embrace a new identity under Ron Francis.
Cross Checks »

Bill Ranford and his nephew Brendan brought together the Stanley Cup and Calder Cup.
Tracker »