Commentary
Hawks-Flames? 'The hate is building'
Updated:
April 22, 2009, 6:50 PM ET
By
George Johnson
| Special to ESPN.com
This may be a NHL playoff baptism for Jonathan Toews, but quick study that he is, he's already getting the hang of it.
"It's only going to get worse," predicted the 20-year-old captain of the Chicago Blackhawks. "It's only going to get uglier."
We're three games into this Western Conference quarterfinals series with Chicago leading 2-1, and already the Blackhawks and Calgary Flames are acting like Rock 'Em Sock 'Em Robots at center ring, throwing uppercuts at each other.
[+] Enlarge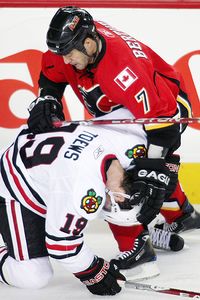 Mike Ridewood/Getty ImagesDespite the physical play from the Flames, Hawks captain Jonathan Toews still leads all scorers in the series with five points.
No actual fights yet. Everything just short of it, though: a league warning about trash-talking on the ice, most of the verbal filth directed at Calgary captain Jarome Iginla; charges from wily Flames coach Mike Keenan of crease crashing after Game 1 and late goonery in Game 3 for a stick-snapping incident involving Adam Burish of the Hawks on Rene Bourque; and countercharges from the speedy, more skilled Hawks of all-out thuggery by the Flames.
Big hits, enough face washing that they might consider handing out squeegees, and an escalating dislike that belies their nontraditional rivalry.
Old-time hockey in today's new-age NHL. It's about time.
"You saw what happened in the end of the game [Monday]," said Burish, who has escaped official censure for his run at Bourque. "Ten guys on the ice acting like wild animals. I'm expecting an awesome, awesome game. You guys are all going to be in for a treat. I know the fans are going to be in for a treat. It's going to a blast. It's going to be a war. It's going to be nasty. And that's what I love."
The tactics couldn't be clearer. Calgary can't match Chicago's fleet-footedness and ridiculous skill level of its top gunners (Martin Havlat, Toews, Patrick Kane and Patrick Sharp), so the Flames will attempt to sandpaper the Hawks into submission with plenty of milling and shoving, bumping and grinding, and molar-loosening hits. If Keenan & Co. have their way, this will turn into an old-fashioned tavern brawl.
Many Blackhawks are, of course, learning on the job in this series, while the old, experienced hands in Calgary hope to exploit that playoff naiveté.
"A lot of action going on out there," Calgary defenseman Cory Sarich said with a grin. "With physical play, it's not about that hit or that period or even that game. Every hit, every check you finish is an investment."
It's an investment in the long run, in the late stages of Games 6 and 7, when the body screams out for peace and the mind begins to look for easy alternatives.
Flames defenseman Adrian Aucoin thought he detected a little pullback in the baby-faced Hawks as Game 3 wore on.
"They're a young, inexperienced group," he said. "You could see it in their faces."
Bollocks, countered the Chicagoans.
"Strange, but I thought I sensed his fear when Walks [Matt Walker] was lining him up in front of our bench," Hawks winger Andrew Ladd said. "That's so ridiculous, I don't even know how to respond. Come on. We aren't intimidated by them. To imply that ... Actually, I think they're a little surprised we play as physically as we do."
The bile is certainly building.
Those final five minutes of Calgary's must-have 4-2 win at the Pengrowth Saddledome on Monday deteriorated in a late-'80s style of pitch warfare. In the aftermath, the victors accused Chicago of acting goofy with the score out of reach. The Hawks claimed the Flames' bully-boy tactics led to the churlishness.
"The reason we reacted the way we did at the end is because we'd taken a lot of abuse, some of which went unpunished," Toews said. "So we said, 'Enough's enough.' We weren't going to take any more. If there was a message, that was it -- we're not going to take any more."
The Flames beg to differ. In their minds, there's a lot more abuse to be dished out, and they plan on continuing it Wednesday night in Game 4 and however long this skirmish might last.
Keenan was on fire over the Bourque-Burish run-in, and although replays showed there seemed to be plenty of intent, no actual contact was made in the facial area. Conveniently, Bourque was kept away from the media Monday, but he was spotted briefly in the dressing room before frantically shutting the door. He was not encased in a full body cast (upper and lower injury) or hidden behind a surgical mask (upper body only).
The Iron One was so incensed at the time of the incident, he started down the bench to have a chat, presumably with Blackhawks counterpart Joel Quenneville, but was held back by peacemaker Todd Bertuzzi. (Todd Bertuzzi?!)
"The league doesn't need it," Keenan said. "The game doesn't need it. I was expressing my displeasure at that point. My emotional response was, 'Why?' Why engage the type of tactics they used?"
The trash-talking issue, frankly, makes no sense whatsoever. It is -- and always has been -- a part of the game. Keenan said he spoke with captain Iginla about what was said to enrage him so much and was assured nothing of a racist tone had been used.
"There wasn't any one thing as far as verbal that got to me," Iginla said. "I can take that. Verbal abuse is nothing. Trash-talking is fine."
Expected, actually. And often encouraged.
"It goes on all the time in the Western Hockey League," said Hawks forward Kris Versteeg, a Lethbridge Hurricanes alum. "And there are a lot of Western League grads on both teams here. It's part of the game."
The Flames might actually welcome a little more verbal prodding of Iginla. The standard rule: Don't awake the slumbering lion.
"When Jarome's playing the way he did last night … he is a little frightening," Aucoin said. "I noticed they did a lot of talking [to him], but nobody was backing the talk up. He's a guy that plays better when he's angry."
Anger abounds in this series.
"The hate is building," Aucoin said. "But that's playoff hockey."
George Johnson, a columnist for the Calgary Herald, is a regular contributor to ESPN.com.
George Johnson, a columnist for the Calgary Herald, is a regular contributor to ESPN.com.
EDITORS' PICKS
Boston dealt a blow to Florida, while other Eastern playoff contenders looked to keep pace.
Inside the NHL

While it's too late for this season, the Blue Jackets are getting healthy and showing how tough they will be moving forward.
LeBrun »

Marc-Andre Fleruy has to prove he can dominate in the playoffs before anyone will expect the Penguins to make noise this spring.
Inside the NHL
MOST SENT STORIES ON ESPN.COM