Commentary
Callahan is Rangers' under-radar MVP
WASHINGTON -- On a team with big names and even bigger contracts, it's a player earning $600,000 who one New York Rangers observer said Friday "was this year's MVP next to Henrik Lundqvist."
Ryan Callahan still flies under the radar nationally, but that won't last long. Again in Game 1 on Wednesday night, he was one of the more noticeable Rangers, throwing his body around with unrelenting force, making the Washington Capitals earn every inch of ice around him. [Editor's note: In Saturday's Game 2, Callahan scored the Rangers' lone goal as New York beat Washington 1-0 to take a 2-0 series lead.]
[+] Enlarge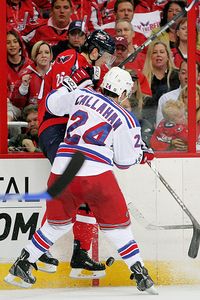 Len Redkoles/Getty ImagesRyan Callahan was fourth in the NHL with 265 hits this season.
"He's had a great season," linemate Markus Naslund said Friday after practice at Verizon Center. "He's been good in every area. He's killed penalties for us, he's scored some big goals, and he's obviously a hard-working guy who finishes his hits and plays that kind of game, too."
The 24-year-old winger is the engine of New York's forecheck and has a knack for scoring big goals. He led the team and was fourth in the NHL with 265 hits this season. He also led the club with a plus-7 rating.
When the Rangers need something to happen, Callahan is invariably involved.
"He's a guy that does everything," Rangers coach John Tortorella said. "He's in every situation. He's earned the responsibility and the chance to be in those situations because he's succeeded. Players sometimes need to believe they can score regularly; I think he's beginning to realize that and believe in himself.
"But he also does other things away from the puck. Last-minute situations, penalty-killing, blocking shots, finishing checks -- he's becoming a complete package and still very early in the process."
Do you sense the coach likes this kid? You better believe it. And the feeling is mutual. Callahan played well for former coach Tom Renney as well, but under Tortorella, the 5-foot-11, 188-pounder believes the new coach's more aggressive system is right in his wheelhouse.
"I'm a type of guy who likes to get hard in on the forecheck and create chances off the bat," Callahan said Friday. "I'm a go-go-go type guy. This system suits me pretty well for that."
The native of Rochester, N.Y., scored 22 goals and racked up 40 points in 81 games this season, his second full year in the NHL. People have taken notice.
"Ryan had a big breakout season for the Rangers," Brian Burke, the GM of the U.S. Olympic team, told ESPN.com on Friday. "He has put himself into contention for Team USA in Vancouver."
Callahan is just the type of player Burke likes to have on his team, a guy with some sandpaper who can also score a big goal. It would be surprising if Callahan didn't warrant at least an invite from Team USA for its orientation camp in mid-August in Chicago.
Tortorella credited assistant coach/assistant GM Jim Schoenfeld for Callahan's development. Schoenfeld was the head coach for the team's AHL affiliate in Hartford in 2006-07 when Callahan scored 35 goals in 60 games.
"Schoeny has done a great job with some of the kids when he coached in Hartford," Tortorella said. "Schoeny has had a number of different job titles within this organization, but some of the kids that he developed, he gave them a great foundation, and Ryan is one of them."
The kid could always score. He tallied 52 goals in 62 games in his final junior season with the Ontario Hockey League's Guelph Storm in 2005-06. But like many young players, he needed to find his confidence with the puck once he got to the NHL. He had eight goals in 52 games last season but took huge strides in 2008-09.
"This year coming in, I wanted to try and contribute more offensively," Callahan said. "I feel like I've done that. Last year was tough. I had a knee injury early in the year. I just feel more comfortable and confident this year. The guys I've been playing with have been great, too."
The veteran Naslund, who skated on a line with Callahan and the banged-up Chris Drury at practice Friday (still a game-time decision), said Callahan has grown in confidence.
"I think he's realized that he's a good player," Naslund said. "I think that's a big part of coming in as a young guy and getting some confidence and believing you can score and contribute. It's been good to see."
Callahan agreed, saying there was a growing period before he hit his stride.
"You don't realize how you don't have that much time with the puck like you do in junior or the AHL," he said. "There's guys always on top of you [in the NHL] and you have to know what you're doing with the puck before you get it. It was a long learning curve for me.
"But I feel right now like I'm playing the type of game I want to play, and that's throwing my body around a bit and creating chances off of that. I know I can put the puck in the net, and they started to go in, so that was good."
Did we mention Callahan is a restricted free agent July 1? Cha-ching. He will no longer be a $600,000 player.
Pierre LeBrun covers the NHL for ESPN.com.
Covers the NHL for ESPN.com and TSN in Canada
Six years on the "Hockey Night In Canada" Hotstove panel
13 years at The Canadian Press National News Agency
2009 STANLEY CUP PLAYOFFS

The Stanley Cup playoffs kick off Wednesday. Scott Burnside, Pierre LeBrun and the rest of our NHL team preview the first round:
EASTERN CONFERENCE
WESTERN CONFERENCE
MORE COVERAGE
SPORTSNATION
MOST SENT STORIES ON ESPN.COM