Commentary
Surprised by Hawks? You shouldn't be
CHICAGO -- It wasn't quite Babe Ruth calling his shot, but Andrew Ladd proved more than a little prophetic Thursday night.
"I said to Adam Burish before overtime, 'It's going to take a dirty one to win this,'" said the Chicago Blackhawks' overtime hero. "That's usually the case in overtime and especially in the playoffs."
Ladd stuck his stick out and deflected a Dave Bolland point shot past a partially screened Roberto Luongo 2:52 into the fourth period to give Chicago a 2-1 win over Vancouver, just the kind of goal the Hawks need more of if they're going to win this series.
The Blackhawks were only 2:44 away from going down 3-1 in this Western Conference semifinal series, a hole that likely would have been insurmountable, especially for such a young squad, with Game 5 in Vancouver on Saturday night.
[+] Enlarge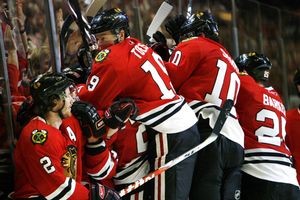 AP Photo/Nam Y. HuhThe Blackhawks came from behind again to beat the Canucks 2-1 in overtime on Thursday night.
But as they have all along in their thrill-a-minute postseason, the Blackhawks rallied. Martin Havlat forced overtime -- and ignited the United Center fans who sat on their hands all night -- with a wrist shot from the high slot that handcuffed Luongo.
"We've got a new series," said Havlat, who scored his fourth of the playoffs.
"Whoa," Hawks GM Dale Tallon told ESPN.com in the home dressing room, holding his chest. "I thought my ticker was going to go. These kids never give up. They're a resilient bunch."
Until that goal, the story wasn't pretty for the Hawks. It seemed that their playoff inexperience was finally catching up to them. The kids were pressing and were squeezing their sticks. But don't underestimate them, Havlat said.
"I don't know what everybody else thinks of us, but I know this is a pretty confident group, even though we're a young team," said Havlat. "We know what we can do."
We keep waiting for this thing to fall apart, for the kids to show their age. But the Hawks keep proving us wrong.
"We believe in each other. We believe in the opportunity," said Hawks coach Joel Quenneville. "We like where we're at right now."
They didn't like where they were with three minutes to go in the third period. Chicago had not mustered much offense up to that point, as the Canucks delivered another stifling defensive effort. Which also translated into a massively boring affair. The white towels handed out to fans were used to cover up yawning mouths until the Havlat goal.
On the Hawks' bench, the mind games were difficult to suppress.
"You ask yourself when it's finally going to go in, when are you finally going to get a break," said 21-year-old Hawks captain Jonathan Toews. "Getting that first goal was a great feeling. Then, suddenly, you feel like anything can happen."
Now the Hawks are tied 2-2 in a series in which they've never scored first. That's amazing in itself.
"I guess we're accustomed to playing in that situation, but it's not healthy," said Quenneville. "It's not a recipe for success. ... I'd like to find out what our team would be like with a lead. I think we're due."
The Canucks were slated for a long trip home Thursday night. What a crushing feeling to let what would have been such a critical victory escape them. Vancouver could have been heading home with a 3-1 lead, playing at home Saturday night with a chance to wrap it up and head to its first conference final in 15 years.
Instead, they've got a ton of work left in a series that will go at least six, if not seven, games.
"We maybe sat back a little much," said Canucks winger Alexandre Burrows. "We had that one-goal lead and we wanted to protect it. We sat back too much."
After opening the scoring on Darcy Hordichuk's breakaway goal 8:32 into the second period, the tough guy's first career NHL playoff goal, the Canucks needed very little offense. Their 15 shots on goal broke a franchise record for fewest shots in a playoff game, beating the old record of 16 set in 1982 against Los Angeles. Nice, just the kind of history you're looking to make.
"The only thing I know is, we can't go chance against chances versus this team," said Canucks coach Alain Vigneault. "That being said, they're not bringing a lot against us, either. That was the best chess match I've seen in a while."
That's great, only we're here to watch hockey, not chess. We understand the tactical reasoning behind Vancouver's approach, but we can't recall a playoff game this uneventful through 57 minutes.
Nobody cared about that in the Hawks' dressing room. They're headed to Vancouver with a new lease on life.
"Hopefully we can use this win to gain more confidence and momentum," said Ladd. "We're back in this thing."
Pierre LeBrun covers the NHL for ESPN.com.
Covers the NHL for ESPN.com and TSN in Canada
Six years on the "Hockey Night In Canada" Hotstove panel
13 years at The Canadian Press National News Agency
SPONSORED HEADLINES
MORE NHL HEADLINES
MOST SENT STORIES ON ESPN.COM
EDITORS' PICKS
Burnside: The defending champions are accustomed to stepping up at the most crucial times, but time might be catching up with them this season.
Story »

McDonald: As big as Johnny Boychuk's presence has been to the contender Islanders, his absence has been equally devastating for the Bruins.
Story »

Burnside: It is clear their hopes for winning are tied to Max Domi and the highly anticipated draft.
Story »