Commentary
Capitals again seize the moment
MONTREAL -- It might seem a little early to start talking about the Washington Capitals as a team of destiny, but nights like this one start building a case, a foundation for greatness, if you will.
The Capitals gave the Montreal Canadiens a stark lesson in seizing the moment and stealing a win as they came from one goal down late in the second period to roll over Montreal by a 6-3 score.
The Capitals now lead the Eastern Conference quarterfinals series 3-1 and can wrap it up Friday night in Washington. Given the way the Caps surgically carved the life out of the Canadiens on Wednesday night, one might fairly suggest Game 5 has become little more than a formality.
[+] Enlarge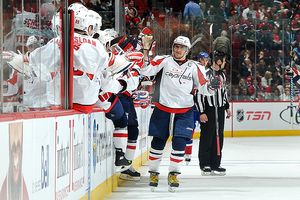 Francois Lacasse/NHLI via Getty ImagesAlex Ovechkin had two goals and an assist to help the Capitals beat the Canadiens 6-3 in Wednesday's Game 4.
"We had our teeth in the apple. This smelled like a win," Montreal defenseman Marc-Andre Bergeron said.
This was a vastly different game from Game 3, which the Capitals dominated in a 5-1 win. This was physical. It was played for long stretches at a breakneck pace. Through the first 40 minutes, it featured terrific goaltending from two netminders who started this series on the bench, Carey Price for Montreal and Semyon Varlamov for Washington.
And then, when it looked as if the Canadiens were going to persevere, when they were going to win a game they absolutely had to win to stay in this series, the Capitals calmly reached down and flicked the switch that great teams have and left the Canadiens at the side of the road like yesterday's poutine.
With time running out in the second period and the Canadiens holding a 2-1 lead and playing with the man advantage, they were enjoying their best moments of the series. They had outshot the Capitals 21-9 in the second and taken the lead on an earlier Brian Gionta power-play goal.
They were looking to seize their moment.
Suddenly, Boyd Gordon burst past Roman Hamrlik down the left wall through the neutral zone before flipping a pass over a sprawled Josh Gorges to a driving Mike Knuble. The veteran winger snuck the puck past Price with 6.3 seconds left in the period and tied the score at 2.
"It's more the timing of the goal," Knuble said. "You know, in the last 10 seconds was a huge boost to the bench, to come in tied and kind of refocus after getting a little distracted in the second period, taking too many penalties, giving them a chance really to get some momentum going. And we just kind of took it away in the last 10 seconds."
In the third period, with the game feeling very much as if it was headed to overtime, it was Washington captain Alex Ovechkin picking up a loose puck in the slot and ripping a shot past a startled Price to give the Caps a 3-2 lead with 8:51 left in the game.
"That just kind of comes out of nowhere," Knuble said of the defending Hart Trophy winner. "Pucks bouncing around, coming down the left wall, and all of a sudden it kicks to the middle and he's 20 feet out with a wrister, and I think we'll all take our chances with that one. If he's going to be able to get down in that area with the puck on his stick, I think we're all pretty happy about it."
Just 52 seconds later, the Capitals capitalized on a turnover behind the Habs net and Jason Chimera put in a rebound off a Matt Bradley shot to make it 5-3.
And just like that, it was over. Just like that, the Capitals had taken away their second straight game in Montreal.
At that point, Price fired a puck toward the celebrating Capitals players, drawing one of two unsportsmanlike penalties he would take in the waning moments of the game. The second came when Price apparently had some interaction with Nicklas Backstrom as the Caps forward passed the Montreal bench after scoring the second of Washington's two empty-net goals.
"That's frustration. It's part of hockey. Let 'em know you're there," Price said after the game.
Well, you could look at it like that, or maybe that kind of behavior just reinforces the great divide that exists between these two teams.
"When we act out in these ways -- and we've all done it, we've all been part of it -- it's the mentality as a group and it's about us being accountable to one another," Montreal forward Mike Cammalleri said. "It's not one guy, it's not two guys, it's our maturity level as a group, maybe. It's not OK to be doing that. To beat these guys, we have to focus 100 percent of our energies, and anything that distracts us from that will be working against us."
Habs coach Jacques Martin has consistently pointed to the depth of talent the Caps possess as a factor in this series. He did so again after Game 4. And sure, that is true. Talentwise, everyone knew this series was going to be a mismatch from the outset. But the talent is worth nothing if it's not brought to bear when the game is on the line. There have been moments in all three Capitals wins when the game was there for the taking.
Wednesday night, it wasn't just the game that was up for grabs, so was the series. And when the moment came to make a statement, that statement was made emphatically by the Capitals.
"That's the disappointing part. I think, in the last three losses, there have been points in the game where I feel we really took the game to them and had control of a lead at some point," Cammalleri said. "You've got to give some credit to them. They have top players that keep coming all night, and if they don't get you early, they're going to try and get you late. At the same time, we made some glaring mistakes that cost us."
Throughout the regular season, the Capitals regularly destroyed teams in the third period, outscoring opponents 112-68.
"We have a calm demeanor, it seems, when we do get behind in games, and tonight was no different," Brendan Morrison explained. "Even though we weren't behind going into the third, we were tied, but we were still confident that if we went out and played a real good solid 20 minutes, we'd come out on top, and that's what we did. We had a good third period."
But to be able to do so in the playoffs -- the Caps have outscored the Habs 9-4 in the final frame -- suggests a new level of maturity. Perhaps even a new level of -- dare we say it -- greatness.
Scott Burnside covers the NHL for ESPN.com.
Hockey writer for ESPN.com
10 years at Toronto Sun, Windsor Star and National Post
Wrote best-selling true crime book "Deadly Innocence"
SPONSORED HEADLINES
MORE NHL HEADLINES
MOST SENT STORIES ON ESPN.COM
2010 STANLEY CUP PLAYOFFS

Here is a review of the first round of the playoffs. 2010 Playoffs
EASTERN CONFERENCE
WESTERN CONFERENCE
FIRST ROUND
SPORTSNATION