Flyers or Hawks? We state our cases
Updated:
May 29, 2010, 1:28 PM ET
ESPN.com
CHICAGO -- I know my colleague Pierre LeBrun has been drinking deep from the Kool-Aid well at the United Center. Hard to blame him with the way the Hawks went through Nashville, Vancouver and San Jose en route to their first Stanley Cup finals appearance since 1992.
But we've seen a few things in Philadelphia over the past couple of weeks that make us think that no matter how good that Kool-Aid tastes (or maybe it's the deep-dish pizza) in Chicago, it's the unsinkable Flyers who will once again own the last laugh in these playoffs. Read on.
[+] Enlarge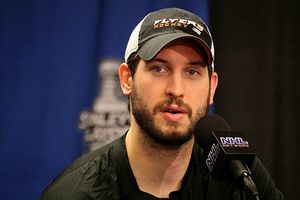 Bruce Bennett/Getty ImagesMichael Leighton shut out the Habs three times in five East finals games to help lead the Flyers to the Cup finals.
Five reasons why the Flyers will win the Cup
1. Michael Leighton: The pride of Petrolia, the king of the waiver wire, the goalie who fell to earth -- call him what you want, just don't call him overachieving. The onetime Blackhawk (actually, it would be easier to list the teams Leighton has not been property of since he first played for Chicago in 2002-03) shut out the Canadiens three times in five games in the last round.
When the Habs had a four-minute power play in the third period of Game 5 trailing by a goal, Leighton was outstanding. He is the ice man. Goaltending coach extraordinaire Jeff Reese has redefined Leighton's style to be deeper in the crease, better able to handle rebounds and anticipate passes and shots; but it's the stuff between the ears that is Leighton's greatest strength. Antti Niemi has been a pleasant surprise for the Blackhawks, but we figure Leighton will give the Flyers a key advantage between the pipes. (He leads the playoffs with a .948 save percentage and 1.45 goals-against average.)
2. Chris Pronger: Jonathan Toews, Patrick Kane, Dustin Byfuglien et al., meet the immovable force known as Chris Pronger. With all due respect to Vancouver and San Jose, where was the beef when it came to shutting down Chicago's dynamic offensive units? They didn't have any, and it cost them.
Now, let's throw Pronger into the mix. A refresher course this spring: Zach Parise and Ilya Kovalchuk combined for three goals in five games; Marc Savard did not score in the final six games of the Bruins' second-round series against Philadelphia; and Mike Cammalleri, who entered the Eastern Conference finals with 12 goals to lead all playoff scorers, came up with one goal in five games.
Playing with Matt Carle, who handles the puck smoothly and efficiently, Pronger leads all NHL playoff performers with an average of 28:48 a night in ice time and has 14 points. Tired? Uh, no one gets tired when he's four wins away from the Cup. We suspect, though, that Toews, Kane and Byfuglien will grow pretty tired of being punished by Pronger before all is said and done.
3. Offensive depth: Everyone loves the Blackhawks' depth up front; they have four players with seven or more goals this spring. Fair enough. But we get the sense that many people consider the Flyers in the same vein as chopped liver. Remember, they were the team that trailed 3-0 against Boston before becoming just the third team in NHL history to erase that deficit and win. The Flyers did so in large part because they started to get healthy.
Simon Gagne has seven goals in nine games since he returned from a foot injury sustained in the first round, including scoring the overtime winner in Game 4 and the series-clincher in Game 7 against Boston. Daniel Briere is tied for second among playoff scorers with nine goals. Jeff Carter and shot-blocker extraordinaire Ian Laperriere returned on the same night against Montreal (Game 4). So now, coach Peter Laviolette has a number of options, all of which end up with the same result: three potent offensive lines going over the boards. Gee, sounds like the Hawks. Enough said.
4. Lucky Leino versus Haunted Hossa: Hey, we don't buy curses or spells or paranormal activities in the playoffs unless it helps us make our point. In this case, it does. While the Blackhawks and Marian Hossa will have to answer on a daily basis why Hossa can't score and how such a talented player might end up losing three straight times in the Cup finals for three straight teams, his former teammate, Ville Leino, has found himself to be in the perfect spot in Philadelphia since being the victim of a salary dump before the Olympics. He couldn't even get in the lineup until pretty much playoff time; after that, all he's done is deliver the goods. Leino has four goals and eight assists, including one game-winner. For the record, that's twice as many goals and one more point than Hossa has recorded. Cue the "Twilight Zone" music, and don't say we didn't warn you.
5. Intestinal fortitude: You can't buy it; you can't make it up -- either you have it or you don't. Both teams have it. The Blackhawks are 5-3 when they give up the first goal; the Flyers are 5-4. Neither team flinches when things go bad. But any team that has been down 3-0 in a playoff series and is still standing simply has it going on. The Flyers are that team. Any team with two guys playing after their seasons should have been over with significant foot injuries (Carter, Gagne) and another who suffered a brain contusion (just think about that for a minute) after blocking a shot with his face (Ian Laperriere) simply isn't going to be denied. Sorry, Chicago.
[+] Enlarge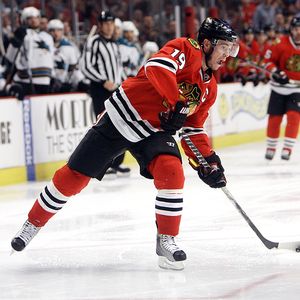 Rob Grabowski/US PresswireJonathan Toews leads all postseason scorers with seven goals and 19 assists in 16 games.
Five reasons why the Hawks will win the Cup
1. The unstoppable top line of the Blackhawks: The Vancouver Canucks and San Jose Sharks, two legitimate Stanley Cup contenders, had absolutely no answer for Kane, Toews and Byfuglien, otherwise known as the best line in the NHL. Why would the Flyers be able to do something higher-ranked teams in the Sharks and Canucks could not? They won't. The Toews line will be a factor again, en route to Stanley Cup glory.
2. Edge in goal: Niemi had to beat real teams en route to the Cup finals, while Leighton was barely tested by a spent Montreal team in the Eastern Conference finals. Niemi's pair of 44-save performances in the West finals against San Jose underlined his sensational spring. Never mind the fact that he outplayed Roberto Luongo in the second round. The Flyers have a terrific offensive attack, but it's nothing Niemi didn't see against San Jose or Vancouver.
3. Hossa will come alive in these Cup finals: It seems hard to believe the Hawks could come out of the tougher Western Conference, where they had to beat out three teams that had 100 or more points, with Hossa contributing only two goals in 16 playoff games. He's been close to breaking out of late. We say it will happen here in the Cup finals. And what then if you're the Flyers? You've got the Toews line to contend with, the third line of Dave Bolland between Kris Versteeg and Andrew Ladd or Tomas Kopecky that's been clutch and, if Hossa gets hot, him with Patrick Sharp and Troy Brouwer on the second line. Game over for Philadelphia.
4. History dictates the Flyers can't win: The Flyers were ranked 18th in the overall NHL standings during the regular season, and no team ranked that low has ever won the Stanley Cup. In fact, the lowest-ranked team ever to win was the New Jersey Devils in 1995, when they were ranked ninth overall in the regular-season standings. It's not even close. The Flyers can't buck that trend, can they?
5. Destiny: The longest Stanley Cup drought must end. Forty-nine years is enough. You can feel it in the United Center during these playoffs. This is the year. Stan Mikita feels it, and so does Bobby Hull and Tony Esposito. The Blackhawks will win the Cup for the first time since 1961, leaving the Toronto Maple Leafs with the longest drought in the NHL at 43 years and counting.
Scott Burnside and Pierre LeBrun cover the NHL for ESPN.com.
SPONSORED HEADLINES
MORE NHL HEADLINES
MOST SENT STORIES ON ESPN.COM
EDITORS' PICKS
NYR 3, NJ 1: Derek Stepan provided all the scoring as the Rangers made it eight in a row.
Recap »

Strang: A dramatic shift in the landscape has left many enforcers being escorted out of the game.
Story »

LeBrun: We predict who's in and who's out of the playoffs.
Story »