Commentary
First-round breakdown: Caps-Rangers
And so, after all the gnashing of teeth about the lack of scoring from Alex Ovechkin and whether Bruce Boudreau was the right coach and whether the Caps had seen their window close last spring, here they are at the top of the Eastern Conference once again.
After lapping Philadelphia, Tampa, Pittsburgh and Boston to take over the top seed, the Capitals will face a recent playoff foe in the New York Rangers, a team that avoided a second straight gut-wrenching exit from the playoff race with a crucial win against the New Jersey Devils in its regular-season finale Saturday.
In the 2009 playoffs, the Rangers led the Caps 3-1 in the first-round series before imploding. This time around, the two teams' style of play is much more closely aligned than it was two springs ago, when the Caps employed an electric run-and-gun style. Both teams play it close to the vest, with the teams ranking fourth (Caps) and fifth (Rangers) in goals allowed per game.
The Rangers were a perfect 29-0-0 when leading after two periods, while the Caps were 29-0-3 when leading through 40 and 26-9-11 in one-goal games (seventh in the league) and second on the penalty kill.
Throw in two combustible coaches in Washington's Bruce Boudreau and New York's John Tortorella (who was suspended for a game after hurling a water bottle at a fan during the teams' 2009 clash), an untested rookie netminder in Washington's Michal Neuvirth and the fact the Rangers humbled the Caps twice during the regular-season series (7-0 and 6-0), and you've got all the makings of a nice little drama.
1. A different kid: Although Semyon Varlamov has been the netminder of record for the Caps the past two postseasons, it will be another youngster who gets handed the keys to start the playoffs this year: Neuvirth. A dominant playoff performer in the AHL, Neuvirth has earned Boudreau's trust and his numbers have been impressive, finishing third among rookie netminders with 27 wins. Still, Boudreau has shown little patience for acclimatization once the postseason rolls around (he yanked Jose Theodore early in each of the past two postseasons). Still, Caps management has been raving about Neuvirth's maturity and technical prowess, so the fact he will start ahead of the injury-prone Varlamov isn't a big surprise. Who finishes this series may be the better question.
2. The baggage: Think anyone will bring up last season's first-round debacle by the Caps, the then-Presidents' Trophy winners who were ousted by lowly eighth-seeded Montreal? Think anyone will mention how the Caps joked their way to a 3-1 series lead before losing the final three games of the series? Maybe once or twice. But dealing with that baggage, both publicly and emotionally, once they hit a snag or two in the series will be telling. The theory is the Caps are a different team; they have learned from their embarrassment and are a stronger team mentally and defensively. It's a nice theory, if it's true. In some ways, Washington has taken a giant step, posting a 16-3-1 record and allowing just 1.90 goals per game since a 6-0 loss to the Rangers on Feb. 25. Now they just have to do it with the money on the table.
3. The missing snipers: Are there two more enigmatic players in the NHL than Alexander Semin and Marian Gaborik? When they are on, the two are as gifted as they come. Speedy, deceptive, terrific shots. But when they go sideways, they go all the way, right out of the frame.
Semin, who has battled injuries in the second half, did manage to score in three of his final five games, but also went for stretches of seven and 17 games without scoring during the season. Last season against Montreal, Semin didn't score once despite 44 shots on goal. The fact many were taken from the next county over might have had something to do with his lack of production. But with the Caps playing a more buttoned-down style, Semin's contributions will be even more crucial this spring.
Meanwhile, the Rangers somehow snuck into the playoffs with their most gifted scorer held without a goal in his past nine games. Gaborik found himself sitting for lengthy periods of time down the stretch after incurring Tortorella's wrath. Gaborik did record four assists in his past five games, but that's not why the Rangers are paying him $7.5 million annually. They're paying him to put the biscuit in the basket. The problem is, the playoffs have not exactly been Gaborik's time to shine; he has been to the postseason only three times in his career and was held without a goal in his last outing as his Minnesota Wild were upset by Colorado in 2008. With Ryan Callahan out long-term (broken ankle), it is incumbent on Gaborik to start carrying the freight if the Rangers are to have any hope of pulling off an upset.
4. Special cases: Given that both teams don't give away a lot at even strength, it stands to reason special-teams play will be crucial. The Rangers have scored on the power play just once in their past nine games, but allowed just one power-play goal in their past 10 contests. So that's a bit of a trade-off. The Capitals, on the other hand, seemed to have turned a slight corner on the man advantage, scoring five times on the power play in their past four games. They have been fine killing penalties, too, allowing just five goals in their past 12 games. In short, the Rangers' ability to generate something on the man advantage will be important to staying afloat.
5. Depleted ranks: Injuries to top players has been the story this season, and the Caps and Rangers hit the postseason without a full arsenal. New York will be without emotional leader Callahan. He has been the team's most productive forward since the All-Star break and his loss puts additional pressure on an already thin forwards unit to pick up the slack.
The Capitals figure to be minus defensemen Dennis Wideman, who was terrific since coming over from Florida at the trade deadline, and Tom Poti. Jason Arnott, whose play (especially with Semin) was important to the Caps' scoring depth after he was acquired from New Jersey at the deadline, is expected to return, as is two-time Norris Trophy nominee Mike Green. More than a little irony here given that Rangers forward Derek Stepan's blindside hit to the head sidelined the smooth-skating defenseman since Feb. 25. Green, of course, has received much criticism for his uneven play in the past two postseasons, so it will be interesting to see what his level of play will be, assuming he's in the lineup.
• Henrik Lundqvist versus Michal Neuvirth: Yeah, we know, goalies don't play against each other. Get over it. In 2009, Lundqvist seemed to run out of gas as the series against Washington went on, and one had to wonder whether fatigue was a root cause of his poor play. This season, the Rangers' most important player was supposed to get more rest with Martin Biron in the fold, but Biron broke his collarbone at the beginning of March and Lundqvist played in the Rangers' final 26 games. Lundqvist led the league with 11 shutouts and turned in a career-best .923 save percentage, but will fatigue once again be a factor? Tired or not, does Lundqvist's experience and poise trump Neuvirth's inexperience in a meaningful way?


• Washington: Our good friend and colleague Pierre LeBrun recently did a nice job talking about the transformation of Ovechkin from point machine to team leader willing to sacrifice personal stats for the greater good. That, again, is a nice theory if it works in practice. Ovechkin had no goals versus the Rangers this season, but did score three times in his last four regular-season games and finished with 32 on the season. If he gets on track, the Caps will have an easy time of it.
• New York: We've already touched on Gaborik's struggles, but let's turn our attention to the Rangers' defense. The young blue-line corps doesn't provide a lot of offensive pop. Marc Staal had seven goals to lead the way; so did Bryan McCabe, who came over from Florida at the trade deadline. But McCabe, he of the booming slap shot, managed to score just twice since and his presence, especially on the power play, could be the difference in this series.

• We just can't see the Caps losing to an 8-seed for the second straight postseason, regardless of their injury problems. Capitals in six.
Scott Burnside covers the NHL for ESPN.com.
Hockey writer for ESPN.com
10 years at Toronto Sun, Windsor Star and National Post
Wrote best-selling true crime book "Deadly Innocence"
SPONSORED HEADLINES
MORE NHL HEADLINES
MOST SENT STORIES ON ESPN.COM
2011 STANLEY CUP PLAYOFFS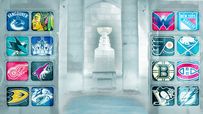 Follow the NHL on ESPN: Twitter / Facebook
EASTERN CONFERENCE
No. 1 Washington vs. No. 8 N.Y. Rangers
No. 2 Philadelphia vs. No. 7 Buffalo
No. 3 Boston vs. No. 6 Montreal
No. 4 Pittsburgh vs. No. 5 Tampa Bay
WESTERN CONFERENCE
No. 1 Vancouver vs. No. 8 Blackhawks
No. 2 San Jose vs. No. 7 Los Angeles
No. 3 Detroit vs. No. 6 Phoenix
No. 4 Anaheim vs. No. 5 Nashville
FIRST ROUND
MORE FROM ESPN NEW YORK

Check out ESPN New York, your destination for sports coverage in the Big Apple.