Commentary
Will Marian Gaborik find his 'moment'?
WASHINGTON -- There are no shadows in the Stanley Cup playoffs.
There are no places for anyone to hide on a stage that is perpetually lit by the white-hot light of expectation and "all or nothing."
[+] Enlarge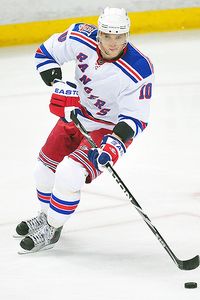 Gary A. Vasquez/US PresswireRangers forward Marian Gaborik hasn't scored a goal in 10 straight games.
In that environment, all is laid bare, whether a player blossoms under the pressure or shrivels and is consumed by it.
It is perhaps unfair to be making judgments on a player's ability to thrive in the playoff atmosphere after one game, but no one said the playoffs are fair.
So you think back to the second period of Game 1 of the Eastern Conference quarterfinal series between the top-seeded Washington Capitals and eighth-seeded New York Rangers.
The game is scoreless. The Capitals suffer a rare defensive breakdown and Marian Gaborik, the most skilled skater on the Rangers' roster, finds himself alone in front of rookie netminder Michal Neuvirth.
Maybe the pass is slightly in his skates, but these are the moments scorers live for. This is a moment when a game or series can change.
And in that moment, it was a 21-year-old netminder playing in his first NHL postseason game that won the battle. Or rather stole it from Gaborik and the Rangers. If that was an anomaly, a needle-in-a-haystack kind of play, you might forgive the gifted Slovak winger.
But the squandered chance was simply another piece of evidence that suggests Gaborik is one of those players who cannot seem to deliver the goods when the game is played at its most demanding level. Gaborik had four shots on goal in Game 1, including that glorious second-period opportunity. He has now gone 10 straight games without a goal.
This isn't an indictment of Gaborik's work ethic. But the playoffs are bottom-line time, so trying hard and being a good guy, opening doors for little old ladies and tossing change to panhandlers, counts for exactly nothing.
More From Rangers-Caps
• In an effort to try and wring more offense out of his lineup, John Tortorella toyed with some line changes during Thursday practices, including moving Erik Christensen onto a line with Vaclav Prospal and Marian Gaborik in place of Artem Anisimov.
"He is a skilled guy and has given us some good minutes at certain times during the year," Tortorella said of Christensen, who had 11 goals during the regular season. "After Game 1, there needs to be some improvements with our game and certainly creating more offense is one of them."
• Tortorella, who will not follow a line of questioning he is not comfortable with, declined to discuss the Rangers' internal breakdown of scoring chances in Game 1 other than to acknowledge they did break down.
"Yeah, it's none of your business," he joked when asked. "Sometimes it is [your business], but during the playoffs it isn't. We did, yeah. Thanks for asking."
• Alex Ovechkin was asked if there was anything said during Game 1 about the now famous fight he had with New York Rangers forward Brandon Dubinsky during the regular season when HBO cameras followed the Caps as part of its "24/7" documentary.
"No, he just said, 'Let's go out and drink some beers afterwards,'" Ovechkin joked.
• The Capitals had to be pleased with their overall team defense in Game 1 after giving up just one goal, but Boudreau knows they dodged a bullet when Gaborik was left alone in front of rookie netminder Michal Neuvirth in the second period.
"You have to be aware every time he's on the ice or, if you don't, he's going to get the chance like he had in front of the net," Boudreau said. "The one great chance he had, we had a miscue for one second, and the next thing you know, he's right there. The game of hockey in the playoffs is really difficult if you're not on the ball every second that you're on the ice."
-- Scott Burnside
And say this for the 29-year-old Gaborik, he did not shirk from the question of needing to be better in those situations in a brief interview with ESPN.com on Thursday.
"Obviously when you get a chance, you need to do everything to score," Gaborik said after the Rangers' practice at Verizon Center. "So obviously it's frustrating, but you just have to keep going and create chances and just try and bury it."
Does he think about those missed moments?
"Yeah, you think about, you think about situations," he said. "You go over situations in the game that you could do better and stuff like that, and that's after every game. Just have to learn from it and do a better job next game."
Dating to his last playoff appearance with the Minnesota Wild in 2008, Gaborik has gone seven games without a playoff goal. With Ryan Callahan, the team's most productive forward in the second half of the season, out with a broken ankle, it is incumbent on Gaborik to produce. It is what the Rangers pay him $7.5 million every season to do. They bestow that salary on him in the belief that when he finds himself all alone in front of a rookie goalie in the playoffs, he does not misfire.
Gaborik appears to understand this.
"There is always pressure, obviously," Gaborik said. "You put pressure on yourself. There is pressure from outside. But it comes with the responsibility. I accept that and I want to do everything I can to help this team to win."
We asked Rangers coach John Tortorella what he thought of Gaborik's game.
"You know what, I'm not going to dissect anybody's individual game here," he said. "I like you, but I'm not going to give you any information."
But what the coach did say was the playoffs are won and lost on big plays, on taking advantage of those moments. It is what defines the playoffs and, in turn, defines those players who make a difference and have success.
"It's very important. That's the difference from winning and losing, especially in the playoffs -- it's a big play at a key time," Tortorella said. "And I'll go a step further. It's not just an offensive play; it may not be a goal, it may be a great blocked shot, it may be a great save, it may be a great battle won in the neutral zone that turns into a goal."
He's right, of course.
In Game 1, it was another player with a pattern of failing to create those moments, Washington winger Alexander Semin, who defied his own history by assisting on the tying goal late in the third period and scoring late in the first overtime to give the Caps a 2-1 victory.
Had it gone the other way and Gaborik scored that goal, the story of the spotlight would have remained the same, but it would have revealed something completely different.
Sadly, for Gaborik and the Rangers, that story has yet to be told.
Scott Burnside covers the NHL for ESPN.com.
Hockey writer for ESPN.com
10 years at Toronto Sun, Windsor Star and National Post
Wrote best-selling true crime book "Deadly Innocence"
SPONSORED HEADLINES
MORE NHL HEADLINES
MOST SENT STORIES ON ESPN.COM
2011 STANLEY CUP PLAYOFFS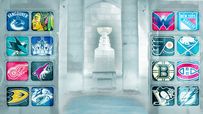 Follow the NHL on ESPN: Twitter / Facebook
EASTERN CONFERENCE
No. 1 Washington vs. No. 8 N.Y. Rangers
No. 2 Philadelphia vs. No. 7 Buffalo
No. 3 Boston vs. No. 6 Montreal
No. 4 Pittsburgh vs. No. 5 Tampa Bay
WESTERN CONFERENCE
No. 1 Vancouver vs. No. 8 Blackhawks
No. 2 San Jose vs. No. 7 Los Angeles
No. 3 Detroit vs. No. 6 Phoenix
No. 4 Anaheim vs. No. 5 Nashville
FIRST ROUND
MORE FROM ESPN NEW YORK

Check out ESPN New York, your destination for sports coverage in the Big Apple.