Commentary
Capitals' sloppy play gives Rangers life
NEW YORK -- In the end, New York Rangers head coach John Tortorella got his lucky bounce, but perhaps more importantly, the Rangers were rewarded for yet again refusing to take a knee when things looked bleak.
A playoff game like Sunday's dramatic 3-2 Rangers victory, one that brought them to within a game of the Washington Capitals in this Eastern Conference quarterfinal, always has two faces. The Rangers' face was the smiley one, especially when Brandon Dubinsky's crashing of the Caps' net yielded a pinball-style winner with 1:39 left in the third period. The Capitals' side of the Game 3 coin, meanwhile, was the face of a team that gave away far too much.
After having their tires pumped by media and the fans for the first two games of this series, praised to the skies for having turned a fundamental corner in terms of their approach to playoff hockey, the Capitals got curiously sloppy in Game 3 and in doing so gave the Rangers life.
The Caps were whistled for eight minor penalties, four in the second period, compared to four minors handed out to the Rangers. The Rangers opened the scoring on the power play with defenseman John Carlson in the box for crosschecking.
It was the only power-play goal scored by the Rangers even though the Caps allowed the Blueshirts a two-man advantage for 1:26 in the first period.
The Capitals did get a power-play goal of their own by Mike Knuble to tie the game at 2 with less than six minutes left in the third period. But the penalties were disruptive to a Caps team that won the first two games in large part because head coach Bruce Boudreau was able to roll three and often four lines, keeping the Rangers off balance and limiting their chances.
[+] Enlarge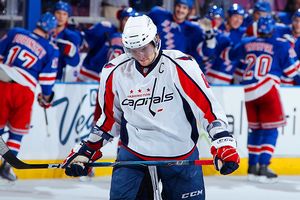 Scott Levy/NHLI/Getty Images"I thought he had opportunities to score but at the same time the play without the puck wasn't as good as it's been in the last 30 [games]," Caps coach Bruce Boudreau said of Alex Ovechkin's play Sunday.
"You can't take seven penalties, be shorthanded seven times or eight, I don't know what it was," Boudreau said.
"You knew they were going to be antagonistic and that. We just got to learn to take it. This is the time of year you take it. Game 10 of the year you don't take it.
"I think after every time after there was a scrum or something in front of the net, they were hitting our goalie," Boudreau said. "It just got to a point, you know. They kept warning them not to do it, not to do it, and they kept doing it and nothing was done so they kept doing it. Pretty simple."
The power plays themselves didn't cost the Capitals the game but they were a troubling sign, as was the play of some of the team's top players.
Top center Nicklas Backstrom struggled again and took a bad penalty just more than a minute after Vaclav Prospal -- not having a noteworthy series himself -- gave the Rangers a 2-1 lead shortly before the midpoint of the third period.
"I don't know. Some of those calls wasn't a penalty I think. But what happens in the playoffs you just have to get ready for the next game," Backstrom said.
As for the flow being disrupted by the constant parade to the penalty box Backstrom said, "that wasn't me, that was the ref."
You know what? Even if you think the officials jobbed you, it hardly comes off as anything but petulant to complain about it, especially in the playoffs. Suck it up.
In an effort to shake things up, Boudreau moved Backstrom to a line with Brooks Laich and Alexander Semin, who has been irrelevant since shining in Game 1.
Alex Ovechkin moved onto a unit with Jason Arnott and Knuble, and the three did create some chances. Ovechkin tied the game at 1 with a minute left in the second period and added an assist on Knuble's power-play goal, but even strength, this was Ovechkin's worst game of the series.
The Caps' captain took a lazy hooking penalty midway through the second period, his passes were often off the mark and he was offside on occasion to disrupt rushes.
"It's a comme ci comme ca game," Boudreau said of Ovechkin, employing the French term for so-so.
"I thought he had opportunities to score but at the same time the play without the puck wasn't as good as it's been in the last 30 [games]. And I'm sure that's an emotional part. You want to do so much, especially when the other team has three one-goal leads," Boudreau said.
None of this will matter, of course, if the Capitals can return to form Wednesday and push the Rangers to the brink with a win and a chance to close out the series in five games Saturday in Washington.
But the inverse, of course, is true. If the Rangers tie the series, all the heady talk about the Capitals being a different team with a different sense of purpose will be out the window.
In the meantime, credit the Rangers for sticking to their game plan when all they had to show for it through the first two games was one goal, and the feeling they were overmatched.
"I don't think we did much different," Tortorella said.
"But again, it's a tight-checking game. The chances are hard to come by for both teams. We found a way to score a goal, a couple of goals here. There's no magic potion. We played the same way we want to play we just scored three they scored two," Tortorella said.
Everyone knows the vast chasm that separates a 2-1 series and a 3-0 series (unless of course you're the Boston Bruins).
When you lose two close games, they are nothing but losses until you win. But a victory like Sunday's validates everything the Rangers have been saying and suggests anything is possible.
"Now it's 2-1. It could be reversed, it could be us 2-1, it's just that close of a series and that close checking. We certainly haven't gone about our business in any different manner," Tortorella said.
The Rangers' business means gutting it out. Plain and simple.
Rangers business is winger Ruslan Fedotenko rushing back on a shorthanded 2-on-1 in the second period, diving to thwart the attempt.
"It was 2-on-1 and I was just trying to take that back door for one-timer. I know Hank [netminder Henrik Lundqvist] will stop the 1-on-1 if we give him a shot. So I was just trying to hurry up and get in the shooting lane, but I was a little bit too far so I dove," explained Fedotenko, who had his best game of the series.
Rangers business also means defenseman Dan Girardi diving to block a Marcus Johansson drive -- with his back.
"I kind of slid and he kind of delayed for a second and got it in the back but not much you could do, I was just trying to get in the way of the shot," Girardi said.
Both Girardi and Fedotenko cited those kinds of plays as being crucial to reinforcing that the Rangers are on the right track.
"I think those plays are huge for our success. You feed off energy like that. Guys diving, block shots and breaking up plays and finishing checks that's all the stuff we've got to build on and keep doing," Girardi said.
"I mean, we have that throughout the year. We feel like we never give up. And just keep plugging along, keep having a chance and just go for it and never get down, so I felt like that's kind of paid off a little bit," added Fedotenko, who also looked like he'd scored with the clock running out in the second period, but the goal was disallowed when it was ruled by hockey operations in Toronto that the official score clock had run to 0:00 when the puck fully crossed the line.
Scott Burnside covers the NHL for ESPN.com.
Hockey writer for ESPN.com
10 years at Toronto Sun, Windsor Star and National Post
Wrote best-selling true crime book "Deadly Innocence"
SPONSORED HEADLINES
MORE NHL HEADLINES
MOST SENT STORIES ON ESPN.COM
2011 STANLEY CUP PLAYOFFS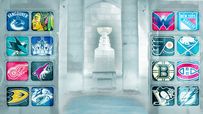 Follow the NHL on ESPN: Twitter / Facebook
EASTERN CONFERENCE
No. 1 Washington vs. No. 8 N.Y. Rangers
No. 2 Philadelphia vs. No. 7 Buffalo
No. 3 Boston vs. No. 6 Montreal
No. 4 Pittsburgh vs. No. 5 Tampa Bay
WESTERN CONFERENCE
No. 1 Vancouver vs. No. 8 Blackhawks
No. 2 San Jose vs. No. 7 Los Angeles
No. 3 Detroit vs. No. 6 Phoenix
No. 4 Anaheim vs. No. 5 Nashville
FIRST ROUND
MORE FROM ESPN NEW YORK

Check out ESPN New York, your destination for sports coverage in the Big Apple.