Commentary
Lightning are no one-trick pony
BOSTON -- We pledge from this point forward to no longer besmirch the Sean Bergenheim, Steve Downie, Dominic Moore line by referring to it as Tampa Bay's "third" line.
Not sure what we're going to call the dynamic trio in the wake of the Lightning's emphatic 5-2 win in Game 1 of the Eastern Conference finals.
Maybe, "Line of Destruction"?
No, that's not it.
"Line of Power"?
No, that's lame.
How about the "We're not Stamkos, Lecavalier or St. Louis and we don't care line"?
It's a bit cumbersome, but on a night when the Lightning's big guns, the guys with the endorsements, the big contracts and the NHL hardware, were held to one late assist by Martin St. Louis, it was the third line -- damn, there we go again -- that taught the Bruins a lesson about how the Lightning roll.
Stung by three goals in a 1:25 span in the first period, the Bruins learned the hard way that this Lightning team is no one-trick pony. A lesson Pittsburgh and Washington already were taught.
[+] Enlarge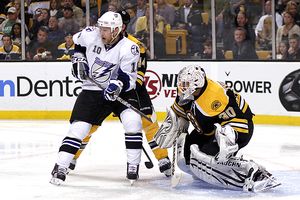 Greg M. Cooper/US PresswireSean Bergenheim scored his eighth goal of the postseason and now leads all playoff performers in that category.
As has been the case on many nights this spring, it was the Bergenheim line that got things going for a Lightning team that has now won eight straight postseason games.
After a strong forecheck by Moore, Bergenheim found a loose puck in front and gave the Lightning a 1-0 lead just past the midpoint of the first period.
The goal was Bergenheim's eighth of the postseason, and he now leads all playoff performers in that category.
Shocking? Not really. Not anymore.
"Well, you know, it's a good feeling, but to be honest, the best feeling is that we're winning. I'm obviously happy that I've been helping the team, but I think it's more of a line effort and our line that's been clicking," Bergenheim said.
As for the goal, it was pretty typical of that group.
"I think our goal today, the first one that we scored, was, you know, that's what we do," Bergenheim added.
The marker was followed 19 seconds later by Brett Clark channeling Bobby Orr and going end to end before slipping a backhand under netminder Tim Thomas's arm. It was Clark's first goal of the postseason.
Just over a minute later, Boston defenseman Tomas Kaberle committed a ghastly turnover at the side of the Bruins' net, which Teddy Purcell converted into a 3-0 lead.
"It's tough. We pretty much gave them every single one of them," Kaberle said.
"I thought we gave them some easy goals. That was more of our doing than it was theirs," added Boston head coach Claude Julien. "Until that point, I thought we had started the game really well, had good momentum. But those three goals certainly set us back."
With both teams coming off long layoffs after sweeping the second round, one wondered which team would exert its influence, which team would write its story first.
Using their balanced offense and an airtight penalty kill, the Lightning imposed their will on a favored home team just as they did to start the last round against top-seeded Washington.
They are now an impressive 6-1 on the road this spring and have won five straight away from home.
They also did not fall into the same trap that many teams have this spring in trying to coax that early 3-0 lead through to the end of the game.
"We're not a team that's waiting to win games. We keep pushing," head coach Guy Boucher said.
The Lightning coach was asked about Bergenheim's scoring exploits but explained that it's more complex than who finds the back of the net.
"I think it's like the rest of our team. It's not about him. It's about his line. It's about team chemistry. It's about players who will jell," Boucher said. "Finishers get the glory lots of the time, but there's a lot of steps in the process that make that happen."
The Bruins?
These games are a continual exercise in yin and yang.
The success on the Lightning side of the ledger exposed crucial flaws on the Bruins' side.
While Bergenheim, Moore and Downie continue to propel the Lightning ahead this spring, the Bruins found out how much they missed their top two-way center and playoff scoring leader, Patrice Bergeron.
The Lightning dominated on faceoffs, winning 41 of 67 (61 percent).
And then there was the power play -- and we use the term "power" loosely in describing what the Bruins do with the man advantage -- which continues to be a potentially fatal flaw.
Trailing 3-1 after the first period, the Bruins were given three power plays in the second period. A goal on any of them and the tenor of the game changes completely.
But they came up empty, as they did in the third period on their fourth and final opportunity.
The Bruins' power play is an anemic 2-for-41 this spring.
"I thought our execution certainly could have been better, especially on the entries," Julien said. "You need the execution to be there and you need the killer instinct. When you have a chance, you have to bury those things. Same thing with the loose pucks, you got to be first on those, make sure you get them and not the other team. So execution, killer instinct is something that needs to be better on our power play moving forward here."
The Bruins coach refused to explain why he did not use rookie Tyler Seguin on the power play at all Saturday night in spite of the fact the rookie scored a nifty goal late in the first period to close the gap to 3-1.
"That's a no comment," Julien said.
Meanwhile, the Lightning netted at least one power-play goal for the fourth time in their past five games.
With Game 2 not scheduled until Tuesday, the temptation will be to draw too many conclusions from this game. This is a Boston team that dropped the first two games of the first round at home against Montreal then went on an 8-1 roll before Saturday's loss.
"Well, I don't know if we fumbled under pressure. Again, it depends how you want to look at those things. I think those mistakes are mistakes that you can correct easily. They were uncharacteristic of our hockey club," Julien said. "Is there really something that they did so well that created [those three first-period goals]? No. I think it's more about us."
Scott Burnside covers the NHL for ESPN.com.
Hockey writer for ESPN.com
10 years at Toronto Sun, Windsor Star and National Post
Wrote best-selling true crime book "Deadly Innocence"
SPONSORED HEADLINES
MORE NHL HEADLINES
MOST SENT STORIES ON ESPN.COM
2011 STANLEY CUP PLAYOFFS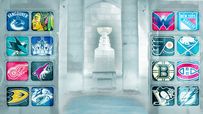 Follow the NHL on ESPN: Twitter / Facebook
EASTERN CONFERENCE
No. 3 Boston vs. No. 5 Tampa Bay
WESTERN CONFERENCE
No. 1 Vancouver vs. No. 2 San Jose
MORE FROM ESPN BOSTON

Want to submit a question for Mike Reiss' weekly Patriots mailbag? Click here and come back every Tuesday around noon for the 'bag.
Latest headlines on ESPNBoston.com: