Commentary
Finally, NHL clear on a tough decision
BOSTON -- In the wake of an ugly, dangerous hockey play that saw a player carried off the ice on a stretcher, there was a refreshing, shining moment from the National Hockey League in response.
It wasn't just that NHL executive Mike Murphy announced Tuesday that Vancouver's Aaron Rome would be suspended for the final four games of the Stanley Cup finals for his late, headhunting hit on Boston's Nathan Horton (although it was letter-perfect in its severity). It was the way in which Murphy clearly and concisely outlined the process that led to the suspension.
Handling discipline for the series because outgoing dean of discipline Colin Campbell is compromised because his son Gregory plays for Boston, Murphy described the play early in Game 3, the lateness of the hit after Horton passed the puck and that the head was targeted even if the play was north/south as opposed to blindside.
He spoke with passion about the thought process that led to the most severe suspension in Stanley Cup finals history.
[+] Enlarge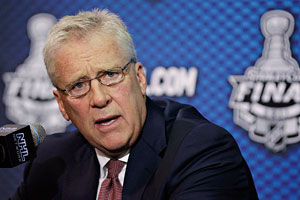 AP Photo/Julie JacobsonMike Murphy said he planned to speak to the Cup finals teams about cutting out the other "garbage" that's been going on in the series (i.e., finger biting, etc.).
"Aaron Rome is an important part of the Vancouver team. Guys play all their lives to get to this series on both teams, and you might never get back, so I take it very seriously," Murphy said. "That's all I can say. I do not make light of this. I wish I wasn't sitting here. I wish Aaron was playing, and I wish Nathan was playing."
In a day charged with emotion thanks to the hit, the Bruins' 8-1 thrashing of the Canucks and the subsequent chippy play, Murphy hit all the right notes in explaining the league's position. He talked about his communication with Rome and how the Vancouver defenseman explained that he thought it was a hockey play but was ultimately contrite and apologetic over the incident.
Murphy talked about the people with whom he discussed the hit and other issues, such as weighing playoff games versus regular-season games, games in the Cup finals versus other postseason games and other criteria.
"I sit down and I look at it, and I get a gut feel for the play and say, 'What exactly happened here?' I look through it, look through all the angles, look at all the different network feeds," Murphy said. "I start asking questions of people I have confidence in that can give me their side of information, their information. There's no lightness about it. There's no fun to this. There's no enjoyment to this. Nobody wins in this. Everybody loses, the fans lose. We lost two good hockey players."
Among those Murphy spoke to in coming to the conclusion that Rome had forfeited his rights to play anymore this season were respected league officials Kris King and head of officiating Terry Gregson. Brendan Shanahan, who will take over disciplinary responsibilities next season from Campbell as part of a new office of player safety, was also part of the discussion. Murphy also said he spoke with former head of discipline Brian Burke, who is now the president and GM of the Toronto Maple Leafs.
"But there was no discussion as to what this hit was worth," Burke told ESPN.com on Tuesday, laying to rest any concerns the Vancouver camp may have had about Burke's involvement. (Burke was GM of the Canucks from 1998 to 2004.)
We have no doubt that Murphy traveled a well-worn path in coming to his decision with a couple of notable exceptions -- most significantly Murphy's ability to articulate the reasoning and the process, something that has long been missing from the controversial world of NHL supplemental discipline.
Stanley Cup Finals

In the wake of an ugly, dangerous hockey play that saw a player carried off the ice on a stretcher, there was a refreshing, shining moment from the NHL, writes Scott Burnside. Story » More

• LeBrun: Bet on Luongo to bounce back
• Rome suspended » Hockey Today


• Vigneault: Rome disappointed


• Mike Murphy explains suspension


• Berra: Canucks' replacement plan


• SportsNation: Was hit out of line? »
For a long time, one of the NHL's biggest issues in handing out punishment has been in explaining itself. With all due respect to Campbell, whom Murphy referenced as being one of the wisest men in hockey, communicating the message has never been his strong suit.
"I think it's the right decision. It had nothing to do with the stage, it's the play," Murphy said. "The play speaks for itself. It was late and it injured a player; it injured him severely."
Murphy insisted he is not applying some new standard that may or may not be applied next season.
"No, this is my standard," he said. "I was told, 'You have to take care of this series if something like this happens; it's your responsibility.' I have to look at myself and make sure I'm doing the right thing because I know the severity of what we've just done there."
The Canucks, of course, weren't happy with the suspension.
Vancouver coach Alain Vigneault alluded to dangerous hits his players had been subject to earlier in the playoffs, including a hit on Rome by Jamie McGinn of San Jose, that didn't result in suspensions.
"Well, in my opinion, it's not the right call," Vigneault said. "We've had instances just in the San Jose series, and Aaron was the player, where he's facing the board and he gets hit, there's no suspension there. [Ben] Eager's hit on Danny [Sedin], where again he's facing the board, doesn't get hurt, but could have serious consequences. In my opinion, those were two suspendable offenses that weren't.
"Last night, it's very unfortunate that hit turned bad. We're real disappointed the player got hurt, but it was a north/south play," the coach added. "It was a little bit late. But anybody that's played this game knows that you have to make a decision in a fraction of a second. He's engaged in the hit. I don't know how the league could come up with that decision really."
Canucks players likewise said they couldn't understand the logic.
"Rome was killed in San Jose and nothing happened," Daniel Sedin said. "Now he gets four games. I don't know."
Those concerns are valid, and it's worth noting that Campbell would have been the ultimate arbiter on those hits. But valid or not, they do nothing to mitigate the recklessness of the Rome hit and its impact on a player and a team in the Stanley Cup finals.
This decision doesn't make right all of the other missteps and inconsistencies along the way. And it must be tough as a player to try to sift through what the league wants and doesn't want on its playing surface.
"I had a coach call me this morning to tell me, 'Focus on the things that are within your control and they're making it up as they go along, so don't worry about it,'" Vigneault said.
Fair enough. But for one day, at least, the NHL gave us a shining example of how the process should work: clear, concise and transparent; one person making a difficult but ultimately just decision.
Scott Burnside covers the NHL for ESPN.com.
Hockey writer for ESPN.com
10 years at Toronto Sun, Windsor Star and National Post
Wrote best-selling true crime book "Deadly Innocence"
SPONSORED HEADLINES
MORE NHL HEADLINES
MOST SENT STORIES ON ESPN.COM
EDITORS' PICKS
Steven Stamkos and the Lightning have the look of a true Cup contender.
Summer Skate »

Strang: Jeff O'Neill would like the Hurricanes to embrace a new identity under Ron Francis.
Cross Checks »

Bill Ranford and his nephew Brendan brought together the Stanley Cup and Calder Cup.
Tracker »

MORE FROM ESPN BOSTON

Want to submit a question for Mike Reiss' weekly Patriots mailbag? Click here and come back every Tuesday around noon for the 'bag.
Latest headlines on ESPNBoston.com: