Commentary
First-round breakdown: Flyers-Sabres
"It's tough to find a more hated playoff rival in Buffalo than the Philadelphia Flyers."
That was the lead in John Vogl's Buffalo News story Sunday. Pretty much says it all, right?
From Philadelphia's win over Buffalo in the 1975 Stanley Cup finals to Brian Campbell's monster hit on R.J. Umberger in 2006, the two rivals have totaled eight playoff meetings and almost every one of them memorable with the Flyers holding a 5-3 series lead.
There's some history here.
"There really is," Sabres GM Darcy Regier told ESPN.com Sunday. "It's funny how teams end up playing against each other on a regular basis."
"I've watched a few of these over the years," veteran defenseman Sean O'Donnell, in his first year with the Flyers, told ESPN.com Sunday. "I remember the controversy with a goal going through the net and [Dominik] Hasek going crazy. I remember Campbell laying out Umberger. There's a lot of history between these two teams. We were just in Buffalo a couple of days ago and it was a great atmosphere in there. It's going to be great."
The Sabres have won the past two series (in 2001 and 2006) but enter this series as the underdogs against a Flyers team gearing for a return trip to the Cup finals. The two clubs split the season series two wins apiece, although Philadelphia picked up an extra point in Friday's overtime loss at Buffalo.

1. Limping into postseason: What impact will the Flyers' late-season struggles have on their playoff performance? After flying out of the gates and spending most of the season atop the Eastern Conference, Philly dropped 16 of its final 25 games (9-9-7) and five of its last six (1-3-2) to limp into the playoffs. Have the Flyers lost their mojo or were they simply biding their time waiting for the playoffs?
"They had a great year," Regier said. "They're a very good team. I personally don't read anything into any struggles they had down the stretch, because I know how quickly that can change when you get to playoffs as well."
O'Donnell has a theory on his team's late-season snafu.
"I wasn't here last year, but I really believe the situation with this team is that it lost a tough finals to Chicago, and the first 40 to 45 games this season, we were clicking on all cylinders; I think subconsciously the guys said, 'OK, we know we can do it and last year wasn't a fluke. Now we just want the playoffs to start and make up for what happened last year.' And I think we kind of put it in cruise control after that," he said. "That's not a good thing to do, but we got ahead or ourselves, looked forward to the spring and ran into a bunch of teams playing for their lives. We just didn't have that extra 10 to 15 percent that you need, and we lost a lot of games because of it."
Now, we find out if they can simply flip a switch and turn their A-game back on.
2. Late-season charge: Conversely, the Sabres enter the postseason on a major roll, sporting a 28-11-6 record since Jan. 1.
"You want to try and hit the playoffs on a high note, and for us I think we were able to do that," Regier said.
The second-half turnaround rescued Buffalo's season and showed the GM his young core was ready to take that next step, especially considering the injury loss of star center Derek Roy just before Christmas (Roy is aiming for a second-round return). But Drew Stafford raised his game higher than ever, rookie Tyler Ennis was impactful en route to a 20-goal campaign and leading scorer Thomas Vanek was clutch.
"It tells me that the depth up front is good," said Regier when asked what he took away from the second half. "I also look at the maturation of the defense. [Tyler] Myers has really turned his game around from the first half. [Chris] Butler has improved as has [Andrej] Sekera and [Mike] Weber -- those young guys have taken huge strides in their game. So I think that's been a big part of it."
3. Chris Pronger: The X factor in this series is Chris Pronger. Few players have been bigger playoff warriors than the veteran star blueliner over the past decade. He willed the underdog Edmonton Oilers to the 2006 Cup finals, played a central role in the 2007 Ducks winning Lord Stanley's prize and was terrific again last spring in the Flyers' run to the championship series. But just which Pronger will we see once he returns after missing a month with a wrist injury? Flyers GM Paul Holmgren said Sunday that Pronger was day to day.
"Everyone knows what Prongs brings," O'Donnell said. "He brings a certain swagger to a team. Forget about the fact he plays 25 minutes a night against the top line and in all situations. He's also a guy that gives your team that little bit of cockiness. He's certainly a guy that we want to get back. But we don't want him back until he's ready to come back. We need him back healthy."
4. Ryan Miller: Reigning Vezina Trophy winner Ryan Miller missed a week with an upper-body injury but returned this past weekend to play 21 minutes Friday night and 30 minutes Saturday night as he got a bit of work in before the playoffs to shake off the rust. Any concern at all?
"No, none at all," Regier said. "He's good to go. He's been real good the last couple of days."
Look for the Flyers to try to pepper him as much as possible early on and crowd the crease in the hope Miller isn't quite in sync.
5. New ownership: Coincidence or not, Buffalo's second-half prowess really seemed to take off once Terry Pegula officially took over the team, his passionate love affair with the Sabres seemingly exuding positive energy all over the franchise.
"Yes, the club is real excited," Regier said of his new owner's impact and arrival. "He's around a lot and the team recognizes him both as a fan and an owner. He's extremely supportive. He talks to the players and coaches. He's just real supportive and I think it's played a significant role."

• The Sabres' ninth-ranked offense versus the Flyers' goaltending: Well, it wouldn't be a playoff preview without mentioning the Flyers' goaltending, right? Rookie Sergei Bobrovsky had a terrific year but struggled late in the season and was beaten for four goals by these same Sabres on Friday night. Veteran Brian Boucher is the other option for head coach Peter Laviolette.
"We have confidence in both guys," O'Donnell said. "The thing is, nobody had these questions when we were playing good hockey. As a team in the second half, we weren't paying as much attention to defense. We had more turnovers and took more penalties and put our goalies in tougher situations. Next you know they're giving up more goals, but it's because as a team we weren't playing as well. The way we're playing at times in February or March, it didn't matter if we had Tim Thomas or Henrik Lundqvist, they were going to get goals against them. I think it was more indicative of the way the team was playing."
It's worth noting that the Flyers also recalled goalie Michael Leighton from the AHL last week, the man who tended net last spring during their run to the Cup finals.


• Philadelphia: Jeff Carter is a gifted scorer and has 19 points (12-7) in 41 career NHL playoff games. He was injured for part of his team's run last spring. He's coming off a 36-goal regular-season campaign, and yet he's one of the players that seems to be a lightning rod for Flyers fans when things don't go well.
• Buffalo: Thomas Vanek, the team's leading scorer, has 15 points (10-5) in 29 career playoff games. He was injured during last spring's first-round series loss to Boston. He needs a big series for the Sabres to have a shot at upsetting the Flyers.

• The Flyers have oodles of talent and proved in last spring's run they know what it takes come playoff time. But there's something about their March malaise that doesn't sit well. The Sabres have been playing playoff hockey for months and are in the right frame of mind entering the playoffs. We smell an upset. Sabres in seven.
Pierre LeBrun covers the NHL for ESPN.com.
Covers the NHL for ESPN.com and TSN in Canada
Six years on the "Hockey Night In Canada" Hotstove panel
13 years at The Canadian Press National News Agency
SPONSORED HEADLINES
MORE NHL HEADLINES
MOST SENT STORIES ON ESPN.COM
2011 STANLEY CUP PLAYOFFS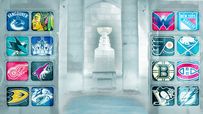 Follow the NHL on ESPN: Twitter / Facebook
EASTERN CONFERENCE
No. 1 Washington vs. No. 8 N.Y. Rangers
No. 2 Philadelphia vs. No. 7 Buffalo
No. 3 Boston vs. No. 6 Montreal
No. 4 Pittsburgh vs. No. 5 Tampa Bay
WESTERN CONFERENCE
No. 1 Vancouver vs. No. 8 Blackhawks
No. 2 San Jose vs. No. 7 Los Angeles
No. 3 Detroit vs. No. 6 Phoenix
No. 4 Anaheim vs. No. 5 Nashville
FIRST ROUND
Reebok Men's Buffalo Sabres 2013 Center Ice Collection Elite Navy Shirt Shop »