Commentary
Canucks make Sharks pay for mistakes
SAN JOSE, Calif. -- The Western Conference finals may very well have been decided in a span of 1:55 Sunday afternoon that will go down as one of the strangest in NHL playoff history.
And for the San Jose Sharks, the cruelest.
Back-to-back-to-back 5-on-3 power plays for the Vancouver Canucks produced three goals, two from the thunderous stick of Sami Salo. And the Presidents' Trophy winners were lifted to a 4-2 Game 4 victory that put them just one short of their first trip to the Stanley Cup finals since 1994.
Do you think it'll be loud at Rogers Arena on Tuesday night?
"It's really exciting," Salo said. "All the years that I've been here, we've had great teams. Just seems this year that the team is really united together. Everybody is pulling together as a team."
Now before you take out the violin for the Sharks because it seems grossly unfair to go down two men three times in a row, remember that San Jose had a glorious chance to take a one- or two-goal lead after being handed five straight power plays to open the game.
"The power play had an opportunity to give us momentum," Sharks winger Ryane Clowe said. "They kept giving us chances, they kept putting themselves in a hole with dumb penalties and that's where we needed to capitalize."
[+] Enlarge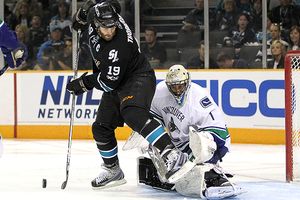 Ezra Shaw/Getty Images"When we're all working together like a five-man unit, that's what made us successful most of the year," Roberto Luongo said of the Canucks' penalty-killing unit.
In the end, the officiating might have been a tad overzealous. The run to the penalty box on both sides sucked the life out of the game, which resulted in absolutely zero flow. But both teams were equally victimized.
Which brings us to the downright sensational play of the Canucks' penalty-killing unit. Vancouver began the series giving up five power-play goals on the first six chances. The Canucks have since shut down the menacing Sharks' power play, which was rated No. 2 in the NHL in the regular season.
"It was huge," Canucks goalie Roberto Luongo said of his team's penalty kill. "We took five penalties off the hop. We had to step up and make some big plays. I think the guys did a huge job, blocking shots, getting in lanes, cutting off passing lanes, making sure there's no seam passes, things like that. Mostly kept them to the outside, which makes my job easier, lets me focus on making that save, not having to worry about anything on the back door or rebounds or things like that. When we're all working together like a five-man unit, that's what made us successful most of the year."
The Canucks' penalty kill made entries tougher on San Jose, gave the Sharks a little less time to make decisions with the puck and adeptly closed off passing lanes. Those five kills to open Game 4 were downright impressive.
"They tightened things up," Sharks head coach Todd McLellan said. "They stood at their line a little bit better. But when you look at our execution, our passing, our faceoff opportunities to win pucks, we started breaking down all the time.
"You have to, when you're against the No. 1 penalty kill in the league, you have to be sharp, and we weren't. It was as simple as that. As you start rolling, you get more and more frustrated, you start to press a little bit. It snowballs, it gets worse and worse."
It set the stage for the inevitable: the balancing of the penalty books.
"They got a penalty and we went on the power play, and then we were able to get three 5-on-3s," Canucks winger Alex Burrows said. "I think it was the hockey gods a little bit there with the too many men and the puck over the glass. Those are tough ones for them."
When Vancouver got its gifts from heaven in the second period, it didn't waste them. Ryan Kesler's blast on the first 5-on-3 made it 1-0 at 9:16, then the Salo show took over with 5-on-3 missiles at 10:55 and 11:11. The Canucks became the first team in NHL playoff history to score three 5-on-3 goals in one game, let alone in one period, let alone in less than two minutes.
If you were a fan who got up to get a hot dog two minutes earlier, you missed a heck of a game.
"You're not giving up three 5-on-3 power-play goals and coming back on that team, it's just not happening," McLellan said.
On Friday night, the Canucks missed out on two 5-on-3 power plays in the second period, a huge factor in the game. The difference Sunday was that Salo had a full-time role on the 5-on-3 unit with Christian Ehrhoff injured. There's your blue-line depth for you.
And so just as special teams played a big part Friday night in San Jose avoiding a 3-0 series hole, they played an even bigger part Sunday in the Canucks taking a 3-1 series stranglehold.
"When we played them straight up, I think we outplayed them. But the 5-on-3s were a killer," Clowe said.
The Sharks' leader said his team must be smarter.
"You know this time of year, you hear people talking about how this player is banged up or that guy is sore, but you know what? Right here [pointing to his head], mentally is where teams win or lose this time of year," Clowe said. "For some reason, we kick ourselves in the rear end all the time lately."
To make matters worse for the Sharks, they lost captain Joe Thornton midway through the third period to what appeared to be a shoulder injury after he took a hit from Raffi Torres. McLellan said he didn't have an update on Thornton, the team's best playoff performer this spring, and the team was going to wait until Monday to furnish one.
If Jumbo Joe can't go Tuesday, the task just got even bleaker. But even with Thornton in the lineup, coming back from 3-1 down to a formidable team like the Canucks is tough enough.
"It's going to be a test," Clowe said. "You look at Tampa now, they might possibly march into the finals, and you look at their first series, they looked like they were being dominated by Pittsburgh [and trailing 3-1]. They got it together."
The Sharks just survived a near miracle 3-0 series comeback by Detroit. The Canucks barely got out of the first round with Chicago after also nearly blowing a 3-0 series lead. So that's what the Sharks will stress over the next 48 hours.
"We know we've got a tough task ahead of us," McLellan said. "Vancouver knows, we know, Detroit knows, Chicago knows that anything can happen."
Pierre LeBrun covers the NHL for ESPN.com.
Covers the NHL for ESPN.com and TSN in Canada
Six years on the "Hockey Night In Canada" Hotstove panel
13 years at The Canadian Press National News Agency
SPONSORED HEADLINES
MORE NHL HEADLINES
MOST SENT STORIES ON ESPN.COM
2011 STANLEY CUP PLAYOFFS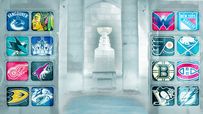 Follow the NHL on ESPN: Twitter / Facebook
EASTERN CONFERENCE
No. 3 Boston vs. No. 5 Tampa Bay
WESTERN CONFERENCE
No. 1 Vancouver vs. No. 2 San Jose