Alex Burrows is not suspended
Updated:
June 3, 2011, 4:13 AM ET
ESPN.com news services
Vancouver Canucks forward Alex Burrows, whom Boston Bruins forward Patrice Bergeron accused of biting Bergeron's left index finger in Game 1 of the Stanley Cup finals, will not be suspended.
[+] Enlarge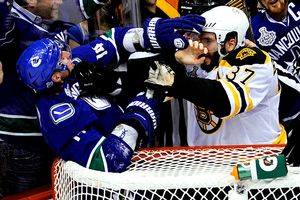 Rich Lam/Getty ImagesAlex Burrows and Patrice Bergeron got into a scrap in Game 1 where Burrows, left, appeared to bite the finger of Bergeron, right.
League senior vice president Mike Murphy spoke with Burrows on Thursday, a day after the Canucks beat the Bruins 1-0 in Vancouver.
"After reviewing the incident, including speaking with the on-ice officials, I can find no conclusive evidence that Alex Burrows intentionally bit the finger of Patrice Bergeron," Murphy said in a statement.
Burrows denied biting Bergeron, who was seen screaming at Burrows and had to be restrained by referees at the end of the first period.
"I would like to move on here," Bergeron said Thursday. "We're here for the right reasons and we want to win. We have to get back into that series. I know (media) has a job to do and I understand you guys have to ask about it. I've let the league take care of it. They did and I don't want to whine about that stuff. I don't care."
While Bergeron downplayed the incident, he wanted to shift the focus to Game 2.
LeBrun: Some Perspective

Alex Burrows' decision to make Patrice Bergeron's right index finger an in-game snack in Game 1 of the Stanley Cup finals might not have been a good one, but there's been a vast overreaction in some sectors, ESPN.com's Pierre LeBrun writes. Blog
"I'm over it," he said. "To be honest with you, I'm looking forward to next game and we've got to get back in the series. It's the league's decision and I'll let them make the call. I have nothing else to say about it."
Left wing Mark Recchi echoed Bergeron's words.
"The league made a decision and that's not for us to judge right now," Recchi said. "Our focus is playing games and they made their judgment and that's fine with us. We've got to worry about playing [Vancouver] on Saturday."
Bruins general manager Peter Chiarelli also was ready to move on.
"We're turning the page on it," Chiarelli said Thursday. "What the NHL told us after the game was that they had an account from the refs and linesmen, they heard the exchange but that was circumstantial evidence. The refs, I was told, didn't see a mark. If there's one player in the league that will not embellish an account of something, it would be Bergeron.
"If it was a court of law, [Burrows] would probably be convicted due to circumstantial evidence. But I accept it."
Bruins center Chris Kelly was a bit more candid. "I don't think biting is part of the game," Kelly said Thursday. "I don't think too many guys go out there and bite people."
Wearing a bandage on his left index finger, Bergeron was adamant Wednesday night that Burrows bit him during a scrum behind the Bruins' net.
Burrows was told after the game in the locker room of Bergeron's accusation.
"I don't think so," Burrows said Wednesday night. "He had his finger in my mouth but I don't think I bit him. You saw it, he put his hand up and he put his hand in my face and his finger got in my mouth, so that's what happened."
Information from ESPNBoston.com's Joe McDonald and James Murphy and ESPN.com's Pierre LeBrun was used in this report.
SPONSORED HEADLINES
MORE NHL HEADLINES
MOST SENT STORIES ON ESPN.COM
EDITORS' PICKS
The fun and games are over. It's time to prove who is No. 1 in the push to the playoffs.
Power Rankings »

John Tavares and Ryan Getzlaf are among those with momentum coming out of the All-Star break.
Eastern Conference »
West »

Pronman: The top 30 draft prospects
Story
MORE FROM ESPN BOSTON

Want to submit a question for Mike Reiss' weekly Patriots mailbag? Click here and come back every Tuesday around noon for the 'bag.
Latest headlines on ESPNBoston.com: