Sakic's leadership shines vs. Sharks
Originally Published:
April 21, 2004
By
Terry Frei
| Special to ESPN.com
DENVER -- This has been Joe Sakic's most formidable leadership challenge, and it still might -- no, probably will -- end with the Colorado Avalanche coming up short against the San Jose Sharks.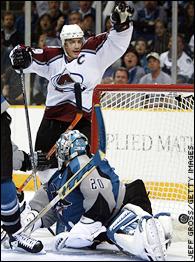 Leading by example? How about back-to-back OT goals?
But if there remained a lingering shred of doubt about whether Sakic's understated captaincy is effective, his actions in helping keep the Avalanche alive in the Western Conference semifinals should dispel that.
Sakic has all three Colorado goals in the pair of Avalanche overtime victories in Games 4 and 5 that prolonged the series after the Sharks jumped out to the 3-0 lead.
So the Avalanche still are alive heading into Game 6 tonight in Denver, and the Sharks are getting sick of hearing about the Avalanche's quest to join the 1942 Maple Leafs and the 1975 Islanders as the only teams to come all the way back after losing the first three games of a series. (If 1942 Leafs star winger Gordie Drillon hadn't died in 1985, we'd probably be calling him to get his reflections on the comeback against the Red Wings in the Cup finals.)
Behind the scenes, Sakic's unflappable demeanor, cutting sense of humor and follow-me leadership have been effective as well.
"When you're down 3-0, there's not a lot of pressure on you then," Sakic said. "You just go out and play and relax and try to extend the series."
Actually, the trick was to twist the considerable pressure on the Avalanche -- the pressure that comes with knowing a second-round exit will be viewed as a thunderous failure and underachievement -- into motivation. At least for the past two games, largely because of Sakic's opportunism, the Avalanche have done that and then retired to the dressing room to celebrate.
But this is a different "room" than when both Patrick Roy's glare and his words could be effective elements in the leadership process, and so -- at least for 15 months -- could Ray Bourque's credibility-laced pep talks.
Sakic's "C" spells out something different now, as he leads a roster that includes only nine players who were a part of the Avalanche's first-round flop against Minnesota a year ago, and also includes seven men added since mid-February.
"You say what you have to say, like any other time," Sakic said Monday. "We have a lot of vocal guys here. Everybody chips in and says what they have to say."
Sakic's point was that after Colorado lost 1-0 in Game 3 in Denver, and the historical precedents were (and still are) so daunting, the Avalanche sounded a we-can-do-better-than-this challenge. The Avalanche knew the odds. They still do. Yet with David Aebischer settling down to play well since the first two games in San Jose, and with Sakic getting the only goals Colorado needed, they are at least making the Sharks nervous.
"We're right back in this thing," Sakic said. "Obviously, with Game 6 at home, it's going to be an energetic building, a great opportunity for us to tie it up."
Sakic, long proud of his "Quoteless Joe" nickname, even as he displays a sharp sense of humor when the tape recorders and cameras aren't rolling, has gotten into the discussions of which team has the momentum. "It's all about momentum and right now, we've got it," he said after Game 5. He has been instrumental in the rekindling of the Avalanche hopes, including when he was double-shifted for much of Game 5 -- and when he displayed a quiet, no-panic demeanor.
"I didn't know him at all before I got here," veteran defenseman Bob Boughner, acquired from Carolina in February, said. "You never know what to expect from those kinds of guys. They all have their own little things they do before the game. Some guys are loud and some guys aren't. He's definitely a guy who keeps to himself, comes in seven minutes before we have to go out for the warmup, races through getting dressed, and doesn't spend a lot of time sitting around in the room.
"But he does his thing. Once he gets on the ice, you look at his eyes and his actions, and the more he plays, and the more crucial the situations get, the more he seems to rise to the occasion. He plays that way, the best in the league, know what I mean?"
Well, yeah.
That's the way Sakic has been for much of the Avalanche's nine-season run in Denver. He came from Quebec wearing the "C," and he never has taken it off.
"Joe's always been the guy that has stepped forward and shown it on the ice," Colorado coach Tony Granato said. "He's a quiet leader, he's not going to come out and say things every second in the locker room, but when Joe says something it means something. His record speaks for itself, not only with what he does on the ice, but with the kind of person he is off the ice and the way he represents himself in the room."
This all is playing out with a dramatic backdrop: Once the Avalanche season ends, this franchise could be as drastically affected by the looming lockout and redrawn financial realities as any in the league. One reason for that is Peter Forsberg's virtually certain return to Sweden for at least the 2004-05 season. Another is the possible retrenchment dictated by the next CBA terms. Labor negotiations aside, Paul Kariya, Teemu Selanne, Steve Konowalchuk, Matthew Barnaby and Boughner are among those who can be unrestricted free agents.
But as in the previous nine seasons in Denver, the more things change, the captain will remain the same.
Terry Frei, of The Denver Post, is a regular contributor to ESPN.com. He is the author of "Horns, Hogs, and Nixon Coming" and of the upcoming "Third Down and a War to Go."
Special to ESPN.com
Terry Frei is a columnist for the Denver Post. He is also the author of "Third Down and a War to Go" and "Horns, Hogs, and Nixon Coming."
SPONSORED HEADLINES
MORE NHL HEADLINES
MOST SENT STORIES ON ESPN.COM
EDITORS' PICKS
Strang: A dramatic shift in the landscape has left many enforcers being escorted out of the game.
Story »

Pronman: Happy holidays! Here's your Team USA WJC preview.
Story

Burnside: We tell you who will make a roster for the 2016 World Cup.
Predictions »