Tortorella's intensity drives Bolts
Updated:
June 2, 2004, 4:16 AM ET
By
Jim Kelley
| ESPN.com
CALGARY, Alberta -- If perception were indeed reality, John Tortorella would be regarded as well-groomed, well-dressed, sharply focused and tyrannical.
"He's intense" is the most common phrase used to describe the Tampa Bay Lightning coach. "He gets in your face" is another. "He's pretty demanding" is a third.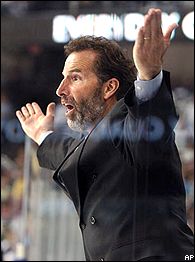 John Tortorella has been known to yell and scream, but he has pushed all the right buttons for the Lightning this season.
The reputation is not totally undeserved. Tortorella has been known to scream behind closed doors. He's been known to challenge anyone who doesn't get with his program. He's been known to push very hard.
Early in his coaching career, he was even known to have thrown a few punches. He once was suspended for striking a fan while he was an assistant coach for the Buffalo Sabres. He received a similar reprimand for a similar offense in the American Hockey League.
As public images go, Tortorella may be a sharp-dressed man, but few portray him as Mr. Nice Guy.
There is, however, another side to the man they call "Torts."
For one, he's not as fearless as his image. Tortorella hates to fly. He flies because he has to, but he has also challenged himself to meet his fear head on and deal with it. It's what he does. It's a part of why he's successful and illustrates the way he is always on the attack.
He comes across as having a great disdain for the media. Early in his career, however, he spent a great deal of time studying the media. He asked questions and made a genuine effort to understand how the media works and what its role is both in the game and in the real world. He used to fixate on why it sometimes does things that he doesn't understand, but that changed as he learned.
He now uses the media as a lot of coaches do, sending messages and working players and opponents for an advantage.
"He can be intense and he doesn't mind getting into your face, but it's not because he wants to bring you down; it's actually just the opposite," said associate Tampa coach Craig Ramsay, who was first exposed to Tortorella when the Lightning head coach was assistant to the general manager of the Sabres. "John is very direct, and sometimes he tells you things you don't want to hear. But at the same time, he's telling you things you need to hear, and I think our players have come to understand that.
No surprise then that Tortorella approaches coaching much like a teacher approaches his students or a father takes care of his children. He won't always be liked, but he will always do what's best for them. The sooner they come to understand that, the better off they will be.
Tortorella needed time and a few lessons along the way to perfect his coaching style. Although he knew striking fans was wrong, he did it twice and has since learned never to do it again. He learned that coming after players hard wasn't wrong unless he did it all the time.
"I think there was always a sense that he was going to be a head coach," said Lightning captain Dave Andreychuk, who saw the start of Tortorella's career in Buffalo.
"I think it was a process that he went through. I don't think he could have jumped right into being a head coach from there [Buffalo]. His intensity was there. His personality was the same, but I believe he's learned to deal with players better. His honesty is always there and it's something that you can accept, but it's not always nice. Sometimes it's brutally honest, but as players, that's what you want, and I think he's done a great job of motivating his players to play."
Tortorella can accept that and has admitted to his mistakes over the years. During last season's playoff series with the New Jersey Devils, he tried to motivate his star goaltender, Nikolai Khabibulin, only to realize later he had done it the wrong way.
Khabibulin had been the Lightning's main man in a comeback win against Washington, but Tortorella sensed his goalie was losing focus as the series with the Devils wore on. He brought the goalie into his office and told him that he was starting John Grahame the next game, a possible elimination game. Grahame played well, but the Lightning lost.
"I knew it was the right decision, and I'd do it again in the same circumstances, but I thought I knew Nik and how he would respond," Tortorella said. "He didn't say anything. He just walked out."
| | | |
| --- | --- | --- |
| | " | I know I've learned a lot from [Tortorella] and a lot of the guys can say that. Coaching is a big part of the reason we're here. " |
| | | — Tampa Bay D Nolan Pratt |
Tortorella knew right then that he had misjudged his player and that the goalie did not understand the decision.
The coach said he made a point in the offseason to get together with Khabibulin. Tortorella felt he owed the goalie a better explanation and wanted them to get to know and understand each other better in case something else were to come up between them down the road.
"I think that's important," Tortorella said.
While the offseason meeting can be seen as part of Tortorella's all-out, team-first approach, it has also prompted some in the media to speculate that Tortorella isn't always real. It's sometimes whispered that while the act may play well to his team, he's really more conniving and disingenuous.
His friends see it differently.
"John doesn't like to show a lot of himself, but that doesn't mean he's not genuine," said Ramsay.
None of that means the Lightning will win the Stanley Cup finals. The Flames know a thing or two about winning, as well. They believe in themselves every bit as much as the Lightning does. They put team goals ahead of personal advancement every bit as often as the Lightning.
In that regard, Tortorella and Calgary coach Darryl Sutter are very much alike. Their teams work hard and demand much from each other. They put team ahead of everything. They never stop working. They never, ever quit.
"The thing you notice most about both coaches is how well both teams prepare," said Tampa defenseman Nolan Pratt. "Our coaching staff is like theirs in that both are very demanding, but they also see the game the same way and both are very good teachers.
"I don't know exactly what he [Sutter] is like, but you see the way they play and they're like us. I know I've learned a lot from [Tortorella] and a lot of the guys can say that. Coaching is a big part of the reason we're here."
Tortorella sees it, as well.
"They play like we like to play," he said. "They do what's best for the team and they never stop coming. They play like a team and, to me, team is what it's all about."
Sutter and Tortorella are on the same page in that regard, too. Both have shaped the talent and the identity on their respective teams. Jarome Iginla was a Flame before Sutter arrived, but he's better because of the coach's input. Sutter has brought players in to surround his star with the idea of making him better and them better.
Tortorella helped improve a veteran such as Andreychuk, making him more responsible defensively. He also has shaped and molded his young players, especially emerging superstar Vinny Lecavalier, but also Brad Richards, Pavel Kubina, Ruslan Fedotenko, Khabibulin, Martin St. Louis, Cory Sarich and others.
They were kids who didn't know how to win at the NHL level when he got them. Now they play like a team and readily acknowledge that Tortorella and the coaches are responsible.
"This is a team, and we play like one," Tortorella said. "To me, that's what really matters."
In Tortorella's world, that's not perception. It's his reality.
Jim Kelley is the NHL writer for ESPN.com.
SPONSORED HEADLINES
MORE NHL HEADLINES
MOST SENT STORIES ON ESPN.COM
EDITORS' PICKS
Strang: Pranksters are everywhere in the NHL, but those inside the locker room are a cut above.
Story »

LeBrun: We predict who's in and who's out of the playoffs.
Story »

Who are the top Cup contenders right now and what kind of buzz is building for the Winter Classic? We know.
Inside the NHL