Healthy Bolts respect their good luck
Updated:
April 5, 2004, 11:17 PM ET
By
Scott Burnside
| Special to ESPN.com
Let's examine the carnage.
A warning to readers: It's not pretty.
There was that flu bug that kept Cory Stillman out of action for one game in December.
And a similar but unrelated stomach virus that sidelined Brad Lukowich for a game in mid-March.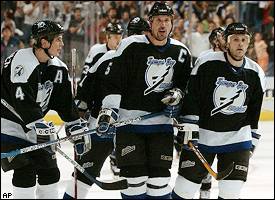 The Bolts' top six scorers -- including Vincent Lecavalier, Dave Andreychuk and Cory Stillman -- have combined to miss only two games this season.
And well, there's the team leader in man-games lost to injury,
Stan Neckar
with nine, except he really doesn't count since he was already suffering from a groin injury when the
Tampa Bay Lightning
acquired him from the
Nashville Predators
at the trade deadline and isn't expected to play much at all.
So there it is. A couple of minor concussions, dizziness, an inner ear infection. That's it.
Heading into their regular-season finale against the Atlanta Thrashers Saturday, the Lightning had established an unofficial NHL record for the healthiest season ever with only 34 man-games lost to injury.
Thirty-four.
The Los Angeles Kings rack up 34 man-games while boarding the team bus.
Earlier this week, the Kings established a new NHL record by hitting the 629 man-games-lost mark, eclipsing the 573 put up by the Boston Bruins in 1991-92.
In the past two seasons, the hard-bitten Kings will have topped the 1,165 mark for games lost to injury.
Think hole-in-one, think picking every game in the NCAA basketball tournament, think trying to guess the number of years before the New York Rangers or Washington Capitals make the playoffs again, and you have an idea of what a remarkable feat the Lightning have pulled off.
And if you are a believer in luck or karma or mojo -- as most NHL players are whether they publicly admit it or not -- you know this is the kind of story that sends a chill down the backs of every Lightning player, coach, trainer and fan.
"I hate talking about it with you, to be honest," admitted head coach John Tortorella, one of the league's most accessible coaches.
If there is a secret elixir the Lightning have ingested, a mysterious handshake they employ or mantra they chant in unison while having a group hug to ward off the injury bug, it remains a secret. In truth, the real answer to the riddle lies in one word: luck.
"Obviously, first of all luck is probably the most important thing," head athletic trainer Tom Mulligan admitted. "Not being in the wrong place. That's not something you can control."
Like Philadelphia Flyers center Jeremy Roenick, who took a shot in the jaw in mid-February and is just now preparing to play, or Roenick's teammate Eric Desjardins, who was lost in mid-January when Roenick accidentally flattened him and broke his arm in a game against the Toronto Maple Leafs. Or any one of a thousand different scenarios that could send a player to the infirmary -- from a shot in practice to a rut in the ice to an infected finger from a skate lace. Heck, Thrashers goaltender Byron Dafoe slipped on the ice outside the team's hotel in Ottawa in late February and hasn't played since.
There are, however, things that are within the control of trainers and coaches, and it's obvious the Lightning have done their homework.
| | | |
| --- | --- | --- |
| | " | We seem to get a lot of rest. Guys have taken advantage of getting away from the game. " |
| | | — Lightning captain Dave Andreychuk |
Players and trainers credit Tortorella with implementing a system of rest vs. work that as much as possible promotes a healthy dressing room. After a demanding, some might say cruel, training camp, Tortorella has built in a system of regular periods of rest after games that is the envy of players around the league. Veteran
Dave Andreychuk
, the Lightning's captain and elder statesman at 40 years of age, figures the Lightning have as many off days as any team in the NHL.
"We seem to get a lot of rest," Andreychuk said. "Guys have taken advantage of getting away from the game."
If the Lightning are on the road and return home, they rarely if ever practice on the off day before their next game, win or lose. After a recent road loss, Tortorella gave his troops two straight days off between games.
"I think sometimes as coaches we practice because we think we have to practice," Tortorella said. Especially in the second half of the season, "I think practicing can't help your team but it certainly can hurt it."
There is no way to quantify it, but players love the time away from the rink, recharging their batteries with family or hobbies or non-hockey duties. If they come to work more prepared, the thinking is that they are more likely to avoid injuries stemming from lazy play or practice.
"I think it gives the athlete a chance to keep himself mentally fresh," Tortorella said.
"I don't think it's all rest," he added. "No rest is going to stop someone from breaking a bone."
Mulligan also cited Tortorella's training camp as a factor in the team's strong, healthy start to the season. Teams are often bit by nagging groin or hip flexors out of training camp because players aren't fully ready to go, Mulligan said. Not in Tampa.
"They all came in prepared," Mulligan said.
In the training room, Mulligan and the rest of the training staff have focused more on stretching and flexibility throughout the season in the hopes of warding off those small injuries that can explode into long stints on the disabled list when players try to come back too early. Plus, as Mulligan points out, "We have a good massage therapist."
The benefits of staying healthy are so obvious it hardly needs noting. But the ability to mix and match lines and defensive pairings based on hockey strategy, as opposed to necessity because significant parts are lost to injury, is huge.
"It's just continuity," Tortorella said.
There are no givens, of course, but having a healthy regular season is not surprisingly often a springboard to playoff success. Carolina had a modest 114 man-games lost to injury in 2001-02 before surging to a surprise berth in the Stanley Cup final. The following season, the Hurricanes ballooned to 290 games lost and finished dead last in the league. In 1999-2000, New Jersey had the second-fewest man-games lost, 113, and went on to win its second Stanley Cup.
One of this season's most surprising NHL teams, San Jose, surged to the second seed in the Western Conference in part by avoiding an injury plague. In spite of losing Marco Sturm to a nasty ankle injury, the Sharks hit April with a livable 163 man-games lost.
The Detroit Red Wings enjoyed relatively healthy years in their back-to-back Cup wins in '97 and '98, 106 and 152 man-games lost, respectively. Of course, they had the fifth-fewest man-games a year ago (168) and promptly got swept by the Anaheim Mighty Ducks in the first round. This season, the Wings have shown incredible resilience, earning the Presidents' Trophy as the top team during the regular season with a man-game count that topped 400 as the regular season concluded.
All of which means no one in Tampa Bay is taking anything for granted even though they'd rather not talk about it at all.
"I believe we're going to have to play through some adversity no matter what," Andreychuk said of a Lightning team that set a franchise record for points and will hold home ice advantage through to the Stanley Cup final. "Obviously we'd like to keep that [healthy] string going."
Scott Burnside is a freelance writer based in Atlanta and is a frequent contributor to ESPN.com.
Hockey writer for ESPN.com
10 years at Toronto Sun, Windsor Star and National Post
Wrote best-selling true crime book "Deadly Innocence"
EDITORS' PICKS
Buccigross: Time to bring back the #Twitterbagskate, puckheads!
Story »

LeBrun: Oilers, Canucks must make decisions about their prospects.
Blog »

The Avs' fortunes rest on the performance of their young stars. But that is a good thing judging by the skill Nathan MacKinnon showed in his rookie season.
Strang »