Containing Primeau Bolts' biggest challenge
Updated:
May 17, 2004, 10:21 PM ET
By
Scott Burnside
| Special to ESPN.com
PHILADELPHIA -- So much has been revealed, so little has been decided.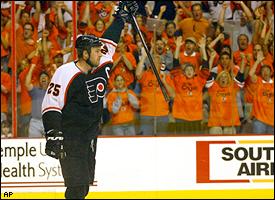 Keith Primeau notched the short-handed winner in Game 4, tying the series.
And so it's back to Tampa Bay with so much on the line.
With the second two-day break between games in these Eastern Conference finals between the Philadelphia Flyers and Tampa Bay Lightning, anything seems possible as the teams gear up for a pivotal fifth game Tuesday.
Shut Your Yap, Part Deux, even?
Unlikely, although Philadelphia general manager Bob Clarke again stoked the embers in the verbal firebox by referring to Tampa Bay coach John Tortorella as "Tortellini" in the aftermath of Game 4.
But Tortorella has prudently distanced himself from his embarrassing rant about counterpart Ken Hitchcock and Clarke that marked the series' first hiatus, between Games 2 and 3.
Given the Flyers' strong play in all four games and the continued otherworldly performance of captain Keith Primeau, play that has brought comparisons to a younger Mark Messier, it is clear Tortorella has the greatest adjustment to make in turning the tide back in the Lightning's favor.
"He's a dominating force when he puts his mind to it," said veteran netminder Sean Burke, who agreed with suggestions that Primeau's blend of relentless physical play and offensive timing (he set up the tying goal and scored the eventual short-handed winner in Saturday's crucial fourth game) is reminiscent of Messier in his prime.
If Tortorella cannot find a way to slow Primeau, both physically and offensively, the Lightning's chances are greatly diminished.
"We have a certain mind-set going in every night, and part of that mind-set is to finish our checks," Primeau said after Game 4. "We hope that by the end of the night, or at the end of a long series, that it starts to pay dividends. And we've got some guys who are staying on that page, and because of that we're getting some real energy on the bench and that's helping a lot."
Tortorella testily refused to discuss Primeau or how his team might handle the hulking center after the Lightning dropped Game 4 by a 3-2 count, a score that flattered the Lightning. The coach was slightly penitent late Sunday, saying he meant no disrespect to Primeau and acknowledged the coaching staff spent part of their meetings Sunday discussing the challenge he presents.
"As good as he's been in here, surely you have to give some thought to that," Tortorella said. "We'll see where it goes."
"He's a good player," offered Martin St. Louis. "You just have to make sure you know when he's coming. He hits hard. Keep moving, that is the key against a guy like him." While Primeau remains the single-most dominant factor in this or any other series for that matter, there are other revelations and/or developments that ultimately will have a hand in deciding this entertaining series:
Two-For-One Exorcisms.

Netminders Robert Esche and Nikolai Khabibulin entered this series in a dead heat for Player Most Likely to Self-Destruct and Drag His Team to the Bottom of the Playoff Sea. Both netminders have had letdowns that cost their teams games and heightened the death watch. But both rebounded with strong performances to key wins in the next start. Esche's 28-stop performance Saturday was largely overshadowed by Primeau's performance, but a sparkling save on a Vincent Lecavalier drive during a third-period Tampa power play preserved a well-earned victory.

"I really don't take a lot of baggage with me from one game to the next, good or bad," Esche said.

Don't expect another game to turn so decisively on poor goaltending. Instead, every goal from here on out will be even more crucial, the margin for error among position players even more minute.
They Might Be Giants.

There is a prevailing myth that the Lightning are both younger and smaller than the Flyers. The truth is they average 6 feet 2, 209 pounds, the Flyers average 6-2, 208. Are the Bolts being manhandled physically? In some ways, yes, especially by Primeau and his linemates. But remember, the Lightning have given as good as they've gotten. Rookie Joni Pitkanen left Saturday's game after a big, quasi-legal hit by Tim Taylor, with supporting work by Dmitry Afanasenkov (it was this hit that sparked Clarke's postgame sniping at Tortorella who had earlier accused Clarke of whining about the Lightning to NHL officials), and Jeremy Roenick did not play after the second period after being crunched by Fredrik Modin. Both are expected to return in Game 5. As for the defensive crew, even without 6-foot-5 Jassen Cullimore (out with a wrist injury), Hitchcock said they are imposing.

"They are a big team," he said. "They are a very big team. Their defense is huge."

If the Flyers continue to win the physical battle, the question remains whether it ultimately will cost them in the war of attrition.

Tortorella agreed the Flyers' injury woes are a weakness that must be exploited.

"Whether it's them banged up, no matter who is there on their blue line I think we need to spend a little bit more time in their end zone," he said. "That's a part of our game that is going to have to improve."
Prime-Time Delivery.

Each team has seen its best players take turns providing crucial plays and being uncharacteristically quiet -- with the exception of Primeau, who has been just plain dominant from the outset. John LeClair tied the score Saturday with his second goal of the series (and the playoffs), but he and Roenick have been largely silent. Across the hallway, Lecavalier scored the back-breaker in the third period of Game 3, but Saturday he, St. Louis and Brad Richards were tentative, especially on the power play. St. Louis, the NHL's leading scorer during the regular season, also lost control of the puck on a breakaway. Hitchcock believes his squad gains an edge when it is able to keep the talent-laden Lightning off the power play.

"Any time you can keep their top guys playing 5-on-5, that gives you a fighting chance," he said.
Paging Bryan McCabe.

Pavel Kubina's turn in Game 4 was a performance of McCabian proportions. Blind passes, silly penalties and, in general, making a mess of shift after shift was reminiscent of the Maple Leafs defenseman's painful work early in Toronto's series against Philadelphia earlier. McCabe owned up to his mistakes and rebounded to help Toronto erase a two-game deficit. Kubina, arguably the Lightning's most important rearguard, given his size and importance to the power play, will have to put the past behind him.
Speaking Of Enigmas.

How about Flyers defenseman Vladimir Malakhov? It was Malakhov who allowed Lecavalier to scamper in alone and end a potential Flyers comeback in Game 3, but on Saturday he logged an eye-popping 30:15 of ice time and did yeoman work at both ends of the ice, including a sensational diving defensive play to knock the puck away from Lecavalier on another breakaway.

After the game, oft-criticized Malakhov appeared not to remember the play.

"Well, you know, I don't know what it is. He's like [Dallas Stars defenseman Sergei] Zubov," Hitchcock said, referencing his former charge. "He's a very unique personality. He's a guy that the more you play him, the better he plays. He doesn't seem to get tired."

Given the rate at which Flyers defensemen are dropping, Malakhov's resurgence may be pivotal to Philadelphia's advancing.

Scott Burnside is a freelance writer based in Atlanta and is a frequent contributor to ESPN.com.
Hockey writer for ESPN.com
10 years at Toronto Sun, Windsor Star and National Post
Wrote best-selling true crime book "Deadly Innocence"
SPONSORED HEADLINES
MORE NHL HEADLINES
MOST SENT STORIES ON ESPN.COM
EDITORS' PICKS
The Preds and Isles are proving they're for real, but the Panthers took a costly tumble.
Pucks Central »

Burnside: The defending champions are accustomed to stepping up at the most crucial times, but time might be catching up with them this season.
Story »

McDonald: As big as Johnny Boychuk's presence has been to the contender Islanders, his absence has been equally devastating for the Bruins.
Story »