Devils deserve to revel in destruction of Rangers
Updated:
May 1, 2006, 6:01 PM ET
By
E.J. Hradek
| ESPN The Magazine
NEW YORK -- If you think the Devils didn't have a little extra motivation for their first-round series against the Rangers, just listen to their goaltender.
"Winning the series here in Rangerland is something sweet," said Devils stopper Martin Brodeur, who upped his career playoff win total to 88 Saturday, tying him with Ed Belfour and Billy Smith. "I mean, where we live, there are Rangers fans all around us. The guys who coach my kids' teams are Rangers fans. They are everywhere."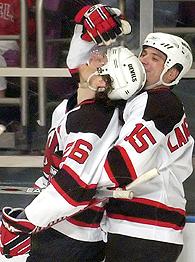 AP/Bill KostrounPatrik Elias, left, is feeling better every day and his numbers are incredibly healthy, too -- a series-leading five goals and 11 points.
"So, we'll enjoy it for one or two or three days, then we'll get ready for the next series."
The Devils usually don't sit around and admire their work. Or, they don't admire it until it's all done. And, despite the extra satisfaction of beating the Rangers, they won't dwell on their latest success for too long.
"For us, if we don't win the Cup, it's not a good season," Devils center Scott Gomez said, in a very matter-of-fact tone.
In the first half of the season, struggling to find their way without defensemen Scott Stevens (retired), Scott Niedermayer (left via free agency) and Patrik Elias (recovering from hepatitis), the Devils weren't thinking about the Cup. At that time, they were just trying to plug holes in a quickly sinking ship. The club's play had gotten so bad, head coach Larry Robinson decided to walk away after experiencing persistent headaches from the stress of the mess.
"We were embarrassing ourselves and each other," Gomez remembers. "We had gotten away from who we are. It was unacceptable."
Gomez believes the team's resurgence started with the return of Elias, who re-entered the lineup on Jan. 3. Not coincidentally, the Devils reeled off nine straight wins to get themselves back into the playoff picture.
"He's a top-five guy in the league," Gomez said. "He's our go-to guy. For him to come back was a huge boost for us."
The Rangers certainly wish Elias had come up sick for the first-round series. The Devils' sharpshooter finished the four games with a series-leading five goals and 11 points.
And, the bad news for the Devils' next opponent is this: Elias says he's feeling better every day.
"I'm feeling great right now," he said. "It was a long process, but I'm really feeling good now."
Elias and his teammates will enjoy at least a week off before opening their second-round series. If the Hurricanes join the Senators in the second round, the Devils will open the second round in Carolina. If, however, the Canes were to be eliminated, the Devils would have home ice for a second-round series against the Sabres-Flyers winner. Either way, the Devils are going to take advantage of the time off and get ready for the next round.
"We'll welcome the rest," Brodeur said. "We had a long push just to get to the playoffs. We had to win all those games down the stretch. I think the rest will help us."
Top checking center John Madden, who netted his first career hat trick in Game 2, agreed with his goalie.
"It's not tough to have some time off," Madden said. "It's the playoffs and everybody gets some nicks and bruises along the way. I think it will come in handy for us later on."
The Devils will enter the second round rested and ready. And, they'll be carrying a very impressive 15-game winning streak. But don't try to sell them on the streak.
"There are two seasons," Madden said. "There's the regular season and there is the playoffs. Right now, we've won four in a row. And, when we start up again, that won't matter any more."
That's why the Devils are the Devils. They understand their business very well. In the first round, they took great pleasure in giving their big-city rivals a lesson in Devils' hockey. So much so, they might even enjoy it for a day or two or three. But, when the puck drops for the second round, we all know these Devils will be ready to play.
EJ Hradek covers hockey for ESPN The Magazine. E-mail him at ej.hradek@espnmag.com. Also, click here to send EJ a question for possible use on ESPNEWS.
Senior Writer, ESPN The Magazine
E.J. Hradek is a senior writer at ESPN The Magazine, joining the staff prior to its launch in 1998. He began covering hockey as a writer/editor for Hockey Illustrated in 1989.
SPONSORED HEADLINES
MORE NHL HEADLINES
MOST SENT STORIES ON ESPN.COM
EDITORS' PICKS
The fun and games are over. It's time to prove who is No. 1 in the push to the playoffs.
Power Rankings »

John Tavares and Ryan Getzlaf are among those with momentum coming out of the All-Star break.
Eastern Conference »
West »

Pronman: The top 30 draft prospects
Story