Oilers overcome odds to reach Cup finals
It took 81 regular-season games for Edmonton to clinch a spot in the playoffs. Now the team is four wins from its first Stanley Cup since 1990, Scott Burnside writes.
ANAHEIM, Calif. -- For most of the last 16 years the Edmonton Oilers have been a museum piece, stuck in a back hallway somewhere between ancient glory and irrelevance.
Saturday night, the Oilers arrived at a sparkling new place in team history with a 2-1 win over the Mighty Ducks of Anaheim that vaulted them into their first Stanley Cup finals since 1990.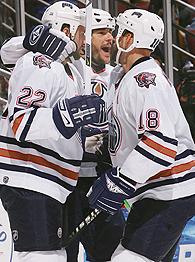 Harry How/Getty ImagesThe Oilers had much to celebrate after getting back to their first Stanley Cup final since 1990.
"I don't think you can realize the magnitude, the importance of this, us going to the Stanley Cup finals in Edmonton," said Ethan Moreau, an Oiler since late in the 1998-99 season.
"That's life there. It's been a long time. I think they're going to appreciate it, they're going to enjoy it more this time around because back in the day it was almost expected," added Moreau, who scored his first goal of the playoffs early in the second period Saturday to tie the game at 1. "This is huge. It's huge for the guys in the room. It's huge for the city, unbelievable for the organization. It is hard to put into words what this means to our team."
Edmonton coach Craig MacTavish and general manager Kevin Lowe were both part of that 1990 Oilers team that surprised many in hockey by winning the franchise's fifth Stanley Cup.
Edmonton would lose in the conference final the following two years and then fall into the abyss, missing the playoffs four consecutive years.
Between 1992-93 and the start of this playoff season, the Oilers had won just two playoff rounds while flirting repeatedly with economic ruin.
Their logo for the last decade or more might well have been a faded Stanley Cup with a tin cup sitting in the bowl. Each year that the team struggled to make the playoffs, or had to sell off one of its top players, seemed to make all that had been accomplished by Wayne Gretzky, Mark Messier, Paul Coffey, et al, less real, as though all of their success had happened to another team in another place.
Now, after clinching a playoff berth only after their 81st regular-season game, this is a team that is improbably four wins away from bridging that gap between Stanley Cups. Even if they do not prevail in the final this squad will have a well-earned place in Oilers lore.
"We've had Stanley Cup runs before and we all have great memories of those and I'm just happy for the guys that haven't been this far in the playoffs to have the opportunity," MacTavish said. "And you could see it in their faces tonight how happy they are and what a sense of relief and accomplishment.
"A lot of times when you want something so badly, as we did the last couple of games, when you do accomplish it, it can be anti-climactic. But this wasn't one of those situations," MacTavish added with a laugh. "There's a real core of guys on this team that have gone through the ups and downs with the coaches and the managers along the way and never cheated the fans or their teammates out of the effort."
Not that the Oilers did it the easy way.
"We've never done anything easy since I got here. Every game's been a must-win. I think it might have paid off for these games in the end," offered veteran defenseman Steve Staios, who was part of a penalty-killing crew that spent most of the last three minutes short-handed. At one point in those waning moments, the Oilers were outmanned 6-on-3 after Anaheim lifted its goaltender and the Oilers were assessed a too-many-men-on-the-ice penalty and star defenseman Chris Pronger was sent off for flipping the puck into the crowd.
"As a player in the moment, you become frustrated at the calls the referees are making, continually giving [the other team] opportunities. But nobody got really too panicked. We had that sense like we've had the entire postseason that we're going to win," said Edmonton forward Michael Peca, who in many ways epitomizes the Oiler playoff run, putting a miserable regular season behind him to play perhaps the best hockey of his long career down the stretch.
"It didn't matter what obstacles were going to be thrown in front of us, we were going to find a way to win a hockey game. It was no different in the last two, three minutes there," he said.
The Ducks finished the game 1-for-11 with the man advantage and a woeful 3-for-39 in the series. And certainly the inability of their top players -- Teemu Selanne, Scott Niedermayer, Andy McDonald and Chris Kunitz -- to take advantage of the Oiler penalties was a crucial factor in their demise. But credit must also go to an Edmonton penalty-killing unit that was universally terrific, blocked shots and took away shooting lanes. They were especially adept at denying the Ducks' skilled players quick passes down low at the side of the net.
Midway through the second period, with the Oilers protecting a 2-1 lead and killing a penalty, Pronger neatly broke up a dangerous 3-on-2 by knocking away a Niedermayer pass.
It reflected the play of the teams' two big defensive studs throughout the series.
Pronger was a force throughout, continuing to log massive amounts of ice time (he was on the ice for 30:03 Saturday) and contributing timely plays at both ends of the ice. Niedermayer, by comparison, wasn't a factor and seemed strangely reluctant to shoot the puck. He finished the series with four assists.
Anaheim coach Randy Carlyle said he thought the Ducks controlled the tempo of the series after the first game, but couldn't close the deal. And he was right.
Early in the third, for instance, the Ducks were on the power play and one Oiler defender broke his stick. But the Ducks couldn't convert and moments later Dustin Penner interfered with Dwayne Roloson to negate the final 49 seconds of the man advantage.
"It just seemed that they'd come down after us hunting them in their end and doing a lot of good things, we couldn't get it across the goal line," Carlyle said. "And they'd come down and have a little bit of a flurry and get results from it."
Game 5 was a perfect example of that.
After a strong first period that saw the Ducks take a 1-0 lead on a Francois Beauchemin blast from the point, the Oilers stayed out of the penalty box in the second period, which allowed them to utilize their bench strength.
It paid off 3:42 into the second when Moreau was rewarded for some diligent work along the boards deep in the Ducks' zone as he put home the rebound of his own wrap-around attempt to tie the game.
Less than six minutes later, seconds after the end of an Oiler power play, Raffi Torres neatly deflected a Marc-Andre Bergeron point shot with what would turn out to be the decisive goal in the series.
Torres had missed Game 3 with the flu, which left the Oilers crippled and many believing the Ducks were building for a monumental comeback, particularly after they dominated Edmonton in a 6-3 win in Game 4.
"We weren't just saying things during the regular season to make ourselves happy, to give ourselves confidence, to make the fans happy. When we said we have a team that can compete for a Stanley Cup, we've got a team that can play with anybody," Peca said.
Sitting slumped in front of his stall, sporting a brand new Western Conference championship hat, it appears Peca is correct.
Notes
• Many observers felt the Mighty Ducks would be fortunate to qualify for the postseason, especially after GM Brian Burke dispatched veterans like Sergei Fedorov, Keith Carney, Sandis Ozolinsh and Petr Sykora during the season, allowing youngsters like Corey Perry, Joffrey Lupul, Chris Kunitz and Ryan Getzlaf to play a more prominent role. But the youngsters rewarded Burke's faith in them. Now the question is whether they can take the next step.
"It [the future] looks bright on paper but you have to live it," Carlyle said. "The one thing we're proud of is our group has learned along the way.
"But it's going to be our responsibility as a coaching staff and as management to make sure that the bar is set even higher because we feel with our younger players getting this experience we're going to push it to a higher level."
• Although there was great disappointment in the Anaheim dressing room, Selanne put everything nicely into perspective.
"Nobody died. This is only hockey," he said.
• It was interesting to follow the subtle jabs each team took at the other off the ice during the series. Carlyle tried to downplay the severity of the Oilers' flu bug which, reportedly, had laid low about half the team.
Asked whether the Ducks had finally solved Roloson, having scored nine times on him in two games after scoring just twice in the first two games, Carlyle responded sarcastically: "He's sick, guys. He's sick."
There were reports that Roloson was physically ill between periods of Game 4. MacTavish, as is his want, was nonplussed by Carlyle's dismissal of the Oilers' flu issues, saying maybe the Ducks were feeling they didn't get full recognition for how well they played in their 6-3 win in Game 4.
"We're willing at any point in time to send some of our water bottles over. They haven't taken us up on it," MacTavish quipped.
• Now here's a brain-teaser. During the regular season, the Oilers gave up the fewest shots in the NHL (an average of 25.5 per game) and struggled to make the playoffs. Now, headed to their first Stanley Cup final since 1990 they are allowing 35 shots per game, second-most of the 16 playoff teams.
"It's very puzzling, isn't it?" MacTavish said. "It's something I've spent time thinking about."
Scott Burnside is an NHL writer for ESPN.com.
Hockey writer for ESPN.com
10 years at Toronto Sun, Windsor Star and National Post
Wrote best-selling true crime book "Deadly Innocence"
SPONSORED HEADLINES
MORE NHL HEADLINES
MOST SENT STORIES ON ESPN.COM
EDITORS' PICKS
Burnside: Expansion is on the table in the NHL, but Las Vegas and other cities face obstacles.
Story »

Strang: John LeClair is confident Ron Hextall will get the Flyers in the playoffs.
Alumni Report »

The continued development of Evgeny Kuznetsov is crucial for the Capitals in 2014-15.
Summer Skate »