Carolina looking a lot like Edmonton in Cup finals
RALEIGH, N.C. -- In the wake of their most embarrassing loss of the playoffs, the Edmonton Oilers must confront the frightening reality they are being outclassed by a Carolina Hurricanes team that has suddenly stolen the Oilers' very identity.
In pummeling the Oilers 5-0 to take a 2-0 lead in the Stanley Cup finals Wednesday night, the Hurricanes absorbed every positive element of the Oilers' game plan this spring and threw it back in the Oilers' faces.
After appearing discombobulated in Game 1, Carolina's defense was rock-solid in Game 2, blocking 24 shots, including 11 in the first period. The Oilers, whose shot-blocking this playoff year has been exemplary, blocked just seven.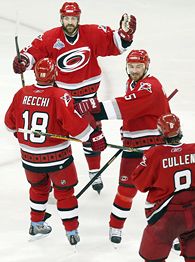 Dave Sandford/Getty ImagesThe Hurricanes dominated the Oilers in blocked shots (24-7) in Game 2.
"That's always frustrating as a team when you're getting open looks and the other team is blocking shots. And we have been on the other end of that," acknowledged Edmonton forward Michael Peca, who has been silent after a dominating turn in the Western Conference finals.
Where the Oilers won the physical battle early in Game 1, the Hurricanes were the team that won the physical battles in Game 2, outhitting Edmonton 17-9 and repeatedly knocking Oilers off the puck and pressuring their defense.
With Cam Ward continuing to make a case for himself as a Conn Smythe Trophy candidate with his numbingly consistent play, the Hurricanes simply waited patiently until cracks appeared in the Oilers' veneer and then struck with shocking precision.
"The 5-on-5 play has been pretty even, but they are more opportunistic at this point in the series than what we have been," Edmonton coach Craig MacTavish said.
Remember the confidence the Oilers displayed against Anaheim, never seeming to step outside their comfort zone, never seeming to worry that things were going to go any way but their own?
Remember the Oilers' team that never seemed to be in danger of falling off the map against San Jose even when the Sharks took a 2-0 series lead and then won four straight?
Watching Edmonton players skate around willy-nilly in the third period Wednesday made it seem as if those triumphant moments had happened to another team.
"You know, we have been in this situation before. It's a little more disappointing when you get humbled 5-0 coming out of the second game than what happened in San Jose when we were down 2-0," MacTavish said. "So, we're a little more rattled from that respect, but we also have comfort and confidence knowing that we have come back before."
It begins and ends in goal, of course.
When Edmonton netminder Dwayne Roloson was spinning his magic, before his season-ending knee injury in Game 1, the Oilers could push their physical play to the edge and over.
Edmonton entered the finals with the top penalty-killing unit in the postseason and it played with a feeling of invincibility, the feeling that it could dictate its style of play with impunity because, in the end, nothing bad was going to happen with the way Roloson was playing.
On Wednesday night, the Oilers gave up three power-play goals on 10 chances and it was the Hurricanes who were dominant on the penalty kill, shutting down all six Oilers chances.
In all, the Canes have outscored the Oilers 9-1 over the last four periods, 10-1 if you count the Canes' first goal late in the second period of Game 1.
Now the play of the 22-year-old Ward, who appears to have no pulse let alone anything approaching Stanley Cup finals jitters, has imbued the Hurricanes with that same feeling, that same swagger.
"He's a cool kid and I don't think anything distracts him," Carolina captain Rod Brind'Amour said. "We're proud of him because he just battles for us and he's been the difference in these two games."
Ward's 25-save shutout marked the first goose-egg for a rookie in the finals since Patrick Roy blanked Calgary 1-0 in Game 4 of the 1986 finals.
Someone asked Brind'Amour if Ward's play was mindful of Roy's Conn Smythe turn as a rookie when Montreal was the surprise Cup winner in 1986.
"I can't remember that far back, but it's the right idea," Brind'Amour said. "You can't get this far without goaltending and you just have to look there and know that's why we're still playing."
That feeling of being able to do no wrong radiates out from Ward and begets things like the Hurricanes' first goal.
Moments after breaking up an Oilers odd-man rush, the Hurricanes went back down the ice on a 2-on-1. Instead of passing to burgeoning superstar Eric Staal, Andrew Ladd shot. The puck glanced off the heel of Marc-Andre Bergeron's skate and past Jussi Markkanen to give the Canes a 1-0 lead just 6:21 in.
It was the same for Cory Stillman's back-breaker with 2.4 seconds left in the second that gave the Hurricanes a 3-0 lead. Stillman missed the net with his first shot. The puck popped into the air, landing on the opposite side of the net. With Markkanen unable to locate it, Stillman darted behind the net and tapped the puck in.
"The goal that really hurt us tonight, make no mistake about that," MacTavish said.
The end of the Oilers' magic spell may have coincided with the loss of Roloson late in Game 1. But it would be unfair to suggest this is Markkanen's fault.
Although the 31-year-old gave up five goals on 26 shots in his first start since March 1, this was hardly his fault.
"There were some pretty crazy bounces on the goals," MacTavish said. "I think a lot of us are trying to do too much and it's a situation right now where we have a got a bunch of players, they are all trying to be difference-makers, and we need a more predictable game out of a lot of our players."
Presumably, what MacTavish means by "predictable" is returning to the mindset and game plan of their recent past. Unfortunately for him, it appears those qualities have taken up residence in the dressing room next door.
Scott Burnside is an NHL writer for ESPN.com.
Hockey writer for ESPN.com
10 years at Toronto Sun, Windsor Star and National Post
Wrote best-selling true crime book "Deadly Innocence"
SPONSORED HEADLINES
MORE NHL HEADLINES
MOST SENT STORIES ON ESPN.COM
EDITORS' PICKS
Who's trending up and down in the NHL this week? We're here to tell you who's hot and not.
Strang »

Clint Malarchuk: Let me tell you about the first time I was supposed to die.
Book excerpt »

Strang: This is the latest on the mumps.
Story »