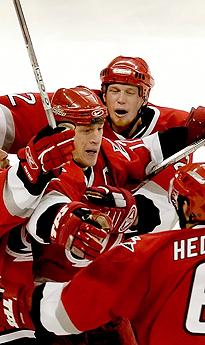 Perfect Storm
Hurricane season started Thursday. In Carolina, it never ended. Rod Brind'Amour scored at 11:22 of the third period as the Hurricanes beat the Sabres 4-2 in Game 7 to reach the Cup finals.
Story
•
Hradek: In Rod they trust
2015 SEASON LEADERS
GOALS
ASSISTS
PTS
Alex Ovechkin
G: 29

Jakub Voracek
A: 40

Jakub Voracek
Pts: 57

Complete Leaders
GAA
SAVE %
WINS
Mike Smith
GAA: 3.49

Michael Hutchinson
SV: .935

Pekka Rinne
W: 29

Complete Leaders
Team Stats
Team
GF
GA
GFA
GAA
PP%
PK%
Hurricanes
73
60
2.92
2.40
24.0
85.4
Oilers
70
61
2.92
2.54
17.0
86.1
Sabres
60
49
3.33
2.72
16.2
82.6
Ducks
46
36
2.88
2.25
10.8
88.5
Senators
36
29
3.60
2.90
25.0
87.3
Sharks
29
29
2.64
2.64
15.3
80.6
Devils
27
21
3.00
2.33
19.0
75.6
Avalanche
22
31
2.44
3.44
09.6
86.0
INJURY REPORT
Jiri Tlusty - LW - Jan 28
Tlusty was absent from Wednesday's practice for what coach Bill Peters described as maintenance purposes.


Taylor Hall - LW - Jan 29
Hall (lower leg) will not play Thursday against the Sabres, Mike Harrington of the Buffalo News reports.

Taylor Hall - LW - Jan 28
Hall is day-to-day with a lower leg injury.

Taylor Hall - LW - Jan 27
Hall (leg) won't play Tuesday against the Wild.

Taylor Hall - LW - Jan 27
Hall (leg) was not on the ice for Tuesday's morning skate.


EXPERT PICKS

Melrose

Buccigross

Hradek

Burnside

Amber
Canes in 7
Sabres in 7
Canes in 7
Canes in 7
Canes in 6
ELIAS SAYS ...
The Hurricanes were the ninth team to win Game 7 of an NHL postseason series after trailing at the end of the second period. But they were the first to do so in a conference finals or the Stanley Cup finals since 1979, when the Canadiens overcame a 3-1 deficit after two periods to beat the Bruins 5-4 and advance to the Stanley Cup finals.


MORE FROM ESPN.com
Thursday, June 1
Jay McKee did not travel with the Sabres to Carolina, leaving the team potentially down four regular defensemen for Game 7 of the Eastern Conference final on Thursday.
Wednesday, May 31
For nearly two weeks, the Carolina Hurricanes and Buffalo Sabres have fought to a standstill to see who will play for the Stanley Cup, so closing the intense series with a Game 7 seems fitting.
Monday, May 29
The Sabres trail the Eastern Conference final series 3-2 to Carolina, but Buffalo coach Lindy Ruff did his best Monday to gain a psychological edge.
End text -------------------------
Sunday, May 28
Buffalo Sabres defenseman Teppo Numminen missed Game 5 of the Eastern Conference finals series on Sunday night because of a lingering groin injury.
Saturday, May 27
Injured Sabres defenseman Teppo Numminen expects to return for Game 5 on Sunday against the Carolina Hurricanes in the Eastern Conference final.
Eric Staal is leading all players in playoff points and shots heading into Game 5 with Buffalo on Sunday night. That includes points in 14 straight games, the NHL's longest postseason streak in a dozen years, following a 100-point regular season.
Friday, May 26
The Hurricanes announced Friday that winger Erik Cole will miss the rest of the season because of a neck injury.
Buffalo Sabres defenseman Teppo Numminen will miss Friday's Game 4 of the Eastern Conference finals series against the Carolina Hurricanes because of a groin injury.
Thursday, May 25
Sabres defenseman Henrik Tallinder has a broken left arm and will miss the rest of the playoffs.
A man irritated by oversized Hurricanes jerseys draped on four statues at the North Carolina Capitol slashed two of the garments off the monuments.
The Sabres have refused to use injuries as an excuse this season and they're not about to start now -- even after losing yet another defenseman.
Tuesday, May 23
Credit the Carolina Hurricanes for being the first team in the postseason to get the Buffalo Sabres off their game.
Sunday, May 21
Will Carolina's Erik Cole be back in the postseason? Cole won't be sure until he has a CT scan in the upcoming week to check his progress.
links null